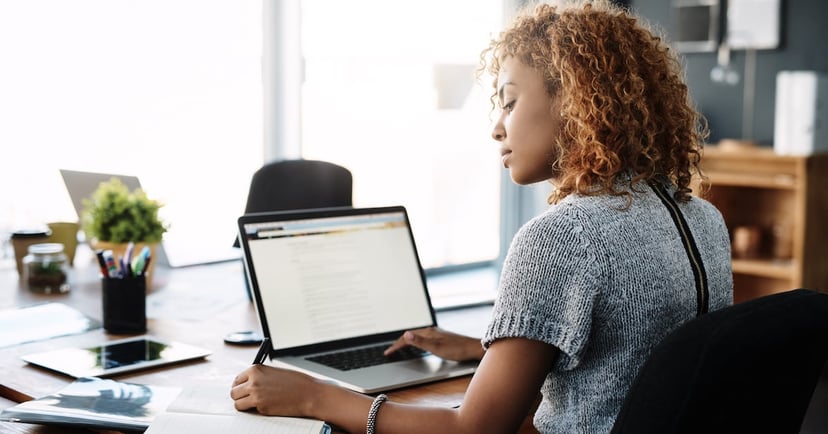 Your website is a major investment, but it also pays major dividends provided you strategically build, use, and maintain it to align with your buyer's journeys.
That can be easier said than done, since anticipating visitor needs and/or how they'll respond to content before your site launches is a bit of an educated guess. Fixing missteps post-launch is expensive, time-consuming, and often unintentionally falls low on the list of marketing priorities — until the site is obsolete and the entire process starts over.
Growth Driven Design (GDD) eliminates website stagnation and ineffectiveness. It is a responsive process, allowing you to make adjustments in near real-time based on actual data gathered from visitors' behaviors on your website. Continuous updates are the goal of GDD so the user experience, conversions, and ultimately sales are seamless. GDD is a natural fit for companies practicing inbound — where marketing, sales and service strategy are already driven by data and a helpful mindset — yet maximizing its impact takes strategic deployment. Use these proven tips to refine your approach to aligning your website and buyer journey.
1. Develop Your Buyer Personas
In order to consistently offer website messaging and features that attract prospects, you first have to define and understand your ideal buyer. This means developing buyer personas that serve as semi-fictional representations.
Identify Your Ideal Customers
For B2Bs, your ideal customer defines the types of businesses you want to work with, based on traits like:
Company size
Budget
Potential for repeat orders
Fit for your product or service
Prioritizing ideal customers in your website user experience (UX), design, and copy plans gives you a much better chance of working with companies that fit your business model.
Build Out Your Buyer Personas
Once you identify ideal customers, go one level deeper. Develop personas of specific people at those companies that are integral to the purchasing process to better align your website to the buyer journey. Create a profile of their shared traits, interests, beliefs, goals, and pain points derived from answers to these questions like these:
Demographics: Age? Title? Role? Education? Background?
Identifiers: What personality traits define them?
Interests: What interests do they have outside of work?
Goals: What business benchmarks need to be attained?
Challenges: What's keeping them from reaching those goals?
Pain points: What frustrations are common for them on the daily basis?
Common objections: What values do they hold? What do they perceive as roadblocks to making a purchase?
Buying process: How do they buy this product – Referral? Word of mouth? RFP/RFQ?
Current state of mind: What beliefs do they hold about the product or service category in general, and your product or service in specific?
RELATED: 4 things you must offer to motivate your target personas
2. Chart Your Value Proposition Map
In order to survive in today's customer-centric marketplace, you have to make sure your website message is about what you can do for your customer. Knowing your ideal customers and buyers helps, but to most effectively position your website you need a value proposition that addresses their needs, wants, feelings, and fears.
Creating and assessing your value proposition is a matter of mapping, like this Value Proposition Map from Sprocket Rocket: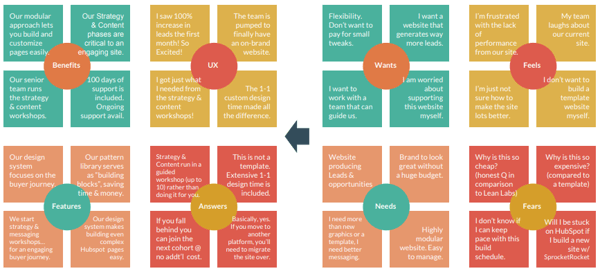 Execution is simple: Start by filling out the squares on the right side, and use that input to tailor your message, offers, and solutions on the left.
3. Buyer Journey Stages: Map Out Each Experience
You know your ideal customer, your ideal buyer, and your value proposition. Now what?
The next step in the process is to outline the buyer journey for your personas by having your content optimized and accessible exactly when and where they need it, no matter where they originated on your site.
If you know the problems your buyers are having at the top of the sales funnel, for example, you can develop top-of-the-funnel content that addresses one of their burning questions, demonstrates your credibility, and moves them closer to the next step. From there, you can use more targeted content and lead nurturing workflows to bring them back to your site and continue leading the prospect down the funnel.
4. Buyer Journey-Based UX Research and Content Creation
Now that you've answered the essential questions, GDD kicks in. Start developing the architecture of your website's UX, navigation, and branding with the help of experts well-versed in website design and copy development. This expertise may come from one person or two, internally or through an external agency — it doesn't really matter. What's important is your website wishlist is ready to become a reality by bringing your launchpad site to life.
Put expert focus on how your main personas use websites and prefer to view certain types of content. This will help you prioritize the 20% of pages that generate 80% of leads (the "80/20 rule"), and fix potential design features, layouts, and content that cause visitors to leave or lose focus. Working with a GDD-certified agency, you can be sure that their team is up-to-date and knowledgeable of the latest trends and techniques.
While there's a certain "try things as you go along" approach to GDD, it's not just conjecture. Strategic planning and research is necessary to align your website and buyer journey, as evidenced in this case study. The earlier you engage in the process, the more successful your website launch and longevity, and the more exponential your continuous improvement cycle results will be.
Want to learn more about growth driven design? Download our free GDD eBook today!