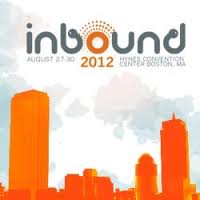 OK, maybe my wife (and creative director) is right about what an inbound marketing dork I've become. I can live with that. The truth is, I'm so excited about the HubSpot big event in Boston next week that I'm already losing sleep over it! Inbound 2012 starts Monday morning with certification training during the day and a partner awards dinner that night, and wraps up around noon on Thursday. Frank Isca and I will be there representing Weidert Group, as well as all of our clients and prospects who will benefit from the tips, lessons learned, and strategies to win that we'll be absorbing.
The keynote speakers on their own are more than enough to justify the time and expense of being away from the office for most of a week. Start off Tuesday morning with welcome keynotes from the co-founders of HubSpot (and co-authors of Inbound Marketing), Brian Halligan and Dharmesh Shah. Followed immediately by bestselling author (The New Rules of Marketing & PR) and marketing guru David Meerman Scott. I can't imagine a better one-two punch to get this thing started!
Tuesday afternoon we'll hear from Rand Fishkin, CEO and founder of SEOmoz, and also a co-author of a groundbreaking book (The Art of SEO) talking about SEO as an essential tool of inbound marketing. This could easily deteriorate into a book-signing party!
While the keynotes are all eagerly anticipated, the difficult part of this extravaganza will be deciding which breakouts to attend, which are every bit as star-studded as the keynotes. We've got Michael Gass of Fuel Lines (+71,000 subscribers!!), author and PR 20/20 CEO Paul Roetzer, IM thought leader and Kuno Creative co-owner John McTigue, best-selling authors Susan Cain and Gary Vaynerchuk, and more HubSpot big brains than their financiers should ever allow in the same building or plane!
With more than 60 breakouts across three days to choose from, it's a veritable endless buffet of food for the mind. Here's a small sampling of what's available:
How to Become an IM Ninja in 5 Easy Steps
Leveraging Content Assets to Sell IM Leads
How to Use IM to Dominate a Vertical
The Art & Science of Selling Agency Services
As you scan the Inbound 2012 schedule and begin to grasp the incredible breath and depth of the available subject matter it hits you that the worst thing about this event is the choices we'll have to make. Now's the time when cloning starts to look like a reasonable approach to being in all the breakout rooms at once.
Of course, the other incredible benefit of IM2012 is the networking that will take place. HubSpot is predicting 2000 IM pros in attendance. So if you're someone I only know virtually and you're planning on being there, please let me know, because I want to connect in person with as many IM fanatics as is humanly and technically possible. For those of you who wish you were going but can't, Frank and I will be blogging directly from Boston during the week, so be sure to check in for updates.
And if you're still thinking about going, it's probably not too late to score a discount. Let me know if you want help with that. I have friends in Boston.