Here's the scoop on Accelerated Mobile Pages (AMP) and Hubspot, so far...
Back in October, I wrote a piece about how HubSpot was behind the ball when it came to rolling out AMP support for their platform. It helps with page load speed, which is a ranking factor for Google, and it was already in use by major publishers. HubSpot should have been leading the way.
The good news is that AMP for HubSpot is finally here.
Let's take a look at how to implement it, what your current options are, and what changes I would like to see in the not too distant future.
What AMP Looks Like on HubSpot
AMP, or Accelerated Mobile Pages, are pretty bare bones. They are supposed to be that way. The purpose is to get the content loaded on mobile devices as soon as possible.
Using the Google PageSpeed insights tool, I reviewed Weidert's top blog post, Top 10 Most Effective Marketing Strategies, to compare the standard version of the blog with the AMP version.
The results were striking.
To be open about it, the page does not get a great score, only receiving a 33 out of 100 for mobile page speed.
The AMP version, however, receives a 68 out of 100, more than 100 percent better than the standard version.
How to Activate AMP on HubSpot
You can turn on AMP in HubSpot in two ways, either for an entire blog or just for one blog post at a time.
1. All Blog Posts

To activate AMP on all of your blog posts, navigate to your HubSpot Marketing Account. Then, underneath Content > Content Settings, you will find a new section labeled Google AMP. Just flip the switch and all of your blog content will begin to show up in mobile series as AMP on Google with a little lightning bolt symbol.
2. One Blog Post At a Time
If you want to test out AMP on just a few blog posts instead of your entire blog library, you can do that too. When you go to publish a blog post, there is a new checkbox labeled "Enable Google AMP just for this blog post." Again, simply checking the box will enable the AMP versions for that specific blog post when you publish it.
For more information on AMP on HubSpot you can check out HubSpot's knowledge base articles on the topic:

How You Can Customize AMP on HubSpot
While you can simply check the button to activate AMP across your entire blog, it is best that you review the options that HubSpot provides for styling the look of your AMP posts. There are not many at this point, as part of the purpose of AMP is to restrict the content to help it load faster, but they should all be considered.
AMP Logo — The logo of your website or blog. HubSpot says that it has a maximum resolution of 600x60 pixels, but I have found that a good size is 284x62 pixels.
Header Font, Size, Color and Background Color — These options will affect the look of your blog header text.
Body Font, Size, Color, and Link Color — These options will affect the look of your blog body copy.
That is it for options at this time.
Seeing AMP Metrics in HubSpot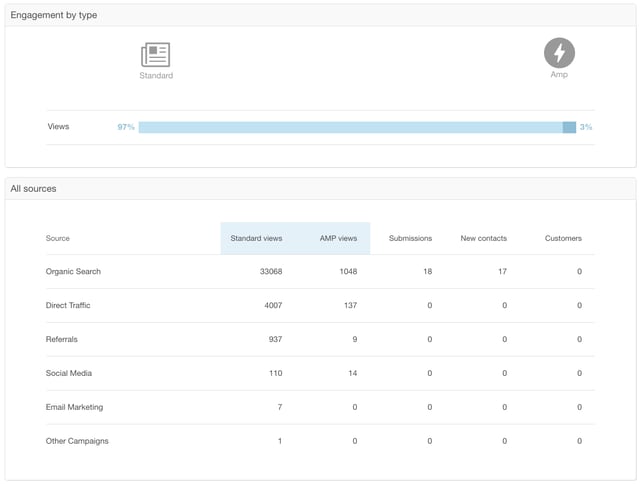 After you enable AMP, HubSpot will begin to show you the breakdown of regular vs. AMP views of your blog posts. You can find this information on the blog analysis page under "Engagement by Type."
AMP Going Forward
Right now the options for AMP on HubSpot are very limited. While limiting choice can be a good thing at times, I think they are too restrictive. Other AMP pages have much better layout options that I think HubSpot should give more advanced developers access to.
Since we activated AMP pages, Google has already indexed 926 pages from HubSpot. We intend to keep an eye on those pages to see the real impact having AMP on our blog.