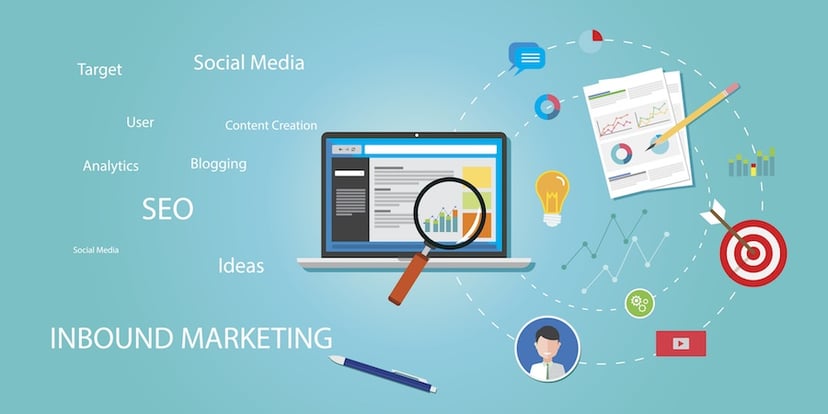 Yes, you read that title right. Wait, so how can you adopt an inbound approach to advertising that's traditionally been outbound? The truth is that digital advertising will always be outbound; these messages are ignored or blocked altogether using software. However, there are a few things you can do to make the process lean toward the inbound methodology to increase conversions and results on your paid campaigns and other forms of digital advertising.
Inbound vs Outbound Marketing
Marketing is all about lead generation and growing your business, but the two terms are fundamentally different in their approaches. Inbound marketing focuses on creating quality content that pulls people toward your company and product, where they want to be (whether they know it or not). By aligning the content you publish with your prospects' interests, you naturally attract inbound traffic that you can then convert, close, and delight over time. Outbound marketing is traditional marketing where you're simply throwing everything out there, hoping something will stick and attract prospects. The problem is that you're also advertising to a lot of people who don't meet your ideal buyer persona or don't want to see your advertising.
Native Advertising & Sponsored Content
Native advertising is paid media where the design of the ad focuses on the experience the ads are placed in; they feel like a natural part of the site's content. When you're implementing this correctly, users barely notice the content as an ad, apart from the "Sponsored Content" tag. According to Sharethrough, consumers looked at native ads 53% more frequently than standard display ads. Native ads registered 18% higher lift in purchase intent, too. When focusing on the inbound aspects of native advertising, it's important to create engaging content that aligns with your buyer personas. Map out your entire funnel and focus on where the interactions occur and where your users convert. Reach out to other blogs and companies that may have similar personas to have calls-to-action and other advertising hosted there, based on the content of their sites. If the content you're producing matches with what the users want, they're even more likely to click-through.
Social Promotion
Social promotion can be a great way to implement digital advertising using inbound. You can do this with sponsored feed content and paid social. Facebook, Twitter and Instagram do all the leg work to understand which users to market to based on your relevant audience and the keywords you set. Be clear and precise about who you want to advertise to and the keywords that make the most sense, or you're simply wasting money. It's important to not only match the look and feel of your content to the channel you're posting on, but also to make sure the channel is relevant to your audience; if you're posting the right content on the wrong platform your scoring and engagement will be flat. Keep experimenting to learn which channels give you the best ROI and what times of day your primary personas are most engaged – then deliver outstanding content during those times and on those channels.
Mobile Implications
2017 is predicted to be transformational year for mobile marketing. It's predicted that, by year's end 75% of online consumption will be mobile, according to media buying agency Zenith. Mobile video ad-spending is projected to exceed $6 billion by the end of the year. It's safe to say that desktop advertising is not the future of digital advertising and, while still important, the growth potential is huge on mobile. The concepts above still apply to mobile, but UX is even more important when you design your ads for mobile. It's important to note that social channels are incredibly more popular on mobile than they are on desktop. How often do you pop open Facebook or Instagram when you're waiting for the person in front of you to write a check for their groceries? Who does that?
Location-based advertising will grow as well over the next few years. Location-based advertising gleans information from a user's location data; advertisers can push content to that user based on the information they can gather and their specific location. This type of mobile advertising ticks all the boxes on effective inbound marketing: it's personalized and relevant because it's based on location, and it's timely, offering users content offers based on where they are at specific times. A great example of this was Starbucks pushing a notification to users of their mobile app by offering drink discounts if they were near a specific location. It's a modern-day call-to-action.
One final note about mobile: while ad blockers have been around for a while on desktop, they're only just now starting to appear more widely on mobile devices and are growing at an incredibly fast pace. Mobile accounts for 30.9% of global web traffic but of that 30.9%, 62.9% is impacted by ad blocking according to Business Insider. This is happening especially fast in developing countries where data consumption is more of an issue. These statistics clearly show a disdain for traditional outbound advertising – all the more reason to be using as many inbound tactics as possible to make sure the content being delivered is relevant.
Common Mistakes
Here are some common mistakes to avoid when implementing digital advertising using the concepts of inbound:
Promoting your product or service too early in the content funnel. Provide helpful relevant content rather than pushing specific products or services to the user when they're at the top of the funnel in their buyer's journey
Having too large an audience. Be specific about who you're trying to target. You can't target everyone, at least not with success. Focus on who you want to serve and what matters to them
Not testing enough. Keep testing all the different ways you're advertising. Look at what's working and what isn't. Is there a better time to push sponsored content to get more likes and conversions? Review your metrics, custom audiences and relevancy scoring. Are your primary personas interacting in the way you thought they would? If not, change something and keep working until you meet your goals
Not looking at keyword optimization to approach ad content. Review which keywords are relevant to your business and focus your advertising content around those keywords. If your ideal customer is searching for something specific, target your ads around those queries
Even though paid advertising is inherently outbound in nature, there are a lot of tactics you can use to skew them towards the inbound methodology. The main point in any of your marketing efforts should be the focus on creating excellent content for your buyer personas. If you maintain that focus, no matter how much effort you have to expend, you'll be rewarded with more (and better) leads. Do you have any tips on paid campaigns and inbound? Comment below!