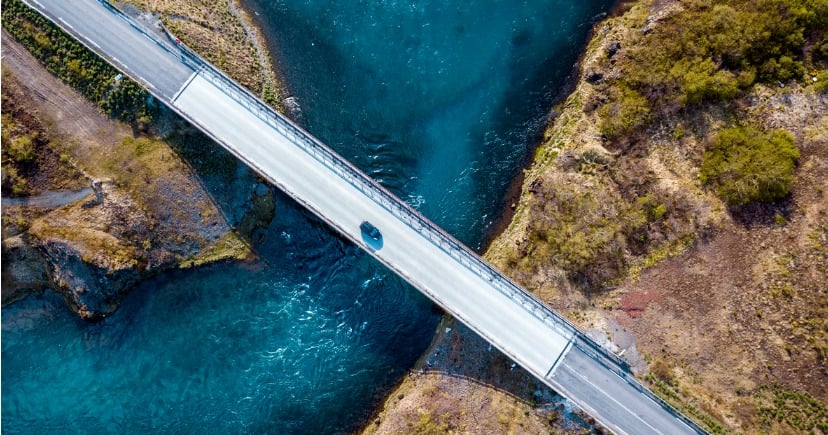 OK, marketers, it's time for a change. This year during your annual planning I challenge you to get aggressive. What I mean is for you to uncover and attack the gap between your growth goals and your current marketing performance. This mindset will help you create an annual marketing plan that:
attracts the best prospects,




delivers information they need for their purchasing journey,




closes those prospects into customers, and




puts delighted customers to work for you.



Are you up for it? Here's how to get started.
Take Aim On Next Year's Goals
Start your shift toward aggressive thinking by considering your business' overall goals for the coming year. These may be achieving a revenue growth percentage, breaking into a new market, or improving overall profitability. Once leadership has formalized these goals and communicated them to sales and marketing, you can set specific marketing goals that directly contribute to business goals.
Ideally, sales and marketing will jointly develop goals that hold both teams accountable and position them to support one another. You can do this by putting together a marketing and sales service level agreement for the year, if you don't already have one.
Let's say sales and marketing are tasked with increasing sales by 10% in a specific business segment. So, you'll likely need to determine:
What's the customer mix currently look like in this segment?




Is there potential to encourage additional sales with existing customers?




What's the average revenue for a new or existing customer?




Knowing that, how many new customers are required to achieve the 10% goal?



You get the idea. Asking these types of questions helps you uncover how to tackle this business goal and helps you formulate specific marketing goals to achieve it.
Evaluate Current Marketing Activities
Even with the full arsenal of inbound marketing methodology at your disposal, you may question your ability to hit all your marketing goals. How are you going to achieve these aggressive goals in order to meet your part of the commitment with your sales team? How can you deliver qualified leads and specific new business opportunities your sales team can act on and close?
After

conducting a sales and marketing review

, draw logical conclusions about what you learned by analyzing the KPIs, and then turning the conclusions into action steps that will be reflected in next year's inbound marketing plan.

Look at

KPIs

you're tracking — website performance, current marketing qualified leads (

MQLs

), sales qualified leads (

SQLs

) — to see what improvements can be made at key conversion points or stretch goals added.

Evaluate your website as a lead-generating machine; a

growth-driven design

approach inspires continual site improvements (based on data and company objectives) that drive leads.


Review your social media efforts so you're using the platforms to engage prospects and customers with boosted/sponsored posts that complement your ongoing updates.



Attack The Gap
You've defined specific marketing goals tied to your business goals. You've evaluated and critiqued your current activities and plans. And, you're observant so you've likely recognized the gap. Now, what's your battle plan? Depending on the size of the gap, any or all of these steps can help you close it:
Step 1: Let go!
Stop spending your budget and time on activities you've identified as ineffective and redeploy the resources. There are always some aspects of current activities that don't withstand objective scrutiny and need to change. Maybe it's a trade show or association that doesn't deliver leads commensurate with the cost, or an e-newsletter that no one is reading. A thorough, objective review calls these out and empowers you to make changes.
Step 2: Commit!
Fully adopt new strategies that you've determined will yield greater results and/or "double down" on successful existing ones. These are judged as effective but not resourced adequately. Maybe your blog attracts a good number of views, but you blog infrequently. Or you offer on-site product demos that always result in RFPs, so you need to figure out ways to do demos virtually, maybe via video. Double down any time you identify the beneficial inbound sales and marketing strategies or tactics that deserve more support.
Step 3: Shift!
The flywheel approach (which is more effective than the traditional sales funnel) helps identify points of friction and force that directly impact your ability to reach your marketing and sales goals. The customer-centered flywheel uncovers causes of friction — silos, handoffs, organizational structures, etc. — and shines a light on areas of improvement to improve conversion rates, customer delight, and customer churn. By reviewing your Marketing, Sales, and Service activities in light of the flywheel, you may want to place more emphasis on engaging existing customers so they become your advocates by providing online reviews, participating in case studies and interacting on social media.
A Brief Example:
Your website needs design and content updates. You're currently getting only 1-2 leads per month because your stale, outdated website turns visitors away and doesn't offer any conversion opportunities beyond a basic "contact us" form.
You estimate some gated content, supported by consistent blog articles, could convert around 1.5% of traffic into leads. Since your traffic averages around 1,500 visits per month, that's 22.5 leads per month. Even if your sales team closes only 5% of these (meaning just 1 new customer) in a 6-month period, that new customer's $130,000 average revenue makes up for deploying budget in this area for website design, fresh blog articles, case studies, white papers, and eBooks.
Instead of being intimidated by the annual marketing plan process, get aggressive and attack the gap between your current performance and your goals. Now's the time to identify where you need to alter your battle plan to make a strong impact for the coming year.
For help getting started, download our free Annual Marketing Plan Template.