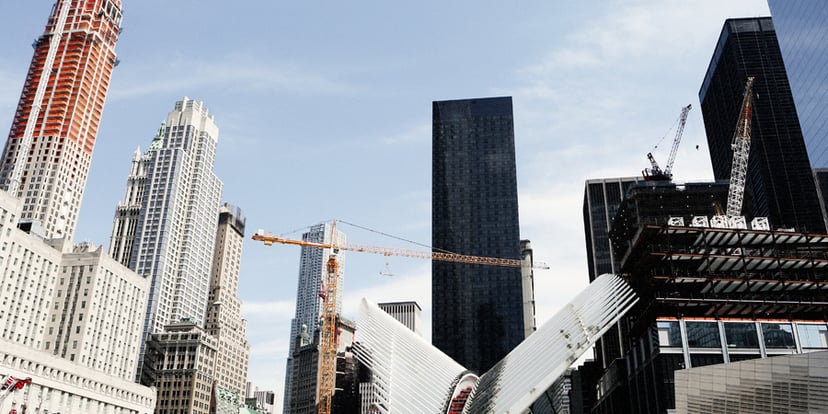 In financial sectors like insurance, banking, and wealth management, most marketers would agree that the number of leads generated each month is a far more important marketing metric than total monthly website traffic. Many companies attract high visitation levels from people looking for financial help—especially if you offer lots of content on page—but all that traffic is meaningless if those visits don't generate actions like quote requests, free assessments, or account sign-ups.
Still, financial marketers can't disregard website traffic either. Especially in B2B contexts, the number of website visits each month should correlate to the number of contacts you capture—afterall, your contacts have to come from somewhere don't they!
In this blog post, I'd like to address this relationship between website traffic and lead generation for financial companies and talk about how attention to website traffic sources can help to optimize the rate at which you convert real, valuable leads.
Which Sources of Website Traffic Convert the Most Leads?
Understanding Sources by Industry
Ask any online marketer which source is the most important to consider for converting leads and you're sure to hear varying responses from different marketers. One of the reasons Weidert Group focuses on specific industries like B2B finance and insurance is because we can maintain a more specific understanding of what tactics are most likely to improve lead generation.
In finance, just like any other industry, the main sources of website traffic can be parced in the following categories:
Organic Traffic
Paid Traffic
Social Media
Link Referral Visits
Visits from Email Marketing
Direct Traffic
Intentionally Tracked Visits (usually by UTM code)
Why B2B Finance Shouldn't Buy Traffic
While many consumer-focused financial companies spend heavily on paid channels, such as pay-per-click ads and media retargeting, the value of purchased traffic for B2B companies is fairly low since most business decisions are made through heavy research and analysis of competing rates. You're not likely to purchase a plan with a 10-year financial partner simply because they advertise to you.
Instead, when prospects are looking for information on insurance, benefit solutions, or accounting, they most often find providers through search, referral (either offline, in social media, or on other websites), and sometimes direct lookup. Understanding how these unpaid traffic sources relate to your lead generation efforts can be critical to improving how many sales-ready leads you identify each month.
Interpreting the Complexity of Direct, Social, and Organic Traffic
In evaluating your sources, you should be aware that website tracking software, like Google Analytics, KissMetrics, or automation platforms such as HubSpot, only provide limited knowledge of a visitor's journey to your website. For instance, a visit categorized as "direct traffic" might still involve some aspect of referral, but that link might have been offline, such as a shared PDF document or in a printed pamphlet. Similarly, social media traffic can be interpreted in a variety of ways. Some social visits may come from fans and followers. Other traffic could be a result of distributed content sharing—i.e. when your content gets shared several times over. The range of social referral often requires its own level of analysis, so it's important not to see a traffic source as a one-dimensional metric.
For finance-related businesses, it's specifically important to separate traffic sources driven from existing contacts and the visits that comes from new prospects. Email marketing traffic, for instance, obviously most often results in traffic from people you already have some level of relationship with. Unless you're buying lists and spamming people (which you shouldn't ever do), email marketing is only ever going to generate a low level of new unique visitors—usually via email forwards. Instead, the value of email-sourced traffic is in nurturing existing leads who might become interested in buying down the road. Similar to email, companies should carefully analyze social traffic to evaluate its value for generating new visits versus return visits.
For Financial Companies, It's Search vs. Referral
When it comes down to it, new visits for B2B financial companies are less likely to come from social, email, and direct traffic sources. Why? Because those sources simply don't match the buyer's journey for B2B finance. More often than not, people considering financial solutions are proactively looking for advice on how to make good decisions or they're seeking referrals from trusted sources. In other words, it's search vs. referral.
"...People considering financial solutions are proactively searching for advice...or they're seeking referrals from trusted sources."
This is often why in Weidert Group's areas of focus, SEO is the primary method of content promotion, over email-based or social media methodologies. Both referrals and search traffic are heavily dependent on the same optimization methods. At the core of each traffic area is the need to build links on other reputable websites. Referrals and search also require strong owned content that others, including Google, will recognize and give you credit for. In short, you can't often get good search traffic if you don't also build good referral traffic.
Building Online Credibility Should be a Finance Marketer's Focus
If you accept that search and referral visits are the two most critical areas of traffic for attracting qualified leads, then you should also accept that your marketing plan should be based on building credibility online—for visitors, followers, and search engines like Google.
In B2B contexts, an emphasis on credibility is the primary approach of inbound marketing. By implementing a strategy that aims to optimize how visitors gradually become paying customers, the tactics are inherently designed to be as authentic, credible, and knowledgeable as possible. For more on how these two topics are tied, check out this recent article, describing five of the tactics we use to build a company's credibility factor online.