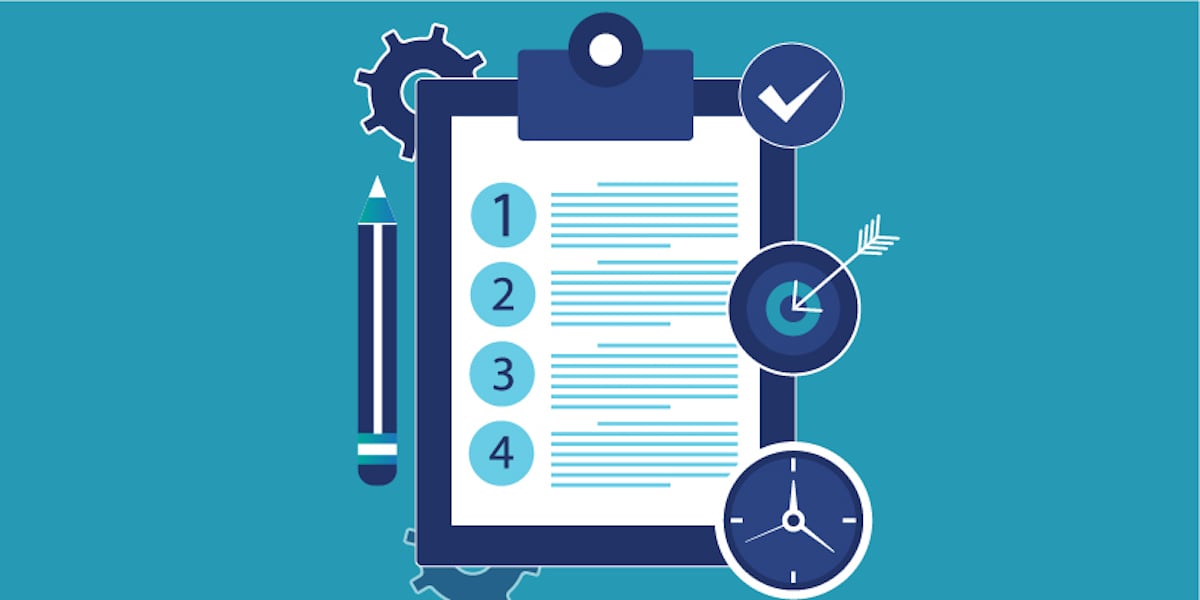 For B2B businesses that use social media as part of their marketing strategies, LinkedIn has been the overwhelming favorite. No other social network is as tailored to business professionals, making it the perfect place for B2Bs to connect with their audiences.
Did you know?
89%

of B2B companies use LinkedIn for content promotion


80%

of all B2B social leads come from LinkedIn

The average buyer reads

10 pieces

of content before making a purchase decision

People today are turning to social networks, blogs and company websites for helpful information, and LinkedIn is the ideal platform for sharing these resources. As LinkedIn's own blog put it:
"People spend time on other social media networks, but they invest time on LinkedIn."
Since people invest time in LinkedIn, should you invest part of your marketing budget in LinkedIn advertising? Probably. Ah, but that begs the question...
How Much do LinkedIn Ads Cost?
If you're looking to dip your toes into the paid social waters, advertising on LinkedIn is the best place to start for B2Bs, and typically provides the best results. People are more serious about finding business solutions and helpful content when browsing LinkedIn (as opposed to Facebook or Twitter).
That said, getting started can seem like a big wall to climb, and there's always the question of "how much do we actually spend?" There's no one-sized answer and, to get to it, you first need to answer some questions.
Who is your target audience based on job function, job title, seniority, employer, location and other demographic information?

Do you want Sponsored Content placed directly in that audience's newsfeed?

Do you want to opt for smaller Dynamic Ads on the sidebar?

Do you want text ads at the top of the site?

Do you want Sponsored InMail that appears in each person's message inbox?

Each of these factors will impact your final cost, which is really up to you. You can start your ads and stop at any time. According to LinkedIn, "Ads are sold through an auction. When you run ads, you compete with other advertisers who want to reach a similar target audience."
How to Get Started With LinkedIn Ads
Starting an ad campaign and choosing your audience is often one of the most daunting parts of advertising on LinkedIn. Once you get started, however, it's not as complicated as you might think. Just follow these steps:
Create an account with LinkedIn's

Campaign Manager

. This will be where you manage and optimize your ads. You'll have the option to associate your company's LinkedIn Page; you'll need to do this in order to create Sponsored Content campaigns (see below).

Once your account is created, you have the option to set up Campaign Groups, which is helpful if you're running more than one campaign at a time.

Next, click the button to Create Campaign either on the main Campaign Manager screen, or within a Campaign Group.

Name your campaign and select the objective of your ad. Hover over each option and you'll see some information about what each is and how it's useful.
If you're trying to drive traffic to a specific landing page on your website with a conversion offer, such as a relevant industrial buyer's guide or case study, select Website Visits as the objective.
Set up your campaign parameters, including:


Audience

— use different criteria to target your ideal personas, focusing on location, age, gender, industry, company size, job function and job skills




Ad format — single image, carousel, video, text, job, spotlight, etc. Note, available options vary by campaign objective

Placement — LinkedIn only or also on LinkedIn apps and websites

Budget and schedule/duration — this is where you'll decide your bid type and cost, daily budget, and how long you want to run your campaign.


LinkedIn will recommend a bid price for your audience, which is based off what other companies are paying to reach a similar audience with their ads. You can change it as you see fit and set the overall budget.

The better the bid, the better the chance your ad will appear in your targets' feeds. However, LinkedIn rewards posts that are more engaging, so you can still win an auction without being the highest bidder. So, make your post shine!


There are generally three bid type options: Cost per click (CPC), Cost per impression (CPM), and Cost per send (CPS) which is for InMail posts

Objective-specific options — such as conversion tracking for Website Visits, which tracks the action you want the visitor to take on your site



Once your campaign parameters are set, it's time to create your ad content. You'll have the option to:
Promote a recent post (or several) from your Company's Page

Promote an update from your Showcase Page
Create a brand new ad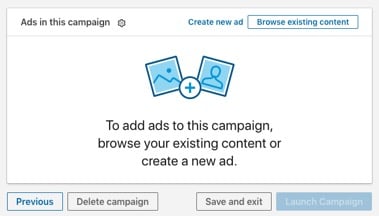 Note that if you want to promote a revised version of a recent post, LinkedIn recommends just creating an entirely new ad. In fact, try creating a few different variations (similar to A/B testing) to see which gets better results.
How Much to Spend on LinkedIn Advertising
The question of how much to spend is one that almost always trips people up. There's no one-size-fits-all answer, and it varies based on your marketing budget and your goals. If you're just getting started, it's okay to test the waters with some lower-budget trial runs so you can figure out what works best for you.
From there, I recommend two approaches:
Set a cap on how much you want to spend given the bid price and what you're comfortable spending in a given timeframe (e.g., $250/week at $10/click).
Use your campaign goals and page performance metrics to determine how much you should spend to reach your desired number of leads.
Here's an example for approach #2. Let's say your ad promotes a landing page on your website. Based on your analytics, you know that 1 out of every 9 landing page visitors becomes a lead and 10% of leads are marketing qualified (MQLs). Using that info, you can expect it'll take 90 landing page visits for every MQL. It makes sense to budget your LinkedIn campaign for 90 clicks per MQL. However, since you're typically targeting a more qualified audience, many LinkedIn ad campaigns will attract MQLs at a higher rate.
Tips and Best Practices for LinkedIn Ads
Target by job function, not job title. You might think "Job Title" would be one of the best targeting criteria when setting up your ad, but not necessarily so. It's not a bad thing if you know the primary positions you're targeting, however, it can be tedious trying to think of all the different iterations of job titles. Instead, using a job function like "sales" (combined with the right industry targets) will cover much more.

Create multiple ads for optimal results. If you're really serious about running a LinkedIn ad campaign, consider running four versions. Why four? For starters, you can't always be sure how your ads will perform. Having different ads for your campaign lets you track your best and worst performers. In addition, the way LinkedIn ads work, your targets can only see each ad once every 24 hours. By having more than one, you increase your chances of being seen. More than four ads works well when running a large campaign but, for smaller campaigns, going over four can spread your budget too thin and make it harder to notice the nuances in A/B testing.
Use visuals and video to your advantage. Make your sponsored post stand out by using an image or video. Adding these will help your ad take up more real estate in the feed and stand out from typical posts. If you're going the video route, LinkedIn allows you to create a video ad right in the Campaign Manager.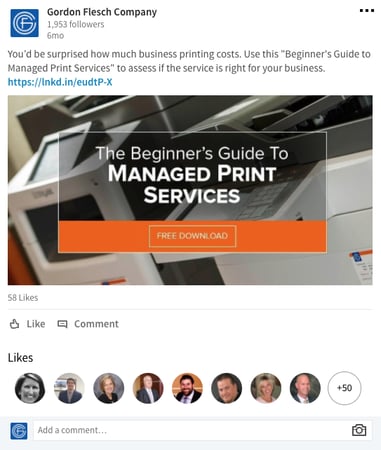 Promote content that generates leads. It might be tempting to share your new blog post, which might have a CTA for an eBook, but you'll get way more leads and contacts from your ads if you just promote the eBook (or other advanced content) directly.
Use your best Company Page posts. If you aren't sure what to promote, use an existing post that has already performed well. Promoting an old post will carry the likes and comments over to the sponsored post. This helps your audience know that the post is interesting to others who follow your company and helps bump engagement even further. Keep this in mind when sharing a post you'd like to promote later and let it rack up some organic likes and comments before converting it to a sponsored post.
Take advantage of LinkedIn's free ad credits. If you're the admin of your Company Page on LinkedIn, chances are you've gotten some emails offering a free $50 ad credit. While it's not enough to fund a campaign, 50 bucks is 50 bucks, and chipping in $100 more would get you roughly 20 clicks at $7.50/click. Not a bad trial run for dipping your toes in the water.
For B2Bs, no other social network comes close to being as effective as LinkedIn, and their ad capabilities are second to none when it comes to targeting your audience. Hopefully these tips make it easier to get started. If you want to learn more about using LinkedIn as a B2B business tool, check out our infographic below.