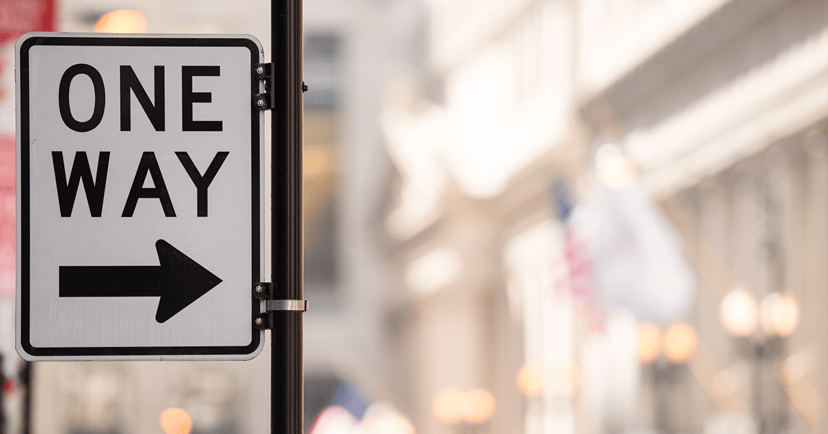 The number of online profiles the average marketer has to manage can be a little ridiculous. You probably have social media accounts for your brand, and additional accounts associated with other online tools and services you use. That's probably the reason too many brands mix personal accounts with business accounts, something that ends up breaking the online marketing chain Google has tried to forge.
In order to take full advantage of the services Google offers, you must have a single Google brand account. I'm going to outline how to get started, a few reasons you should have just one account, and some important benefits you'll get with your Google account — including tools to help improve your inbound marketing efforts.
Getting Started (Gmail Is Key)
Start by creating a Gmail address for your brand, because all of your "Google" mail will go to one inbox. Once that account is made, it can be used to create and manage the other accounts – Google Ads, Google Analytics, Google My Business, Google Search Console, etc. Having one central login for all Google apps allows you to transition easily between these services. Once you log in to your company's Google account, it'll keep you logged in as you navigate between the different services.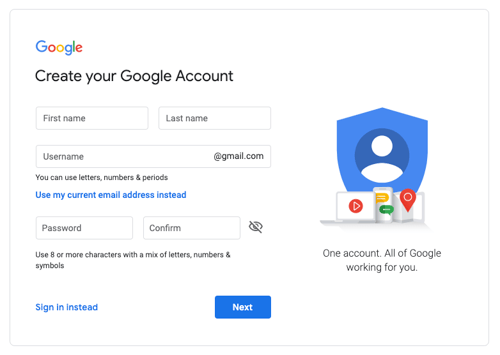 It used to be that if you'd messed about and linked your personal account with your brand, you'd have a fair amount of damage control to take care of, as there was no clean way to back out of the mess. Now, though, Google has made it easier by allowing you to transfer ownership of properties and ads.
Google Services All Businesses Should Have
Of all the services Google offers businesses, some are more valuable than others. We recommend a company takes advantage of these first and foremost:
Google my Business — This service allows you to control how searchers find your business information when searching, such as phone number, map location and photos. If you see that there's already a listing out there you can claim it, or you can create one if there isn't
Google Search Console — Allows you to see how searchers are finding your website – and can be used to diagnose any indexing or UX issues that Google considers important for search
Google Analytics — Tracks and reports website activity, with information about session duration, pages per session, bounce rate and much more
What If You Leave or Want To Collaborate?
Another reason to keep your personal Google account separate from your company's brand account? I'm making things awkward here, but what if you leave your current position? Or what if you're probably doing an awesome job and get promoted so you'll have to hand the virtual keys over to another member of your brand? These are all good reasons not to have your brand's information tied to your personal account. And makes it impossible to collaborate with other members of your team if you've got personal stuff mixed in with business for Google.
What You Can Access With A Google Account
Once your company has a Google account and associated Gmail address, you can use that to sign into all of Google's services.

Here's a list of everything a marketer will be interested in and what each does. Leave me a comment if I left anything out!
Gmail – Google's email system, which is both loved and hated. You decide.
YouTube – Most popular video streaming platform online, and also the second largest search engine
Google Analytics – In my opinion, the best free analytics tool available for your company website
Google Search Console – In-depth analytics on Google crawls and indexing of your site. (Warning, this is a nerd-only zone!)
Google Ads – Great paid search service and keyword research tool
G Suite Certification Program – Google's "school" which allows you to become certified in the services offered by Google
Google Drive – Online cloud storage and collaboration tool with sharable word processing, spreadsheets, presentations, and form creations
Other cool Google Stuff:
Sites — you can create an intranet for your company, with HR information, forms, updates and more
Calendar — keeps employee's calendars visible and allows easy scheduling
Keep — offers a variety of tools for taking notes, including text, lists, images, and audio
Tag Manager — allows you to quickly and easily update measurement codes and related code fragments (tags) on your website
Google Cloud Platform — a suite of cloud computing services including computing, data storage, data analytics and machine learning
I could write a blog post on each of those tools because they're all beneficial to marketers. Google Analytics is the 800-lb. gorilla, though, because that tool integrates with Google Ads, Google Search Console, Google Tag Manager and YouTube, so you can truly optimize your efforts there.
Start It Up
You should plan out what you want to do with your Google account over the long-term and take one tool at a time. You'll be best served if you master a tool and move on to the next one; I've had to play catch-up before because I just sampled tools here and there. Learn from my mistake and just go as fast as you feel comfortable. Your brand's online presence will benefit from that much more than from a sporadic sampling of the various tools.
Clearly, Google is a powerful business asset that can help yours not only get found online, but operate more efficiently, too. Learn more about how Google's algorithms influence how people find you online by downloading one of our most popular content pieces: the SEO Survival Guide!