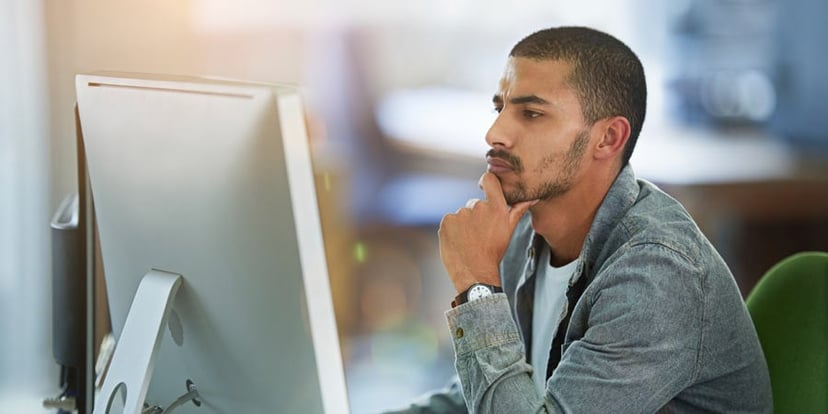 Though it doesn't get as much recognition as it used to (given the increased popularity of other content sharing channels these days), email marketing continues to be a critical part of every company's inbound marketing strategy. As the most common form of communication in the business world, the majority of Americans check their emails more than 5 times a day, and it's certainly the most direct way to reach an online audience. Not everyone has a LinkedIn account or Twitter profile, after all, but it's nearly impossible to get by in today's online world without having an email account.
That being said, while just about everyone with a computer or mobile device uses email, at the same time, email users have also become much more sensitive to email advertisements. The average business user receives 10 or more spam emails each day, and that's not even counting the ones caught by your spam filter! As people become better and better at tuning out advertisements and promotions, it's important that you re-examine your company's email marketing strategy to see which tactics are having the most success with your audience, and employ new strategies wherever necessary.
To help your company enjoy more email marketing success in 2016 and beyond, make sure you follow these tips and experiment with the following subject line examples:
4 Things That Dictate Whether Someone Will Open Your Email
Sender's Name
It's not always about how you say something that gets readers to open your emails; sometimes, it's simply a matter of who says it. For example, if a reader sees an email from your company's corporate email address, they're more likely to feel like it's just another mass message from your company. However, if it's delivered from one of your account executives' personal accounts, readers are more likely to feel like it's a personal, important message sent just to them. Likewise, if your company is regarded as a thought leader in your industry, sometimes all it takes is a glance at the sender's name for readers to know your email is worthwhile.
Your List
As any good marketer will tell you, a lot of your marketing success depends on making sure you get your message in front of the right audience. You wouldn't want to pitch dog food to a bunch of loyal cat owners, for example, so it's important that you take a targeted approach with your emails. Software programs like HubSpot make it easy to segment your site's contacts into different lists, which can be sorted by a wide variety of factors (e.g., age, gender, location, job title, last contact date, etc.). Use segmentation to your advantage, as your company's different personas will likely respond better to different, more personalized emails.
Date and Time
This is a little more fickle, as it's hard to control when your audience will be more likely to check and open their email, but there are a few obvious sending times to avoid. Emails sent late at night have a higher chance of being ignored or deleted, for example, and users check their email less frequently on the weekends. The best times to send emails are typically during normal business hours, because that's when people are glued to their computers at work. That being said, make sure you experiment with a few different sending times throughout the week to see what times work best for your company. Likewise, you can always take advantage of holidays and breaking industry news to prompt readers to open your email.
Subject Line and Content
Last but certainly not least, what you say in your subject line has a huge impact on whether or not readers will open your email. In fact, 69% of email recipients report email as spam based solely on the subject line. You only get one shot to make a first impression, so if you aren't careful or creative with how you write your email subject lines, the majority of your audience could write you off as spam without even giving you a chance. Keep in mind that iPhones cut off subject lines around 35 characters, so you'll want to be punchy and concise to entice all potential readers right away. You also need to be considerate about the words you use in your subject line, as some are huge turn-offs for professionals. According to a recent study of more than 3 billion sent emails, the following words and phrases were shown to have both positive and negative effects on B2B email open rates: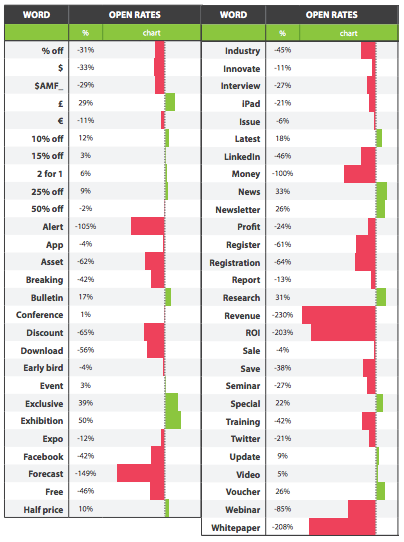 Top 7 Email Subject Lines We Wrote for Industrial Clients
To help provide you with some real life examples of effective email subject lines we recently used for some of our industrial clients, here's a ranking of our 7 best subject lines from 2015:
7. "Everything You Need To Know About Industrial Fluids"
Open Rate: 20.5%
Click Rate: 4.8%
What Makes it Great: Grabs attention by alerting the reader of a potential all-inclusive resource. Readers who want more information about industrial fluids are enticed to learn more, and readers who think they know it all are curious to see if it really covers all the bases (and potentially offers new insights).
6. "New eBook: 5 Benefits of a Custom Medical Cart Solution"
Open Rate: 29.03%
Click Rate: 1%
What Makes it Great: Not all emails need a super creative subject line. In fact, in the B2B realm, being straightforward is usually a good thing. For anyone considering a stock vs. custom medical cart solution, this email alerts them of a new resource that can be very useful in helping make their decision, and all it took was "New eBook:" and the title of the eBook afterwards.
5. "How to Extend Tap Life 400%"
Open Rate: 42.37%
Click Rate: 10.17%
What Makes it Great: Short, sweet, and attention-grabbing, this subject line was used to promote a case study, and was perfect for targeting plant managers who are interested in prolonging their equipment's tap life.
4. "Use This Free Drilling Speed and Feed Calculator for Your Next Operation"
Open Rate: 45.76%
Click Rate: 13.56%
What Makes it Great: Did someone say free calculator? B2Bs tend to love free calculator tools, because they provide quick answers for something that usually requires a lot of thought—and often end up saving time and money.
3. "Do you know the right oil for each of your machines?"
Open Rate: 52.17%
Click Rate: 26.09%
What Makes it Great: With the email preview displaying the email's headline of "Get Longer Life Out of Your Machines with the Right Lubricants," email recipients were curious to find out if there's a better oil choice for their machines than what they're currently using. Putting the subject line in question form is also a good strategy to get recipients thinking about it.
2. "Thank You for Stopping By Last Week"
Open Rate: 50.98%
Click Rate: 7.84%
What Makes it Great: Sent as a follow-up email to people who left their contact information at our client's expo booth, it's a short, sweet subject line that acts as an icebreaker to continue the conversation. The high open rate is likely because people were expecting a follow-up email, but if you aren't collecting contact information at tradeshows or following up with new connections after networking events, use this example as a reason to start. This is where list segmentation comes in handy, but it also helps that "Thank You" is the most effective phrase for getting people to open your emails.
1. "See Shrink Bundling in Action"
Open Rate: 62.5%
Click Rate: 50%
What Makes it Great: When done correctly, video is one of the most effective forms of marketing content for B2Bs, especially when it's used for product demonstration videos. Shrink bundling machines certainly aren't small enough to bring with you to sales presentations either, so video can be extremely helpful for giving prospects a firsthand look at your machine in action. That's exactly what we did for our client, and it ended with half of the recipients clicking to watch the video.
While blogs, social media, and advanced content might be what most marketers are focusing on these days, you can't forget about the importance of your email marketing. It's easy to get lulled into a rut since we've been sending emails for so long, but if you aren't satisfied with your company's email performance, try overhauling your approach for 2016, including what you're sending, who you're sending it to, when you're sending it, and what you're saying in your subject line.