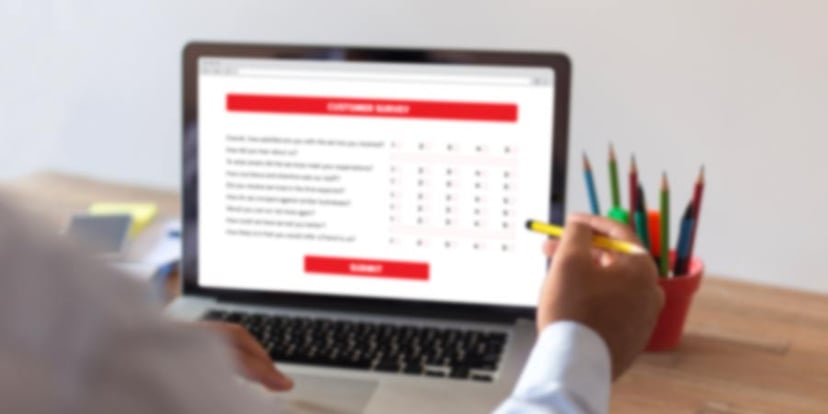 No matter what your business type or industry, you likely have some sort of list of contacts started. Whether it's a formal list of information in a CRM or a messy spreadsheet full of contacts, most B2B marketers have some sort of list that they'd like to market to.
And that's where the million-dollar inbound marketing question comes in: What are you planning on doing with this list? What do you do now? Anything? What's holding you up from getting all that you can out of that list?
From the perspective of lead generation, inbound marketing is all about growing a list of contacts that you continuously educate through rich, helpful content. If you already have a list to start with, even better! In beginning an inbound marketing plan, we start by urging clients who aren't actively using their contact lists to send a permission pass email to help boost their inbound marketing efforts.
Simply put, a permission pass email (sometimes referred to as a welcome pass or opt-out email) provides an opportunity to send an email to your list of contacts requesting their permission to send them emails in the future, or welcome them to your email marketing campaigns. B2B marketers can use permission pass emails to help turn their contact lists into a solid foundation for inbound lead generation.
Why Request Permission?

Even though you may be sending some emails to the contacts on your list already, it's a good idea to send a permission pass email to clean up your list and get a good snapshot of which contacts to engage in future marketing emails.
Although most of your contacts were likely from organic sources (business card exchanges, people who've submitted their contact information at a tradeshow or convention, people who've been engaged in the sales process in the past), they haven't necessarily given you the green light to send your marketing information to their inbox.
Requesting permission with a simple email and, of course, giving your contacts the option to opt out of email communications at any time not only weeds out those who are uninterested or don't have valid emails, it helps your prospective customers see you as ethical and honest—something that B2B buyers always appreciate in the sales process.
What Does a Permission Pass Email Look Like?
There's no one template for a permission pass email, but typically, this type of email is short and to the point. The only thing that must be included on a permission pass email (and any marketing email, really) is a link at the bottom allowing a contact to opt out of, or unsubscribe from, future emails. The general idea is that, in accordance with CAN-SPAM laws, if a contact doesn't choose to opt out, they're automatically opted in to your email marketing list.
We've seen many permission pass emails include a brief message explaining the reason for the message, a call-to-action for a content offer linking back to the company's website, and a link to opt out at the bottom. Take a look at how we set up our own permission pass email, that asked visitors to opt-in to personalized content.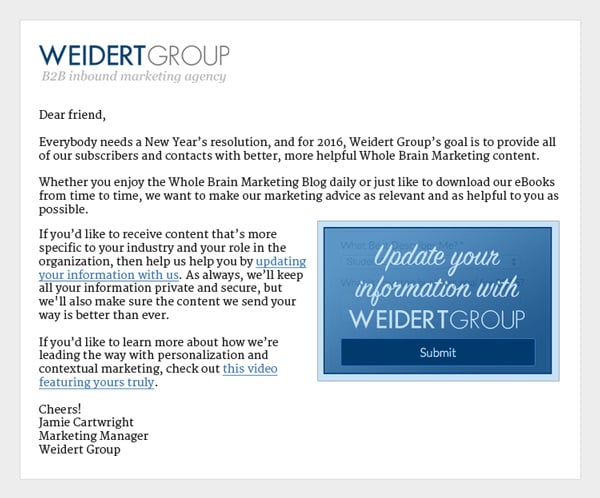 Using a Permission Pass Email to Boost Inbound Lead Generation
Once you've sent a permission pass email, you'll want to carefully analyze the results and clean your list accordingly, removing those emails that bounced or were marked undeliverable.
After your list is cleaned up, use the information to segment your list and send targeted emails as appropriate. Perhaps you noticed a large number of people who opened the email but didn't click on your CTA. You may want to follow up with another email to that list of people with a simple form that requests more information about them so you can better serve them: what's their industry? What kind of information will they find helpful from you?
Permission pass emails are a simple and effective way to help you clean up your master list of contacts to better market to prospective buyers and nurture them through the sales process.