Technorati Media released its 2013 Digital Influence Report this week, a replacement for its annual State of the Blogosphere publication. The reason for the new name? Well, the report argues that "blogosphere" is now a misnomer.
With the rise of social media, blogs are being shared in newer ways, and aggregators and blog search engines like Technorati are changing their strategies to optimize social sharing. The new report focuses on how these new trends in blogging and social media are changing consumer expectations and transforming business strategies today.
To gather data, Technorati conducted surveys late in 2012 on consumer behavior, branding and online influences. They sent surveys to the top digital account supervisors and planners in the world, people Technorati call "Influencers." Then, they engaged 2.5 million email subscribers to gather feedback about the state of digital influence on the Web today. The result is an incredibly powerful breakdown of what is current in the world of digital marketing.
So, what are the discoveries outlined in this most up-to-date nugget of marketing gold? Well, I think there are two ways to looking at it. First, what can Inbound Marketers take away from Technorati's consumer behavior research. And second, what can we learn from the "Top Influencers" in digital marketing today.
What this report means for Inbound Marketers: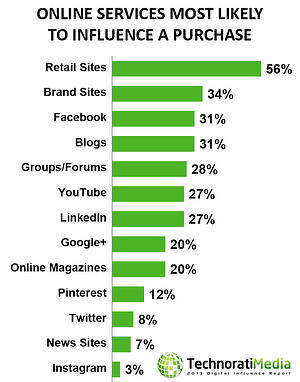 First, if your focus is Inbound Marketing, then you should be very happy. Everything that this report details proves why Inbound is working so well. Here's a quote from Section IV: Consumer Behavior.
"When it comes to community size, 54 percent of consumers agree that the smaller the community the greater the influence ... The survey findings also indicate that many of those consumers are turning to blogs when looking to make a purchase. Blogs were found to be the third-most influential digital resource (31%) when making overall purchases, only behind retail sites (56%) and brand sites (34%). In fact, blogs were found to be the fifth-most trustworthy source overall for information on the Internet."
You don't get much more proof than that. Inbound Marketing strategy cultivates an immediate community of leads in which the relationship between business and prospective customer is very close. And where is the center of the strategic direction--your brand site? The reason Inbound Marketers focus so much on blogs and relevant calls-to-action is they want to deliver prospects to the home site to build that "trustworthiness" the report talks about. If you're following this kind of Inbound Marketing strategy, then, according to Technorati, you're in pretty good shape.
Of course, if you look at the graph above, you'll see that retail sites beat brand sites by a long shot. If you're in retail, then don't back away from it. Build trust by bringing people to your brand, but show them the sales opportunities also. Another key point from the graph is that it combines social media with non-social results. This is where you really see the impact of Facebook. More and more small businesses are using Facebook as an upfront informational site. Depending on your industry, you definitely want to consider the value of this strategy.
What the top Digital Marketing Influencers are doing to enhance their efforts:
The second point Technorati really hits home is that the top Influencers in digital marketing are doing things differently, and they're doing different things now. Apparently, 88% of the top Influencers blog for themselves, and 52% have more than one blog. This could be a key difference in 2013. Expect to see new blogs created that tailor to consumers specific interests.
Another key aspect is that top Influencers are diversifying the content that informs their blogging. Of course, other blogs still hit the top of the chart. But, notice that the spread is relatively even between the top six results. People are looking for many different sources of information to drive their blogging.
One aspect that might surprise some bloggers about the report are its findings on how Influencers generate revenue. 64% say they are doing it using blogs themselves. Whether it's banner ads, brand-sponsored content, or affiliate programs, the top Influencers are not just converting prospects with great blogging efforts; they're generating revenue too.
Finally, Influencers have a lot to say about using social media as well. The biggest takeaway is that Influencers are not just using Facebook to broadcast their brand, but are following brands most successfully through Facebook. 10% of Influencers use Facebook as a primary platform for their marketing efforts, and Facebook is the second-most cited platform for following other brands. While Twitter and YouTube are certainly important, it seems that Facebook is the winner with the top Influencers today.
Reports like the Digital Influence Report offer great stats to back-up your marketing strategy. Be sure to take a thorough look at the report to grasp the full dimensions of what Technorati predicts in 2013. However, the key with putting this information into action is to develop a strong Inbound Marketing strategy from the ground up. Download our Step-by-Step Guide to Inbound Marketing to begin the process of forming thoughts for your own strategy.