Marketers only ever have limited time and budget. Nobody should make plans in a vacuum, and if you don't accurately factor in the various constraints on resource utilization, then your plans can easily move from being realistic to optimistic—which some would call "soon-to-be-disappointed."
In essence, every marketer has to pick and choose how to allocate resources to reach maximal effect. Which tactics and activities will lead to results? And which tasks can be de-prioritized because of their lesser impact?
As a marketing manager, I face questions like these every day. Should I spend time strategizing or executing? Writing or Designing? Promoting or Publishing? Especially if you're operating without a specified plan in place, you can easily fall into a revolving cycle of "how should I prioritize?"
How to Make Prioritizing Decisions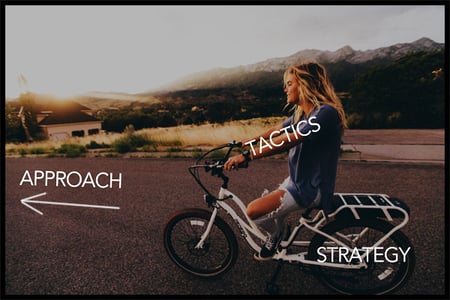 Prioritizing your marketing tactics starts with choosing your approach—e.g. inbound marketing, outbound marketing, advertising, word-of-mouth, etc. While some might call inbound marketing a "strategy," we'd say that a strategy is built specifically for you and your business, while inbound marketing is a heuristic approach for understanding how the buyer's journey has changed and what marketers can do to guide prospects toward the sale.
When you adopt an approach for your marketing efforts, then you have a foundation for the strategy that guides your tactical decisions. An inbound marketing approach will change how you evaluate your resource allocation, just as a word-of-mouth approach would also shift how you value the time and resources you spend. Tactics attached to any strategy can reasonably generate positive ROI, but the approach you take and how well you turn that approach into a guiding strategy will determine the magnitude and speed at which returns are realized.
Today, in this blog article, I'll demonstrate how adopting a inbound approach full-throttle can help you efficiently make decisions about your everyday priorities.
SCENARIO:
Regularly Publishing Content
vs.
Building New Website Features

The beginning stages of an inbound marketing approach center on engaging visitors. Depending on your strategy, you may be aiming for more traffic growth or less, but no matter your business, at some point in the process, your goal is to engage your website visitors with the aims of converting them into contacts.
Very quickly, most marketers encounter a problem of how to prioritize. Should I spend my time trying to attract more visitors (i.e. more monthly traffic), or should I aim to make every visit last longer (i.e. longer time spent on page and lower bounce rate)? On the one hand, more visitors means more eyes are seeing the content, and the potential for generating social sharing is greater. Yet, if the visitors don't spend time exploring the website, then how likely are they to actually pay attention to your business and understand your value?
In practical terms, the choice for most beginning inbound marketers is this: Should I...
(A) Publish more marketing content (e.g. blog articles) at a higher rate, i.e. more regularly?
(B) Improve my website (e.g. more pages, new description, more features) to give visitors more ways to engage and more pathways of discovery?
Prioritizing Marketing Tactics Using the Inbound Funnel: Solve for Conversion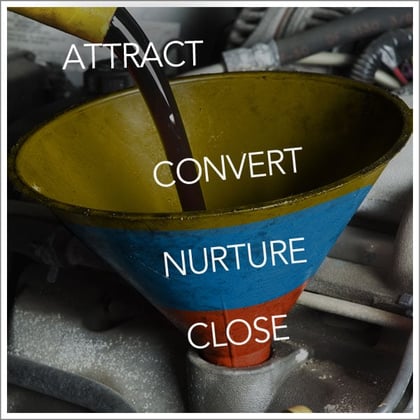 Clearly, both parts of the process are critical to doing well by your website visitors. But the choice of how to prioritize tactics should really be based on the rest of you inbound marketing funnel.
Looking at a typical model of an inbound program, the immediate goal of engaging visitors is to convert as many visitors as possible into leads. In most cases, that means a visitor will land on the site, find their way to a form, and submit their information in exchange for some sort of form.
Depending on your business, your way of converting visitors into leads will vary greatly. For instance, some companies need to focus on converting visitors with experience-based offers, such as free consultations or assessments. Other companies draw contacts in with content and seek out reconversions later on to further qualify leads. Most companies use landing pages, but for others, a simple sidebar form may do the trick. There are numerous ways visitors can be converted into leads.
By analyzing how conversions are going, then you can assess how to spend your time.
If, for instance, you are getting plenty of visits, but few form submissions, then perhaps you need to find ways of developing your website so that visitors reach form submission opportunities more quickly. More Calls-to-action, a smarter UX, and better navigation options could be important tactics to use.
However, if you look at your conversion rates, and you're well above 2% visitors-to-contacts, but you just don't get that many hits per page, then maybe you should look at increasing visitors. That's where more blogging, social sharing, and optimization are important ways to spend your time.
Execute with Consistency to Preserve Short-Term and Long-Term Results
Even if you make all of your decisions based on your current needs for conversion, you can easily get caught up in the question of whether to execute for long-term capabilities versus short-term results.
Consistency in content publication is important for maintaining current conversion rates, while growth of your website is also important for continuing to convert new visitors down the road.
From our experience in inbound marketing, consistency in publishing blog content is critical because the risidual effects of blogging consistently are directly tied to both current traffic and future traffic (blogs continuously attract visitors for months after their publish date). If you blog weekly, keep blogging weekly. If you share social media updates daily, keep doing that as well. However, if you can maintain consistency while secondarily creating new website components—even if they're put on a longer track of progress—then you'll see more predictable growth long-term.
In a nutshell, we wouldn't recommend building out new website functionalities if it meant losing consistency in your publishing efforts. Nor, would we recommend publishing your blog more often if it means stopping progress on creating better website assets.
Predictable Growth vs. Boom & Bust
The major advantage of inbound marketing is that marketers now use their websites to publish content that will continuously attract leads for years to come. By helping companies consistently publish content, we build inbound marketing plans that aim for sustainable growth over several years, rather than driving a boom of traffic to your website (with display advertising, pay-per-click, etc.) that goes bust after you stop paying for it.
That's why consistency is so important. When you have limited resources, even though it can be difficult to decide how to spend your time, it's crucial to maintain consistency rather than running around trying to wear too many hats. From our vantage point, website projects are exciting, but they're best done in a way that allows for consistency rather than breaking your publication cycle.
Click the guide below to gain more insight how to make the right tactical decisions to help make your inbound marketing strategy more effective.