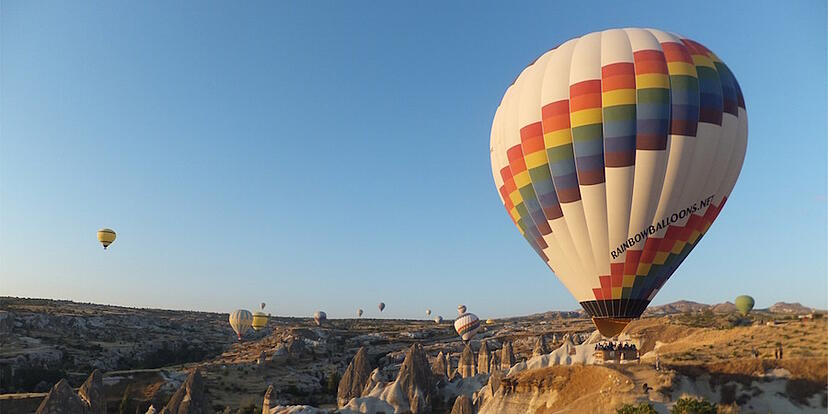 So, you've seen the inbound marketing light. You're inspired and beyond motivated to pitch the idea to your leadership as the solution to your business development and lead attraction woes, but you know your CFO is going to ask the obvious question: what is this going to cost for us to get started?
This is a very logical and appropriate question and one we hear often, and have discussed countless times with new clients.
The following post will guide you through the steps and building blocks we recommend to build a sound foundation for launching an inbound strategy, which will give you direction on determining what to budget to support it long-term in order to build a sustainable program that can help grow your business for years to come.
1. Identify Your Growth Goals & Desired Timing to Achieve Those Goals
Every company has different growth goals, desired time frames on achieving those goals, and various factors that support or inhibit them from reaching those goals. These directly influence how much you should budget for your inbound launch and ongoing program, in order to successfully reach those goals.
What are your specific business and marketing goals? If you read my previous post, you probably have a pretty good idea and know what your situation is on the performance gap you're needing inbound to fulfill.
Being realistic here is important. If you're needing to grow your website traffic by 3,000+ visits per month to get the necessary lead volume you're looking for, publishing one new blog article per week isn't going to cut it. Instead, you should look at publishing 5 days per week and then ensure you're properly promoting those on social media channels and in a bi-weekly or monthly eNewsletter distribution to your client and prospect lists. As you can imagine this type of frequency takes considerable time and if your team isn't equipped to meet those demands you need to budget for using an outside inbound marketing agency with a team of writers.
2. Assemble Your Internal & External Team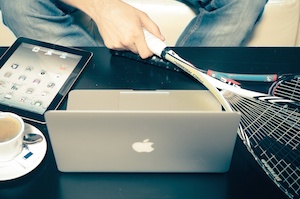 Once you've arrived at your goals and have a sense of how much manpower you're going to need to achieve those goals, you can begin to assemble your inbound team. The size of your company can obviously play a factor here since a larger company often has more employees to ping as content contributors, but size isn't everything. If your company doesn't support or adopt an inbound culture you'll fail with a team of 5 or 50.
With that said, here's some things to consider as you assemble your internal team:
Look beyond your marketing department for potential content contributors. Tapping into members of your company who work directly with customers such as your sales and service teams is crucial, as well as your engineering or product development teams. Engineers, for example, may be the hardest to convince to contribute to your blogging efforts but they're a wealth of knowledge.

Set expectations for your team upfront. If you're limited on the number of people you can rely on for blog articles, be sure you communicate the writing frequency you're going to need from them and get their verbal agreement of being able to meet that demand.

Ensure marketing and sales are aligned. You may not be able to get regular meeting time with your entire sales team so ensure you have the support of at least one senior member of the sales team that can help enforce the team's involvement and commitment. Developing a service level agreement (SLA) that outlines what marketing and sales are each responsible for, to meet your specific goals, is also highly recommended.

Don't overextend yourself or your marketing team. Don't let your excitement of finally launching into inbound marketing blur your judgment on how much you can personally take on, or how much others on your marketing team can take on. A successful inbound strategy takes a lot of work and most of that work falls directly on marketing so be realistic.
After you've determined the size of your internal team and what that team can realistically commit to on an ongoing basis, you'll know whether you need to outsource specific inbound duties to an outside partner such as an agency who specializes in inbound marketing. If you don't currently have a relationship with an inbound marketing agency, here's two articles that will help you understand what to expect and how to hire the right partner:
What's It Like to Work With an Inbound Marketing Agency
10 Questions to Ask Before Hiring a B2B Inbound Marketing Firm
3. Develop an Inbound Strategy & Action Plan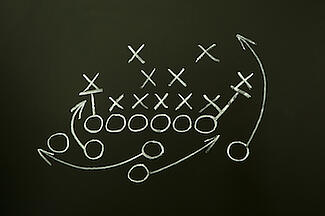 Many companies jump into inbound marketing without a specific strategy and plan, but those who invest in this step often experience a quicker return on investment and avoid a lot of the missteps of jumping in without focus.
At Weidert Group, we work with all of our new clients to create their own Inbound Marketing Playbook. This detailed plan outlines their target personas, content strategy & editorial calendar, target keywords and SEO strategy, social media strategy, ongoing protocols, key performance indicators (KPIs) and more.
If you don't feel you have the capabilities to create your own strategy and plan this is another reason to consider enlisting the help of an outside partner who's created these types of plans before.
4. Inbound-Optimize Your Website
Depending on the current state of your website you may need to invest in a complete site overhaul before you start attracting larger amounts of traffic, if you're wanting to engage and convert that traffic. Don't fool yourself, an outdated website will turn away potential prospects if it provides a less than desirable user experience and if the content (text and imagery) appears stale compared to others in your industry.
For many companies though it's taking your current site and optimizing it for inbound, which includes:
Adding a dedicated blog page, "Blog" navigation link and possibly a blog RSS feed on your home page

Incorporating eye-catching calls-to-action (CTA) graphics to your home page and other relevant pages throughout your site

Developing targeted landing pages that your CTAs can link to, in order to point visitors towards completing a conversion form

Creating a central Resources page where all of your content downloads can live, making sure these are gated behind a form on a landing page

Making your content socially shareable by adding social sharing buttons/links on your blog articles, landing pages and other key content areas of your site
Another thing to consider, if you can budget for it, is making your site design responsive for mobile users. This creates a much better user experience and increases the chance of converting the visitor, and also is favored by search engines when they determine search rankings.
5. Invest in The Right Marketing Automation Toolset
Similar to how a carpenter needs a full set of tools to complete his job efficiently and effectively, a true inbound marketer needs the right set of tools. As noted above, a successful inbound approach takes a lot of work so having everything you need in one place, fully integrated, is key.
Thanks to the growing popularity of companies seeing success with inbound, the marketplace of various marketing automation platforms and toolsets is growing too. Being a certified HubSpot partner and customer ourselves, we highly recommend the HubSpot all-in-one inbound marketing software. Sure, we're aware of the other players in the marketplace but knowing the continued advancements HubSpot is making to offer marketers the most complete platform at a reasonable cost, and the fact that they're the top-rated software according to the G2 Crowd 2014 Marketing Automation Software Review, we can honestly say they're the best.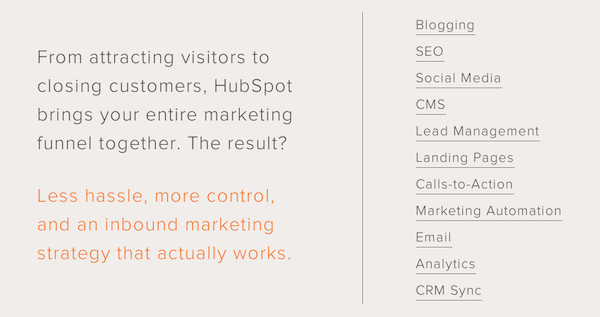 A typical HubSpot license costs between $800-$1,200 per month, depending on the size of your contact database and whether you host your website on the platform, but includes everything you need - and then some - to be an inbound marketing rock star. And with HubSpot's Content Optimization System (COS), their version of a website content management system (CMS) but on steriods, you can host your site on the same platform where you're doing all of your inbound activities for a truly closed loop marketing approach.
6. Implement a CRM System & Sales Support Tools
Last but not least as you work through your needs on budgeting for launching your inbound marketing strategy is ensuring not only you have the right tools, but your sales team is properly armed as well.
If your company has been operating without the use of a central customer relationship management (CRM) system, and using a collection of Excel documents, now would be a good time to stop. If your marketing efforts are operating in a 3.0 world and sales is stuck back in the stone age, you're sure to have issues. CRM systems are available for every budget, some even close to being free for smaller teams, and will improve the organization and tracking of new inbound leads so you can improve the rate at which you close these new opportunities.
New this year, HubSpot has actually expanded its offerings by building a robust CRM system into its holistic marketing and sales platform. While a handful of leading CRM systems also integrate with HubSpot, the fact that the platform will now include both sales and marketing features means a lot. Like other CRMs, HubSpot's system will enable users to track interactions with customers and prospect, tracking notes and deals electronically. However, because HubSpot's platform is unified with a fully-fledged marketing automation platform, the HubSpot CRM actually adds information for you—everything from emails sent and received to recent updates about a contact's status. Of course, external CRM integration (e.g. Salesforce, Zoho, etc.) with HubSpot works well too, but for many sales reps, the process of entering in information into systems feels tedious. While still new, HubSpot's sales platform already has obvious advantages.
Now, the real power of HubSpot's combined approach becomes clearer when you also utilize HubSpot Sales. Together with HubSpot's CRM, HubSpot Sales is an attempt to totally rethink the sales playbook by empowering sales teams to track real-time lead activity on your website, as well as real-time engagement with emails they send. HubSpot Sales informs sales team members if the proposal they sent was actually opened and if the link sent in that email was clicked on.
Yeah, I know. Wait until you tell your sales team about this!
Conclusion:
Every company is different, as far as size, specific growth goals, internal capacity, marketing infrastructure & skill set, and available budget. With that said it's impossible for our team to provide a standard dollar amount when a prospect asks us what they should budget to launch their inbound marketing efforts. But by working through these various recommendations you'll start to be able to assemble your needs and then can dig into the cost of each item.
If you have specific questions please comment below or contact us directly!