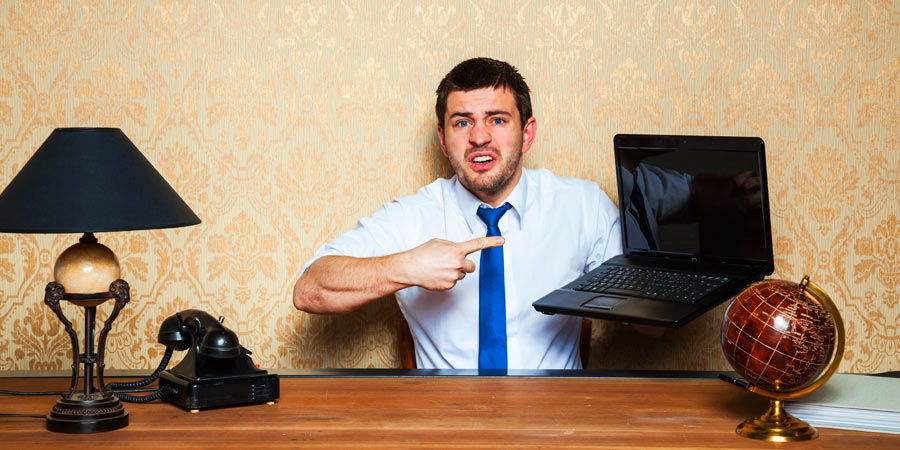 My guess is that, if you're reading this, you feel your website is outdated and a little unappealing as far as its design. Am I correct?
Well, you're not alone in the wide world of B2B-focused websites that are commonly outdated and neglected, due to lack of internal support, capabilities and budget. We see it almost every week when speaking with various capital equipment manufacturers, A/E/C service providers, supply chain specialists and other niche B2B companies that know their website needs help. Many of these sites are often 5 years old or older (sometimes a lot older!) and a lot has changed with web design during that time – chances are your business and team has changed during that time as well.
Not until the last year or so – with the wide adoption of mobile responsive design – have companies' websites gotten the attention they deserve. In today's online business environment, if your website presence and user experience are plagued by an unappealing and outdated design and non-mobile experience, you can guarantee you're turning away potential leads. Especially if you're being viewed alongside your competitors that have made strides with updating their websites.
How Bad is Your Current Web Design?
So, how bad are we talking here? Are you sporting a circa-2006 website that was built by the CFO's nephew? Or are you at least on a content management system (CMS) where you can make content updates without a programmer but the design is locked down and dated?
Depending on your situation you might be able to work within your current website framework to implement a fresh and modern design, but chances are you're faced with needing a complete website overhaul. To be honest, a website overhaul is often the best way to go compared to a BandAid approach that only updates things on the surface.
By starting fresh you can re-evaluate your site's content, architecture and paths of conversion, then create an updated design based on those aspects. You can also pick the website platform that provides the needed functionality and ease of use for ongoing management.
The Role of Aesthetics in Converting Visitors to Leads
As Jamie Cartwright mentioned in his recent blog post on the topic of "what your website says about you," a website is read by its cover, just like a book. If you fear your current outdated website design is turning away visitors before they can learn what you have to offer, I can guarantee you are.
Overall aesthetics of a website help to retain visitors and convert them as leads in the following ways:
Credibility
A well-maintained and updated website goes a long way with establishing a company's credibility, especially when it's often the first thing prospective customers see in today's buying environment. Stale content and old photos, surrounded by a visibly dated website design, either communicate that your company isn't doing too well financially or, worse, that you've closed your doors. Even if your reason for neglecting your website is due to an explosion in new business that has your team tied up, your prospects don't know that.
Avoid sending your prospects to a competitor by displaying a credible website presence that includes a modern design and updated content that accurately reflects what products and/or services you have to offer. And please: update your site's copyright date!
Visual Hierarchy
Outdated websites often lack any form of visual hierarchy, especially the home page. This is largely due to the fact that older website designs often tried to cram too much content or too many competing elements "above the fold" – meaning within the initial page view seen by the user before they scroll to additional content on the page.
Proper use of visual hierarchy in a scrolling site design ensures your site visitors see individual highlights about your company one section at a time, which helps to tell a story and holds their attention.
Readability
Outdated websites often contain smaller text point size, reverse type (white text on a dark background), not enough whitespace, or a non-mobile format – all of which can make it difficult on the user to read your website content. I don't need to spend too much time explaining why this is a problem with getting your visitors to convert. As you look to overhaul your site design, ensure your content is easy to read and digest before getting consumed with other design aspects.
Memorability
A pleasing website experience with helpful content is a memorable one, and the overall aesthetics of your site design is a big part of this. As your prospects go from website to website to learn about you and your competitors, aim to be the site that's the most memorable. You're bound to get them coming back and maybe telling others on their team to stop by, too.
When Design Alone Doesn't Cut It
Even if you have the most beautiful website within your industry, if you're lacking helpful content and proper conversion opportunities you'll fall short on converting leads. If you focus first on creating the most remarkable content and then use a compelling and clean design to help display that content, you'll succeed.
Sure we've seen situations where a new prospect we're speaking with has a very outdated-looking website design, but as we dig in and do our own assessment on the site's performance and learn more from the prospect, the site is performing at a very high level as far as traffic, lead conversions and helping to close new business. This isn't the norm by any means but when we do see it, it always comes back to the fact that the site has remarkable content that overshadows the less than desirable site design and user experience.
Just think what a site like that could do with a clean and contemporary design that better showcases the content, and is built in a way to create a more desirable user experience. You can bet it's only going to amplify results.
As you evaluate your current website design, and overall content, follow the criteria outlined above to help give yourself some focus. Also consider engaging some current customers and ask for their unfiltered opinion of your current site and how it could be improved. Their feedback could be the final push you need to take the next step.