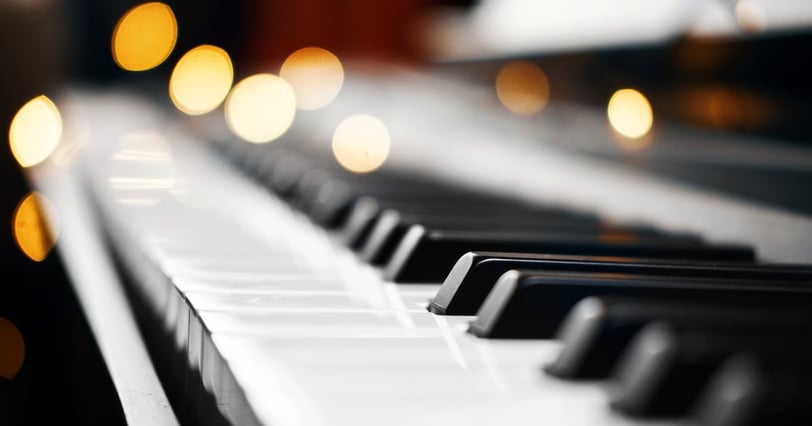 Do you know what the paper towel brand Bounty's competitive advantage is? It's right in their tagline and demonstrated in all of their marketing materials: Bounty is "The Quicker Picker Upper." And I'm guessing you know that Energizer batteries "Keep going, and going, and going…"
Granted, these are examples of consumer megabrands with strong brand loyalty. A typical B2B company's strategic positioning for a competitive advantage may not be so clear, but it can be. Every product or service should have a competitive advantage as part of your business strategy, and it's arguably the most critical part of your inbound marketing efforts – it's what sets you apart and gives direction and substance to your content.
How One Company Defined Its Competitive Advantage
The process of finding a sustainable competitive advantage is sometimes referred to as the "capo d' astro" exercise. Back in the '60s, a copywriter named Bud Robbins was asked to write an ad for his agency's client, Aeolian Pianos – expensive instruments and the choice of several great musicians. But nobody could tell Robbins what was so great about the pianos – or, more importantly, why they were any better than a Steinway or a Baldwin. Robbins asked to visit the factory to find out.
Despite spending two days touring the plant, no one seemed to be able to tell Robbins the difference between Aeolian pianos and those of competitors. Finally, Robbins pleaded with the Aeolian sales manager to wrack his brain one last time; was there anything at all that's unique about these pianos?
The sales manager scratched his head and said, "Well, our pianos are a little heavier; that's why they cost more to ship."
"Why are they heavier?"
"Well, because of the capo d'astro bar."
The man invited Robbins to crawl under one of the pianos to look at a heavy cast-iron bar strapped across the higher octave strings. He pointed out that all wood frames begin to warp after about 50 years. Aeolian added the capo d'astro bar so that 50 years into the future, should the wood start to warp, the capo d'astro bar would prevent it from happening. Here was a feature that wouldn't even start working for half-a-century, but was the reason Aeolian pianos outlast all others and why they're worth a premium price.
Robbins had found Aeolian's competitive advantage! He created a legendary ad campaign around the capo d'astro bar, this secret ingredient that made the Aeolian Grand the greatest piano in the world.
It begs the question: What is your capo d'astro bar? What sets your company, product, or service apart from the competition?
How to Identify Your Competitive Advantage: A Checklist
When we begin working with a client to develop their inbound marketing program, there's a lot of up-front onboarding work to define what sets them apart from others in the industry or market segment. It typically involves interviewing company leaders and key employees. But gaining an outside perspective from their best customers often provides even deeper insights.
RELATED: 10 Key Components of a B2B Inbound Marketing Strategy
Here is a checklist with an abbreviated version of our competitive advantage process with questions that can help you uncover your own capo d'astro bar.
Step 1. What are your target's pain points?
Knowing what challenges your target market faces will help you understand what features of your product are beneficial to them. Let's say you manufacture pumps for use in commercial sprayers. You'll need to know which features are most important to your target:
The ability to withstand corrosive chemicals?
A higher PSI for better flow rates and even coverage?
Lower energy consumption for extended battery life?
A compact design for greater mobility and easier integration into existing equipment?
Pinpointing the problems that your product solves is the foundation to identifying your competitive advantage.
Step 2. What do people think about your competitors' products?
It's easy to be dismissive of a competitor, but try to be objective and make a list of your own insights. Gather additional criteria from peers, reviews, online comments, and maybe even from current customers who switched to you from a competitor.
Consider both the positive and negative about their product – these represent hurdles to overcome and opportunities to present your product or service as a solution. Consider price, quality, performance, ROI, responsiveness of the customer service team…anything that factors into the target's purchase decision.
YOU MAY ALSO LIKE:
Force, Friction, and Flywheel Marketing: Key Ways to Gain Momentum
Step 3. What do prospects think about your product?
Now take an unbiased view of what people think and say about your product using the same criteria you used to evaluate the competition. Remember that perception is reality, even if that perception is not fair or accurate.
If the general consensus about your product is that it doesn't hold up to extended use, is designed for amateurs rather than professionals, or is difficult to integrate into existing systems, you need to consider those factors when pinpointing and leveraging your competitive advantage.
Step 4. What do your competitors promise to their customers?
Bounty promises better absorption; Walmart promises the lowest prices; Campbell's Soup claims it is "Mm! Mm! Good!" What do your competitors promise for your target? In other words, what value do people expect when purchasing their products?
Scan any content you can find from your competitor to determine their promise, whether they deliver on it or not. Budweiser, for example, claims to be the King of Beers. Now, I'm no beer snob (okay, maybe a little bit — I do live in Wisconsin), but there are many others that deserve the crown, in my opinion.
RELATED: Two Components Every Inbound Marketing Competitive Review Must Have
Step 5. What can you promise?
Say you make steel blades for farm machinery and you know that the target is always searching for simple ways to reduce the downtime needed to change worn blades. Your competitors talk a lot about seamless ordering and 99% on-time delivery. What advantage does your product have over those?
Look closely at your materials, processes, standards, testing procedures, product handling system, value-added services – every phase and facet of how you make and get your product to market. What do you do differently that solves your target's need? If your blade manufacturing process includes a polishing and hardening step that results in a more durable blade tip and fewer blade changes, then that's your capo d'astro bar.
Competitive advantage is all about knowing your best target, understanding what they need to solve their challenges, and filling that need with something others cannot. Find yours and you've got a meaningful messaging platform from which to build a library of valuable content as part of your inbound marketing strategy.
Here's another resource to help you assess and improve your content creation efforts. Our Inbound Flywheel Overview and Workbook has 21 pages of rich content that walks you through the flywheel methodology and includes self-assessment worksheets! Check it out.