If there's one thing that's certain these days, it's that nothing is certain (though I am certain that I'm not the only writer using this phrase these days).
This is especially true when you think about your company's content — your blogs, guides, tipsheets, videos...anything you're publishing on your website or promoting via email and social. Most businesses have developed monthly or quarterly editorial calendars and are able to take a "set it and forget it" approach. But when you consider everything that's happening to our economy today, if you don't revisit your content plan and adjust based on the current state of the world, you could be faced with some dangerous backlash and missed opportunities.
How To Adjust Your Content Marketing Editorial Calendar
Typically an editorial calendar (ed cal) focuses a company's efforts on a specific set of prospect challenges and those challenges usually point to a product or service the company can promote to help solve them. The most effective B2B ed cals take into account the current state of the industry and align their content with it.
Let's say you're an injection-molded-parts manufacturer making parts for the automotive industry. If an FDA mandate at the beginning of the year required car manufacturers to reduce their weight-to-size ratio by the end of the following year, that manufacturer would want to add content to its ed cal throughout the coming 24 months that talks about the benefits of retooling parts from metal to plastic to reduce vehicle weight.
So how does the current COVID-19 pandemic change what you're publishing? It depends on your business, obviously, but every organization — from small Mom-and-Pop operations to large B2B enterprises — should be doing two important things: getting out their crisis-related message, and leaning into opportunities to help.
Here are some things to think about as you evaluate your ed cal:
Look at all your planned communications — not just your blog and social media, but also nurturing workflows and email digests to make sure none of your messages going out strike an insensitive tone.
Consider what content will help Sales the most — is there bottom-of-funnel content you can quickly create or make sure Sales is using to help close more deals?
What website content needs updating? Beyond your blog, there may be areas of your site that need updating based on your operational status. If you're in a state affected by a stay-at-home order, consider putting a banner message on your homepage letting all visitors know your operational status. This banner can lead to a dedicated landing page with more information. Here's an example from one of our clients, Custom Processing Services.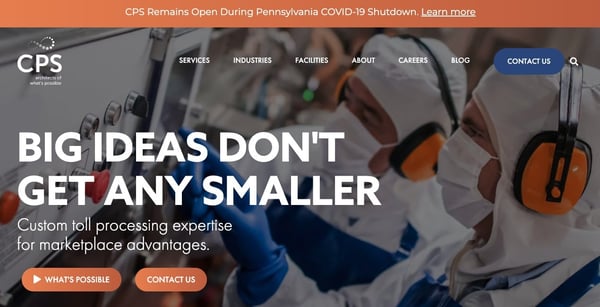 Pivot quickly by repurposing content you already have — you may already have content that is highly relevant to your customers' needs for products or services at this time. Review it to see if it needs any tweaks for the current situation and republish it. You might also have content that would be helpful as is. These are good things to promote on social media or include in a "special edition" newsletter.
Managing Your Message In A Crisis
It's obvious that retail organizations, restaurants, and other small businesses that rely heavily on direct consumer sales need to tell customers whether they're open and how they're dealing with the pandemic. But B2Bs also need to manage customers' expectations around the future by clearly communicating answers to questions on these topics:
Operational status. Are you in a state with a stay-at-home order, and if so, are you considered an essential business? Be extremely clear about whether portions or all of your business lines are operating as normal or shut down.
Changes to typical processes. What changes can vendors and customers expect today? Are you conducting virtual plant tours instead of in-person? Are your deliveries of raw materials on schedule? What changes in delivery procedures should vendors expect? Are there any changes in shipping procedures that customers should know about? Allay any fears by itemizing the steps you're taking to protect customers and vendors and ensure on-time delivery of orders.
Employee wellbeing. People want to know that you're taking care of your employees. What safety measures are in place for them? What are you doing to help ensure their employment long-term? Employee wellbeing also affects your ability to keep your plant running, so customers will care about this beyond its intrinsic value.
Community wellbeing. Simply saying, "We're all in this together" isn't enough – you need to demonstrate what it is you're doing to alleviate stress and pain. Are you donating to food banks or clothes closets? Are you helping healthcare workers with donations of equipment or time?
Making Yourself Available to Help
B2B companies must also think about creating content that highlights how their products and services can help during a crisis.
One of our clients is a manufacturer of modified shipping containers; they take big steel structures, fit them with HVAC and other amenities and offer them as mobile office space, housing, storage, washroom/shower units and other solutions. In light of today's pandemic, this client's editorial calendar includes content focused on hot topics (and the keywords that go with them), such as temporary healthcare treatment units and mobile housing. Municipalities and other organizations will be searching for help in these areas, and this client will be offering valuable content that addresses these and other challenges.
When COVID-19 came onto the horizon, we walked our clients through these steps in order to modify their content to align with needs and opportunities:
Remove misaligned content from your upcoming ed cal. Identify and scrap any "tone-deaf" blogs or other content (for example, if you serve the healthcare industry you don't want to be promoting products used primarily in elective surgeries; replace with content that focuses on other benefits of using your products)
Identify gaps. In what ways could your products or services solve current challenges (a shortage of medical equipment, lack of proper sanitation, need for remote learning/teaching, increased use of teleconferencing, etc.). Write content that speaks to those
Think about long-term implications of the pandemic. Some economists are saying that the U.S. and other economies won't recover financially from the pandemic for several months to a year after we've recovered physically. That could affect your vertical markets and influence how you talk about the long-term value of your product or service
The most important thing to keep in mind as we talk about leaning into opportunities is that there's a difference between making yourself available, and taking advantage of a situation to line your pockets. The ramifications of appearing, even in the slightest bit, to be mercenary in a situation like this are severe and long-lasting. Make it your goal simply to help, and those who need it will find your content.
If there's one thing I know for sure, it's that inbound marketers are some of the most creative, agile people in the business world. We love a good challenge, quick wins, and to help our businesses succeed. By following the steps above, you'll be setting your company up for success long after this pandemic is over.
If you need some help navigating your way during these not-so-normal times, we have a lot of practical marketing resources to help you and your organization.
Need some help repurposing your content to get the right message to the right people quickly? Our free how-to guide can help!