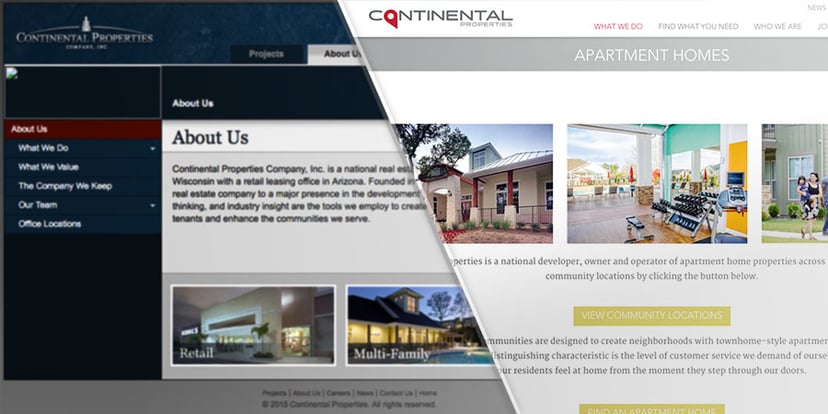 There are many companies today with websites that are weak and unhelpful. And many of them don't understand why a website is important—they think it's all arts-and-crafts, with no real business impact—and fail to see its potential as a robust sales tool that dramatically improves business results. Not surprisingly, companies with this frame of mind often hover at 0-10% revenue growth each year.
Continental Properties has never been that kind of company. They're an aggressive, forward-thinking team, and when it became clear that their website was out-of-date and lacked useful features and tools for prospects, they committed to making real change.
Continental Properties' Success is
in Their Commitment to Inbound
Continental Properties develops, owns, and operates high-quality apartment, retail, and hospitality real estate across the United States. They've worked with big box department stores like Kohl's and Costco; they also manage luxury apartment communities, under the Springs Apartments brand.
Continental Properties first partnered with Weidert Group in 2014 to target one of their most pressing concerns: apartment resident recruitment and retention.
Using HubSpot's conversion tools (a blog publishing platform, landing pages, and calls-to-action), tracking/reporting system, and social monitoring platform, Continental Properties and Weidert Group implemented an inbound marketing strategy that dramatically increased Springs Apartments' lead generation between 2014 and 2016.
The growth over 2-years occurred because Continental Properties' marketing team bought into the strategy, mindset, and commitment required to drive a successful inbound marketing vision and plan.

That's When Continental Properties Turned to its Corporate Brand and Website…
After just a year of remarkable inbound results with its Springs Apartments brand, Continental Properties came to Weidert Group with a vision for a new corporate website built with an inbound strategy.
As with many B2B companies that rely on mostly traditional business development practices, Continental Properties had a fairly static, brochure-like website that explained the basics about the company, but didn't have the right framework to digitally support aggressive business goals.
3 Main Problems Ahead of Our CProperties.com Website Redesign
The website didn't clearly communicate Continental Properties' strong history of success in property development and management. CProperties.com had an "About Us" page, but visitors couldn't learn from the company's success stories and there were no images of Continental's many impressive properties. The old website didn't necessarily detract from Continental Properties' reputation, but it certainly didn't support or enhance it.
The website was not built to be mobile responsive, and its user experience for non-desktop users was difficult to navigate. The site hadn't been updated for an increasingly mobile world, and it really showed.
Finally, the website as a whole failed to meet Continental Properties' important corporate needs, such as recruiting top candidates and communicating the company's value as a great workplace.
Weidert Group Designed the New Website to Maximize Organic Search Results and Inbound Recruiting
In developing Continental Properties' new website, Weidert Group worked to improve these measures of success:
A 50%+ increase in organic and referral traffic within 6 months
Establishment of reliable monthly news release traffic and subscribership
Steady monthly generation of an email list for customer service and public relations purposes
HubSpot's website platform was the perfect fit as a content management system because its holistic approach was the best way to attract the organic traffic and subscribers the company was looking for. The complementary website design, blog management, keyword targeting, and reporting tools were critical to putting together a website that would meet each success indicator.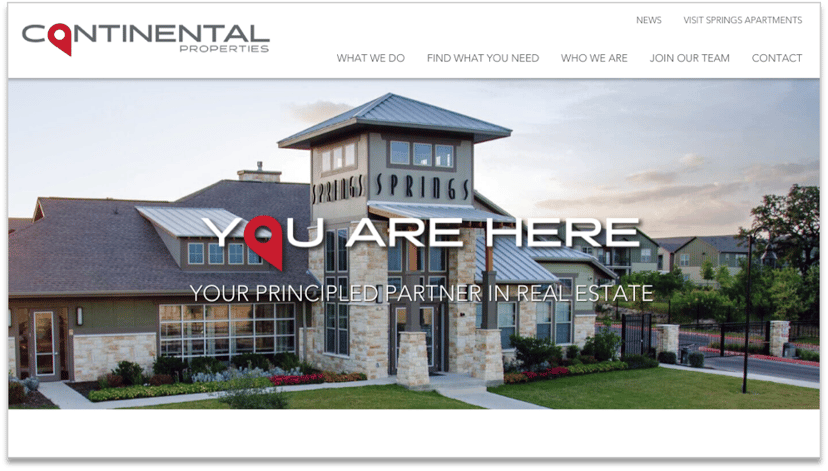 Continental Properties' new HubSpot-based website (home page) with professional photography and new branding.
The 5-Step Website Design Process for Continental Properties
1. Plan the website's content and scope based on key targets
We scoped the website project to serve three primary purposes aligned with target audiences:
Serve as a helpful tool for business leads, giving them a chance to explore Continental's projects, quality of work, philosophies, people, and recent success stories
Unify PR efforts by tying stories to a recognizable brand
Emphasize Continental Properties' award-winning workplace and company culture
2. Establish a new corporate brand and graphic design plan
Continental took the occasion of a new website to update its brand with a new logo, new positioning, and more effective overall branding. Weidert Group created the company logo to be web-ready; you can see Continental Properties' now-signature map point graphic used throughout the website.

We also worked with renowned photographer Jackson & Co. to create dramatic visuals that showcase Continental Properties' best work. We used all real photography rather than "webby" iconography because there's nothing virtual about Continental Properties' work—why not showcase their brick-and-mortar assets! Jackson & Co. did a great job of capturing the company's buildings, culture, and team.
3. Build a technical framework that solves for organic traffic results (SEO)
We built Continental Properties' site to maximize search placement, and HubSpot was a natural choice to ensure the results we were looking for. Using HubSpot's "Vast" theme as a responsive base, we built a fully customized site that supports comprehensive on-page SEO.
While many sites today opt for minimalistic one-page designs, or pages with large visuals and little content, Weidert Group focused on crafting every page to build Continental Properties' credibility with users and with Google.
4. Design an inbound-aligned UX that guides visitors to discovery areas
As part of our approach to generating more traffic, Weidert Group structured the website to guide users from logical landing pages (e.g., Home, Company News articles, Careers) to pages where visitors can learn more about their specific interests.
Using a fairly conventional navigation, we opted for a multi-page user experience that utilizes a main navigation, two types of sub-navigation design, and a thoroughly planned use of call-to-action links as a user moves down-page.

5. Implement critical functionalities: Careers and Location/Project Search
As we designed the website, two functionalities were critical: integration of Continental Properties' careers listings and HR system and visual browsing of the company's various project locations.
For each of these functionalities, Weidert Group prioritized seamless design. For the Careers section, for instance, we wanted Continental Properties' job listings to be accessible alongside all of the great content showcasing the company's workplace culture.
To highlight Continental Properties' many project locations, we built a project search tool that allows users to browse every apartment or retail location without leaving the website.
What Are the Results of the Website?
Continental Properties' site had 3 main objectives: increase traffic within 6 months, develop a following for company news and recruiting, and generate a growing list of contacts—like any good inbound website. We launched the website in December 2015, and the results have been phenomenal.
Organic Traffic Results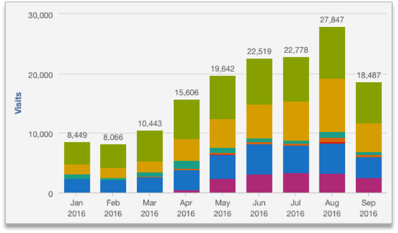 Within 6 months, the site was generating more than twice the amount of organic traffic, up from 3,780 in Jan. 2016 to 8,750 in August 2016. That rise in organic traffic is the most important part of an overall traffic increase of 300% from the start of 2016 through August.
Continental Properties, the corporate website now outranks SpringsApartments.com in many locality situations. For instance, when searching for apartment communities in specific areas, such as "Hurstbourne Louisville apartments," Continental's website tends to rise to the top of SERPs because of SEO-focus on specific location pages, while Springs Apartments' website falls slightly lower. This local search result is an ideal for the Springs Apartments' inbound strategy, as CProperties.com now refers traffic to the SpringsApartments.com website.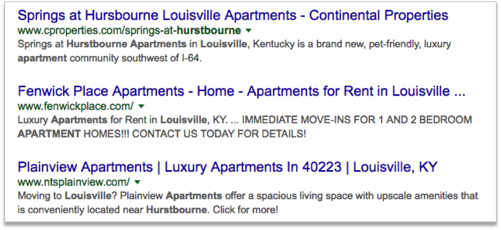 Growing Reputation with Company News
In addition to terrific traffic results, Continental Properties' website has become a home base for the company to manage its PR efforts and reputation as both an employer and a leader in property management. Within 9 months, the company news section—which is fairly conventional in that Continental Properties publishes regular news releases in blog format—has obtained nearly 300 subscribers and generates 1,000+ monthly views.
The news blog operates as both a content source and landing page for social media promotion, as well as a base for traditional earned media efforts.
Corporate Requests and Customer Relations
While Continental Properties' website doesn't include a content marketing component, it has become an easy-to-use base for inquiries and customer relations. The website's Contact Us form generates around 50 contacts per month alone, helping to fuel the growth of Continental Properties' email list and prepare the way for future inbound marketing efforts.
Inbound Recruiting: Attracting Great Candidates
Of all the successful pages on Continental Properties' website, the Careers section pages are the most viewed month after month, which addresses the company's goal going into the project. The careers pages are focused on communicating Continental Properties' workplace values, and that's translated into more and more applicants each month of 2016.

How to Get Results like Continental Properties?
As demonstrated by their success with the new website, Continental Properties is committed to an inbound approach to their business growth for sales, recruiting and public relations. The results they've seen across their two web properties is enviable, and it's largely because they're committed to the inbound process.
While it's possible that Weidert Group could have built a great site on a different platform, the use of HubSpot was critical to Continental Properties' immediate success in organic traffic growth and development of careers-based interest. The platform helped streamline Weidert Group's responsive design process, and the all-in-one marketing tool helped us add functionalities to the site.
Finally, to get results like Continental Properties, you need a partner. When it comes to launching a great website, you need experts in design and development, UX analysis, and technical SEO. Continental Properties' choice to partner with Weidert Group set the stage for a collaborative process that ultimately turned into real business impact for the client.