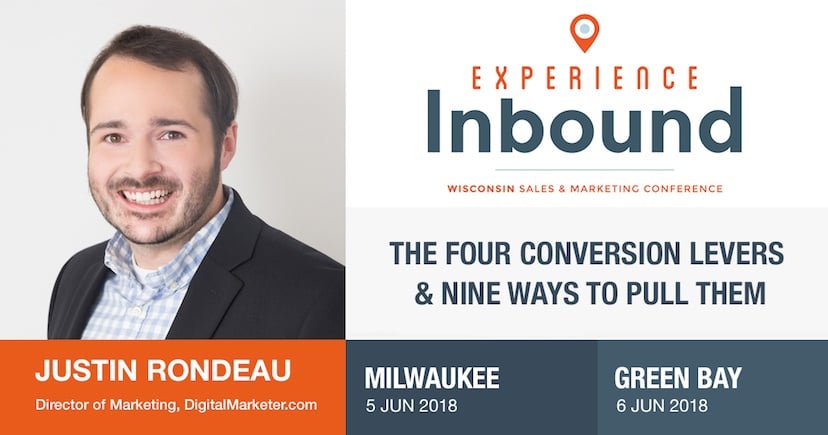 This interview with Justin Rondeau, Director of Marketing at DigitalMarketer, originally appeared on the Stream Creative Marketing Blog.

With today's customers and internet users controlling the sales process, businesses must adapt their websites to fit customers' needs and answer their questions. This means removing unnecessary, complicated, and time-consuming steps and features from your site, and optimizing your site and sales process to function as smoothly as possible. It starts with using user feedback and website analytics to understand how visitors are using your site and what they're looking for, and using that information to see what you can do to improve.
Justin Rondeau is the Director of Marketing at DigitalMarketer, with a background in split testing and optimization. Justin has spent his entire career working on conversion rate optimization campaigns, including work for several Fortune 500 companies, and will be a featured speaker at this year's Experience Inbound marketing and sales conference.
As part of his research, he's learned that there are four fundamental things that truly impact conversion rates, which he calls the four conversion levers:
The Offer
The Articulation
The Targeting
The Design
Our friends at Stream Creative sat down with Justin a couple weeks ago to learn more, and here's what he had to say:
For someone who might not be aware, could you explain what conversion rate optimization is, and why it's important to the marketing mix?
I know a lot of people in the space are nit-picky about even the terminology "conversion rate optimization," because they believe that if you're just focusing on the conversion rate, that's the last point you should be looking at. It's mainly looking at improving the experience—and really it's about improving clarity, to be quite honest.
The traditional definition and concept of conversion rate optimization is improving a landing page or site, such that people take the intended action. So it's not a matter of more acquisition, paid media, or SEO, or anything like that. It's purely about making changes across the board to increase the desire to user action. That's the short of it.
That makes sense, and it takes away the thinking that's it's just about campaigns. With the number of clients you work with and consulted with, there are probably a handful of pages or things you know immediately to look at. What are some of the critical pages you like to start with?
Since I started training, one of the first areas I like to look is the "money pages." Whether it's an e-com site or a lead gen site, you want to look at the money pages, where the converting action and short-term goal of the page is as close to the long-term goal of the campaign or overall plan for the site. This ends up being places like the Shopping Cart, landing pages and lead gen forms, or demo pages and those types of things.
Those are some of the hardest pages to work on though, because of all of the technical limitations that can happen. If they have a Shopify store, for example, they aren't going to be able to change a whole lot. So I generally like to start there and move backwards. If I can't do much there, I check the analytics, and if the conversion rate is acceptable, you just move on and check somewhere else.
Product pages or other mid-funnel pages I've been finding a lot more fun to work on, especially if you're outside of standard campaigns, because you're still going to get enough traffic and subsequent converting actions to get statistically significant data. Then you can use the micro conversion indicators (e.g., add to cart, click-through to next page, etc.) to see if there are any consistencies between the checkout process and deeper funnel conversions, so if there is a level of correlation there—even if you're a small site with only X amount of conversions or sales during your testing period—you'll be able to make a better decision.
For B2B companies who may be getting started with the basics of driving more traffic or getting more conversions, is there a benchmark for the amount of traffic they should be getting before they start looking at this type of testing?
I try to avoid just looking at traffic, because the question I get a lot is, "How much traffic do you need to run a statistically significant test?" And it's not a matter of the amount of traffic; it's the amount of converting activities, that's what really important there. I've had one landing page that was converting around 40%, and since it was converting at such a high rate, I could run a shorter test and timeline, because I was getting to that 100-150 conversion mark very quickly. Granted, I always run a test for 7 days regardless.
If you're looking at where to start, I don't get into the world of split testing or split testing variants until later on. It's really kind of the last thing you do, because you want to have things in mind and it takes a lot of resources to pull off. I think if you're just getting started driving traffic, you want to make sure everything is dialed in first, and worry about getting the basics taken care of.
Going back to timing and the question of "How long should you run a test?", what else do you put in the category of "It doesn't matter about the traffic, we just want to set up these core things"?
When launching certain pages we know there are some standard controls we want to add on each time. We're constantly trying to improve our pages, but sometimes you find a system, for example, where you know a landing page should have 5 sets of bullet points, a product shot on one side, a CTA to open a module, as well as an anchor form at the bottom. There are a lot of things from testing where you say, "Okay, these are going to be our standards until we start seeing things go downhill." This is actually what I'll be talking about at the event, the four conversion levers and what those things are when you start seeing diminishing return on your campaigns.
Those four fundamental things are the offer, the articulation, the targeting, and the design. Could you walk us through each of those and maybe some low-hanging fruit people could change?
Offer and articulation; it's almost always those two. Especially with manufacturing, you're always wondering if your offer is appealing. One of our clients makes industrial water filters, for example, and it's hard to make a sexy offer with that. We saw all these things our competition was doing, so we called our customers and asked "What's one thing you wish you could see that no one else is showing you?" and they just wanted prices. They just weren't seeing prices right off the bat, so what we did is just sent them the price catalogue as a lead gen offer. It was an offer they wanted, it fit their needs, it was rapidly consumable, so if you just think about what you're offering and the angle that you're doing it, it's going to be huge. One of the best ways to figure it out is just talking to your customers, your sales team, and even your support staff, because they're going to tell you what's really broken and what gets them to buy.
From a resource standpoint, I know DigitalMarketer has some classes, but what else do you use to learn more about conversion optimization?
I always screw up his new site, but Chris Mercer is really good in terms of analytics and tag manager. He always does a phenomenal job, and it's who I go to when I get stuck on something.
Obviously there are a number of tools out there now from a digital standpoint. Anything you use that's free or paid that's part of your core toolset?
Yes, ChartMogul. That is great for measuring any sort of subscription sales. It's really helpful because it provides a lot of information that'd you have to do a lot of digging to find.
Let's see, I have my testing tool, VWO, and tag manager. You also have the Hotjars of the world for customer behavior analytics. I use Instapage for building landing pages. Unbounce is good as well, they're on our Resource Page.
Want to hear more from Justin about conversion rate optimization? Watch the entire interview here, and join him at Experience Inbound held June 5th at Miller Park (Milwaukee) and June 6th at Lambeau Field (Green Bay).
We hope to see you there!