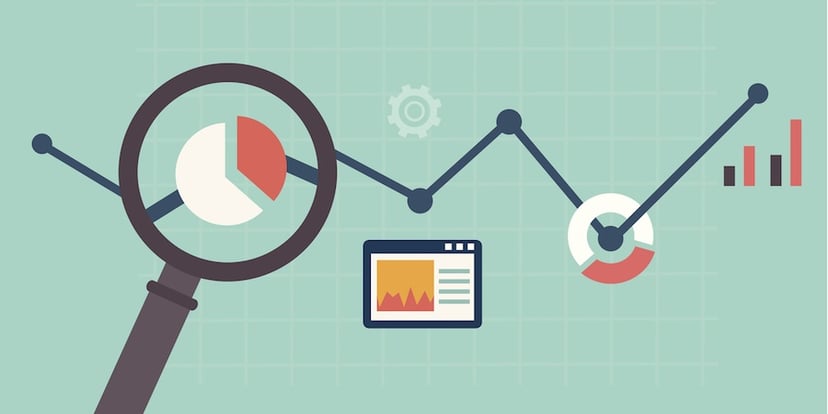 If your website isn't converting visitors into leads like you'd hoped, one of the first – and simplest – improvement steps is to look at visitors' opportunities to convert and start making minor changes, with the goal of getting more eyes on them and more clicks. (If you're not entirely familiar with conversion rate optimization, or CRO, your first step really should be to read this fantastic CRO basics post by Weidert Group's Director of UX, Jon Stanis, to get a better understanding of what it is and why it's important.) The list below outlines some of the first components to consider when modifying for greater effectiveness:
Design-Based Conversion Opportunities
How any component of your website and content are designed can affect how prospects are engaging; even a simple edit like changing the color or shape of a call-to-action (CTA) buttons could significantly increase interaction. There are numerous aesthetic opportunities that can impact conversion rate, and those below have been proven to noticeably improve conversion rates:
CTA Design: Changing the shape and color of your CTA buttons can entice visitors to engage with your content, consciously or subconsciously. If you're using colors that match your brand, consider changing them to be less "matchy-matchy." Brand colors could be causing visitors to skip over these elements, not realizing it's an opportunity for interaction. Also play around with sizes and design elements to see if engagement increases.
CTA Copy: Using more action-oriented CTA copy, like "Start," "Stop," "Build" and "Grow," highlights the value of the content piece to the visitor, and personalizing with "Me/My" and "You/Your" directly speak to the visitor rather than communicating in a general, generic way.
Blog Subscribe Button Location: Rather than at the side or bottom of your blog page, try placing your blog subscription button above the fold and centered horizontally on the page. This directs your readers' eyes and makes it easier for them to subscribe and interact. As you can see, we've tested this out ourselves with positive results.
Changing a Submission Form Headline: Changing a form headline can improve interactions, especially when it directly references what they'll be receiving by filling out the form is better than something more generic such as "Download Now."
Benefit-Oriented Landing Page Copy: Making prospects aware of the benefit they'll realize from downloading a content piece or requesting a quote helps them determine if the product they'll be getting is worth exchanging their contact information for. The more you make it clear that it's something they'll get value from, the better!
Clever & More Enticing Content Copy: Your readers like to be entertained just as much as you do, so sometimes coming across a little less stuffy when it comes to a serious topic such as industrial manufacturing is okay. Write a few different variations of copy and test it out on co-workers first to see what resonates.
Simpler Copy: Copy-heavy landing pages, and websites in general, can be a deterrent and increase bounce rates. Keeping things simple with copy and design prevents visitors from getting overwhelmed and opting out.
User Experience (UX) Conversion Opportunities
Are your visitors having a good user experience with your site? Below are some simple tweaks that can provide visitors a better, more productive experience with your content's functionality and ease of use.
Slide-In CTAs: This action feature brings helpful content into the visitors' view and increases click-through rates when that content is relevant to them. The result? More conversions. For example, on a blog about conversion rate optimization, include a slide in CTA for a tipsheet about Website Usability (cough, cough).
Content Personalization: For some reason this makes me think of Norm being greeted as he enters Cheers (insert lame joke laugh). People like when things are directed specifically toward them and when it happens to a visitor on your website, it's acknowledging that you've captured information about them and are using it to better serve their needs by presenting them with only relevant information.
Shorter Page With Less Clutter: Less clutter means less distraction. You may see more conversions when you simplify the page experience and allow more focus on your conversion opportunities (CTAs).
Client Success Story
With any website design or content creation there's a fair amount of trial and error to be able to show what works best. With one of our clients in the technology and IT space, we tried some CRO optimization with booming success. We adjusted their homepage to include a simple form submission form (Name and Email) above the fold for a content piece. The results were impressive:
Conversion rate on the homepage increased by 900% in one month!
Lots of new contacts are being captured, rather than just return visitors. Prior to this update, they didn't get any direct conversions from the homepage because there wasn't a dedicated form
The overall website conversion rate (visitors-to-contacts rate) has increased from 1.3% to 2.29% in the time we've introduced the featured CTA, which will hopefully continue to grow with continual CRO updates
To recap, making subtle adjustments to your site and content can drastically improve conversion rates. Testing some of the suggestions above can help impact your overall CRO. Review the data for pages that are performing poorly and look for what may be preventing or deterring conversions from happening. Think about the objective of the conversion and adjust your content accordingly. Give the new conversion opportunities time to work their magic – at least 60 days – then review metrics to see how your change performed. If a new color, design or copy didn't work to increase conversions, try something else!
If you are getting great success with some of the CRO suggestions, think about implementing a Growth-Driven Design approach to your website. Learn more about how metrics and facts impact the Growth-Driven Design methodology in our eBook.