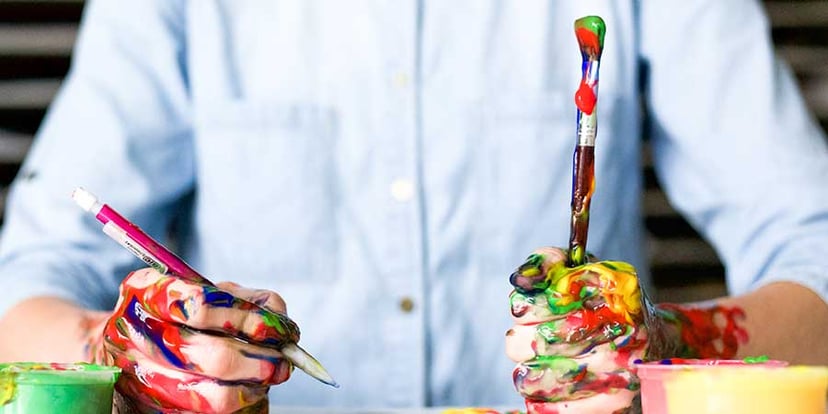 When we introduce prospective clients to our work in B2B marketing, they're often prejudiced toward two views of the agency: Either Weidert Group is seen as a strategic consultancy, where all we have to contribute is advice and strategic knowledge, or we're misunderstood as a creative agency, where the work is arts and crafts—with no trackable business impact.
Unfortunately, this is an extremely common misconception of agency work. Creative vs. Analytical. Content vs. Strategy. A completely false dichotomy.
The truth is, in today's digital world, creative content and business results are completely co-dependent. The web has made nearly everything trackable, and it turns out content is a major determinent in how well companies generate traffic, leads, and overall sales.
Today, I'll highlight 5 ways top-notch creative content—written, visual, and otherwise—plays a critical role in actual business results.
1. Well-Ideated Editorial Plans Drive Blog Traffic
Many marketers underestimate just how difficult it can be to formulate strong editorial plans. Sure, it might be easy to think of the first few weeks of blog articles to publish. But after that? How do you keep an editorial plan going? How do you make sure your editorial ideas appeal to your target buyers and speak to their needs?
The key to any company's blog schedule is strong ideation practices—which ultimately means having highly effective, creative people on your team. In today's over-saturated content market, in order to create blog content that breaks through the noise, every article you construct needs to be thoughtful, well-developed, and inherently different than what everybody else is putting out.
2. Content Offers Determine Lead Generation Rates
The false dichotomy of creative work vs. strategic work really comes to a head when considering how leads are best generated today. Since 2006, HubSpot and the inbound marketing move have shown that content can be used as a currency for generating leads, using offers of various content types to prompt web visitors to identify themselves on forms. The key to this kind of lead generation, however, is creating high quality content—content that leads will actually find useful, interesting, and enjoyable.
There, at the crux of strong inbound lead generation is the strength of the creative work. If the content offer—an eBook, template, etc.—is just like any other company's content, you'll likely generate less leads per piece. But if the content is truly remarkable and is situated contextually to match buyers' needs, then the conversion rates tend to rise.
3. Format Innovation Holds Growth Hacking Potential
When we look at lead generation content, such as eBooks, webinars, and whitepapers, one of the areas of genuine creative opportunity is in format innovation. Over the past few years, content forms, such as quizzes, calculators, and templates have become increasingly powerful for results. New formats that provide more tools to the user may prove to be "growth hacks" that open up huge numbers of leads.
Here, top-notch creative is essential. For instance, if your content strategy has more technical-backing, could a small application serve as lead generation content? What about a macro-enabled excel spreadsheet? How about some kind of interactive Google Doc or Google Slide? The possibilities are endless, but in order to activate the business impact of such lead generation opportunities, you probably need support from technically savvy creatives to bring potential concepts to life.
4. Social Campaigning Creates Social Traffic Contribution
Depending on your business, you may not currently be worrying about social media-sourced traffic. Maybe organic search and direct traffic sources are the only channels you care about. However, every marketer should be aware that by not actively pursuing social media campaigns, they're leaving an entirely new potential traffic source on the table.
If you want to generate new website traffic, one of the best ways is to add a completely new channel, like social, and these days, that really means you need to actively manage social media campaigns.
Like organic search, social media is now more saturated with content than ever. Thus, campaigning can't be put on auto-pilot. Social media planning must be deeply creative—and very bold—in order to turn social listeners into website visitors. Think highly visual, calendar-month specific campaigns that excite and energize new prospects. When you empower social media managers to be deeply creative, you're more likely to turn that activity into traffic.
5. Visuals are Conversion Assets
As my last point, it's important to recognize that every element of a lead conversion is an asset that can be analyzed for its contribution to lead and traffic generation. For instance, a webpage can be viewed by its visitor acquisition contribution. Similarly, a link can be examined by its click-through-rate (CTR). Landing page forms (when used plurally) can be examined across assets, to show how the form length and usability compare to other forms.
All of these visually dimensioned assets are important to analyze critically to understand how creative should change or adapt. For instance, think about how many ways a designer can create a call-to-action image for a new eBook you've produced. The image can be small or large, landscape or portait, representational or symbolic. All of these creative elements are also conversion factors, and it's important to test what works and what doesn't.
Hire for Creative Quality and Strategic Understanding
In inbound marketing and many other digital strategies, trackability and digital analysis have brought together creative and strategic work in a way that many traditional businesses don't fully understand. Get started learning how we bring together targeted strategy, content development, and technological expertise to execute inbound marketing effectively by downloading the guide below.