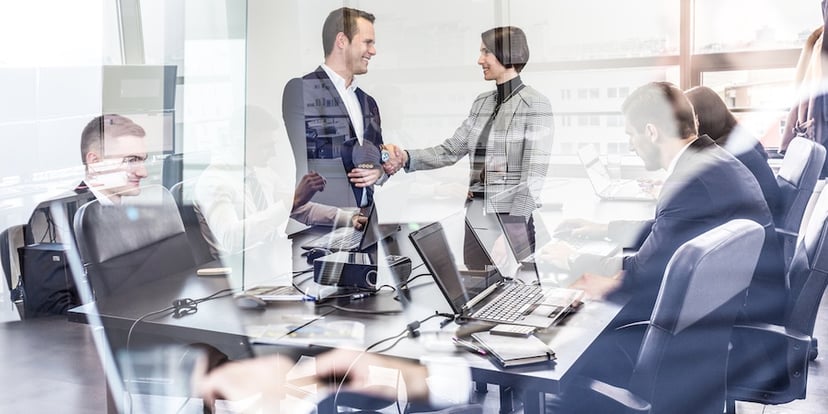 Yes, we're totally sold on the inbound marketing approach to generating more leads. It works, and we've got lots of stories from clients to attest to this fact. And not just pie-in-the-sky stories either, but real data...like our friends at Gordon Flesch Company who earned nearly $1 million in new business in just 10 months as a direct result of the inbound marketing strategy they entrusted us with.
But in the age of digital transformation and integration, some marketers are possibly overlooking an even greater sales tool that's been around for millenniums. I'm not referring to cold calling. In fact, there are compelling statistics that suggest cold-calling is dead. With 90% of B2B decision-makers saying they won't respond to cold calls, it makes sense that the conversion rate of leads that turn into actual appointments is barely detectable at an abysmal 1%.
The proven sales tactic I'm referring to is referrals from your existing clientele. Yep, good old-fashioned word of mouth.
If you're not leveraging the power of referrals, you're possibly missing out on some of your best — and least expensive — marketing resources. Use these tips to enhance your inbound strategy with referrals and get more sales qualified leads.
Ask!
In general, when people are thrilled with a solution you provide for them — and, of course, we're assuming they are — they'll want to help you out in return. It's human nature. Always assume your clients will be happy to refer you, and let them be the one to tell you if they're uncomfortable doing so.
A simple follow-up survey to your best clients can easily serve as a starting point for acquiring referrals. In it, along with all the general performance and quality questions, be sure to have a checkbox that asks, "Would you refer our company to your customers?" When your client checks that box, it opens the door for further conversations and, in essence, gives permission to ask them for a contact list. Consider directing your clients to a simple web page where they can easily enter referral information as well.
When you do ask, be sure to clearly outline:
The types of prospects or buyer personas you're looking for
What you'll do with the information (and what you won't)
Who will be contacting them
How your client will be acknowledged
Whether they'll receive an update on any developments
Whether they'll receive a referral discount or other reward
That information, of course, should all be established as part of an overall referral program or plan that you've developed in advance. When your clients see that you're prepared, they'll be reassured that their most important assets — their customers — are handled with care.
Ask for an Introduction
What's better than calling a referral for an appointment? When your customer does it for you. Again, a simple ask is all that's required, but you can go one step further and make it easy for them. As part of your referral plan, have a few pre-written conversation bullet points or an introductory email that your client can use as a reference.
Is your client part of an industry association? Inquire if you can join them as a guest at the next industry luncheon or meeting. When the conversation at the table inevitably turns to generating more sales as a result of your introduction, you'll have an incredible opportunity to courteously share about how that partnership garnered results. Chances are, your client will chime in and do most of the selling for you.
Leverage the Power of Social Media
If your clients are big into social media, ask for a mention in their next tweet or LinkedIn update. Better yet, ask them to consider introducing you to their social network through private messaging.
Stay Engaged
Building a referral program begins early in your client relationship, and the key word there is "relationship." If you haven't built rapport, then the chances of your client feeling compelled to offer up a list of his or her loyal customers is unlikely. When your client hasn't heard from you in months and suddenly receives an email or phone call asking for referrals, it could come across as impersonal and unprofessional. You may even receive a response listing ways your company unknowingly fell short of expectations. Why didn't you know? Because you didn't stay engaged throughout the entire buyer's journey and nurture your business relationship.
You're proud of your products and services, and you work hard to bring value to your customers. Why wouldn't you want others to benefit from what you have to offer? Complement your inbound marketing program by leveraging the results you've provided for your customers, and build upon those relationships with a strategic referral program that gets results.