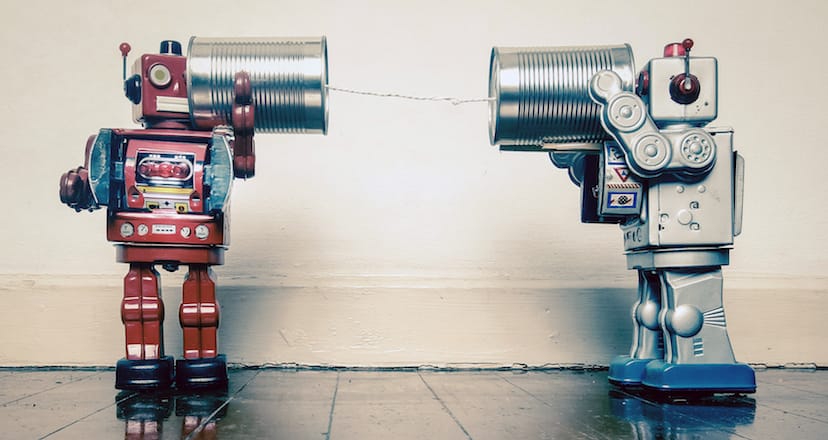 HubSpot recently unveiled its Service Hub, a suite of customer service software designed to make it easy to manage and connect with customers, and to optimize every interaction. Why the focus on people who are already buying from you? Because HubSpot views customer service not as a "sunk cost," but as an opportunity to efficiently grow your business. Happy customers, after all, buy more, stay with you longer, refer peers, and sing your praises whenever asked about their experiences.
To further help companies engage with customers and prospects, HubSpot has rolled out Conversations software as part of its marketing tools. Built in are chatbots ("bot" being short for "robot") that can automate many of the tasks related to serving and engaging with your site visitors. Bots make it possible to offer additional features to the engagement process using artificial intelligence (AI) and a conversational interface. Bots are quickly becoming commonplace in marketing and customer service, with B2B and B2C companies using them to improve the experiences customers have with their companies. Chatbots in general can be run through a messaging app on smartphones (like Facebook Messenger), or offer service through a company's website (or both).
Here are a few examples of how some B2C organizations are leveraging chatbots to delight customers, and ideas for how industrials can do it, too.
Whole Foods launched a chatbot that helps customers make their weekly trips to the grocer far more productive. Not only can users pinpoint the exact locations of products in the store, but they can call up recipes that include the ingredients they're putting in their carts. Even complex, multiple-ingredient recipe requests are simple to perform because the chatbot mimics social media and its use of emojis, text and keywords.
Sephora uses chatbots to reduce the guesswork that comes with selecting cosmetics. All a user has to do to transform herself is take a selfie and the chatbot identifies the right products (mascara, foundation, blush, etc.) for her skin tone. If the look the customer wants is on the pages of a magazine or in an Instagram photo, she can point her phone camera at it and the chatbot will tell her which products she'll need to purchase to create the look for herself.
Mastercard uses Facebook Messenger to make it easy for customers to monitor their transactions. Users can simply ask the chatbot questions such as, "How much did I spend on restaurants in May?" and get an instant rundown. A complementary service, Masterpass, allows them to purchase food from Mastercard partners using the same chatbot.
The primary purpose of these and other chatbots is to make interactions frictionless and fast because, as Brian Halligan, CEO of HubSpot, said in his presentation at this year's INBOUND 2018, "It used to be that your product had to be 10X better for you to succeed. Today, your customer experience has to be 10X lighter." People today expect a direct line between their problems and the solutions.
How Chatbots Can Benefit Industrial Manufacturers
Here are some ways industrial manufacturers can deliver fast, accurate service to their customers using a chatbot:
Provide instruction. A chatbot can save time for CSRs and salespeople by answering frequently asked equipment users' questions (e.g., how to use a specific feature, diagnose a problem or perform simple maintenance)
Send reminders. A chatbot can automatically remind customers about upcoming maintenance requirements and preventive maintenance suggestions
Provide updates. Use a chatbot to allow customers to track their orders and get delivery/delay notifications
Reduce search time. A bot can help customers identify the right replacement parts by having the chatbot narrow the search (e.g., by equipment type, then model, then year, then component)
Save them money (and you sell more). Use a chatbot to alert customers when you're running a promotion and offer to link them to the appropriate page if they indicate an interest
There are also ways industrials can use chatbots to attract and retain workers:
Make hiring more effective. Present a chatbot to people viewing your open positions, allowing them to get answers to questions about benefits, shifts, requirements, and more; link to an application form
Reduce HR's burden. Use the chatbot to create a direct link between workers and HR. The chatbot can answer common questions about workers' comp coverage, schedules, sick days, time off requests and more
Many of the tasks handled by Customer Service (and HR) can be handled by a chatbot, particularly the more repetitive and mundane tasks. This frees your teams to focus on activities with greater potential to generate revenue. It also enhances your customers' experiences with you, improving the likelihood that they'll be loyal ambassadors of your brand.
Chatbots — in some ways virtual assistants — shouldn't take the place of live, personal assistance, but certainly these tools can support CSRs and reduce the time they spend on common questions and requests. In fact, according to Business Insider Intelligence, chatbots have the potential to save businesses $23 billion in CSR costs. More importantly, you'll be delighting customers with a better, more self-directed experience that puts them in control. When you consider that B2B customers with high customer engagement scores achieve 50%1 higher revenue/sales, doing everything in your power to make the service experience seamless is critical.
Chatbots also have a place in marketing to prospects — part of the conversational marketing trend — but we'll save that for another blog post. In the meantime, read more about creating an effective annual marketing plan by downloading our guide, How to Develop an Innovative & Effective Annual Marketing Plan and start thinking about whether chatbots are right for your industrial business.
1 Gallup's Guide to Customer Centricity Report, 2016