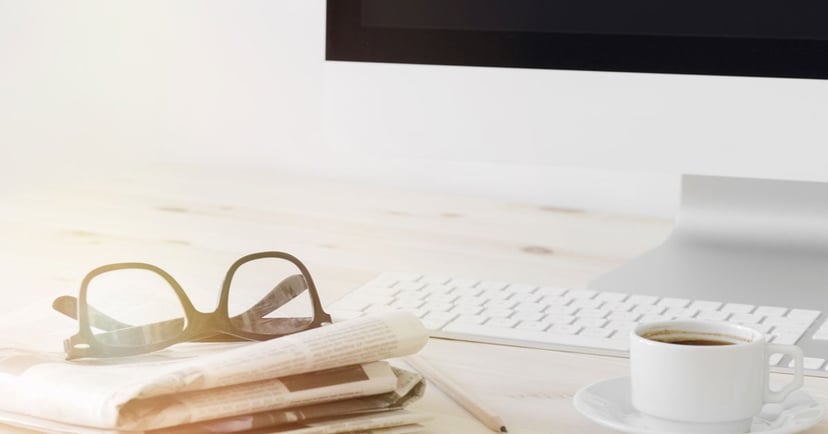 Marketers spend a lot of time researching and creating compelling, original "owned media," including web content, blog articles, eBooks, videos, infographics and more to engage prospects. Then, a lot of time and effort goes into promoting that content through emails, social channels and various campaigns, including "paid media."
An often overlooked part of a marketing strategy, however, is a crucial third element: "earned media." It's one thing to toot your own horn but, with a little effort, you can increase the chances of having other reputable outlets promote your content and expand your reach (and authority) even further through references, backlinks, social shares, publications and more.
When you develop and deploy an earned media strategy, you'll maximize your inbound marketing efforts and reap big rewards. But exactly what is earned media?

Media Definitions
Marketing and PR professionals often toss around terms like "owned media," "earned media," and "paid media," so let's clarify exactly what each of these terms means, particularly in the context of inbound marketing strategy:
Owned media. Content that you own on your website, such as your blogs, content pieces, videos and your emails, etc.
Earned media. Exposure you get from other sources including word of mouth referrals, press mentions, backlinks, social shares, by-lined articles you contributed to a trade publication, etc.
Paid media. Content that you paid to promote, such as pay-per-click campaigns, retargeting ads, promoted posts on social media, etc.
It's important to remember that owned media and earned media work in tandem. Your first priority is to create outstanding owned media that will, indeed, "earn" the right to be promoted and shared elsewhere.
Use a strategic, planned approach to how you produce owned media and never lose focus on how it impacts your place in organic search and, ultimately, your sales funnel. If your owned media is good, then your earned media opportunities should logically follow.
Why Should You Have an Owned & Earned Media Strategy?
1. Increased Website Traffic and Conversions
Since owned media is just that — content that is uniquely yours — you should use it to drive your long-term marketing goals. Ensure that your blog articles, emails, social media posts and other forms of owned media are used strategically to increase the number of visitors to your website and nurture them through the buyer's journey.
Start by making sure you have top-level pieces of owned media that will help increase your rank in organic search. Craft content that answers common questions a prospect might have at the awareness stage of the buyer's journey. These pieces of owned media will help boost your visibility on search engine results pages (SERPs) and draw in potential customers.
RELATED: How to Create ToFu, MoFu, and BoFu Content
When you think of earned media, look for bigger concept topics: Is there a big study or research angle you can conduct in your industry that's going to be helpful to people looking to use new technologies or adopt new thinking? If you can be the source that gathers those types of insights, and the media publication doesn't have to take on the expense to compile a lot of information, they'll be more likely to use it as a resource and reference it in their own content.
2. Social Media Sharing
A client of ours, an equipment manufacturer that makes specialized vehicles, began working with us early on in their business blogging journey. We provided guidance and helped them find their voice in the marketplace. They wrote a great article — one of the first that we got them to take the lead in writing — and, within a couple days of being published, a key industry publication picked it up and shared it on their Facebook page with 180,000 followers.
The blog article quickly went viral from that share and, within five days, it had 3,000 views. You can imagine the value of having a large publication link to your website's content and, of course, the number of leads you could get from that kind of visibility.
3. Improved SEO
In order for other outlets to share and link to your content, they first have to be able to find it when searching online. It's critical, then, to improve your chances of ranking for your industry's keywords on search engines. One of the best (and easiest) ways to improve your content and increase organic traffic is by optimizing older blog posts.
RELATED: Free SEO Survival Guide
Look for top-performing content and make sure it's the best it can be and relevant to your audience. Use SEO tools, such as SEMrush, Lucky Orange and others to improve flow, update internal and external links, add keywords, add the latest statistics and more. That way, others can find it more easily and will be more likely to share it, improving its ranking even further.
4. More Qualified Leads
Converting unknown searchers into known leads is one of the main goals of an inbound marketing strategy. When optimizing your blog posts, be sure to include a strong call to action (CTA) in your copy to help you capture leads and move them further down the sales funnel. Consider going beyond the obligatory lead-in as part of a conclusion statement and use in-line CTAs.
Take a fresh look at your conversion forms, too, and consider criteria that can be eliminated. The idea is to create a frictionless experience for visitors, so keep form fields at a bare minimum. When others share your content, there's a greater chance that new visitors will convert.
5. Improved Retargeting
The reality is, most visitors won't convert on their first visit to your website. Retargeting ads can be strategically used to get those visitors to return to your website with the goal of converting. Targeted ads can help entice leads to check out your other relevant content based on their previous browsing history. As such, your earned media can capture new visitors and drop cookies on their browsers, allowing your retargeting ads to show on other web properties they visit, which can help build your authority and brand awareness.
Every marketer wants to know how to get the most out of every piece of content they develop or tactic they use, and including earned media as part of your strategy can reap big rewards. It all starts by filling up your arsenal with owned content that builds awareness and attracts new visitors to your website. And, speaking of tools, be sure to check out our resource below on how to create a blog that prospects will actually want to read.