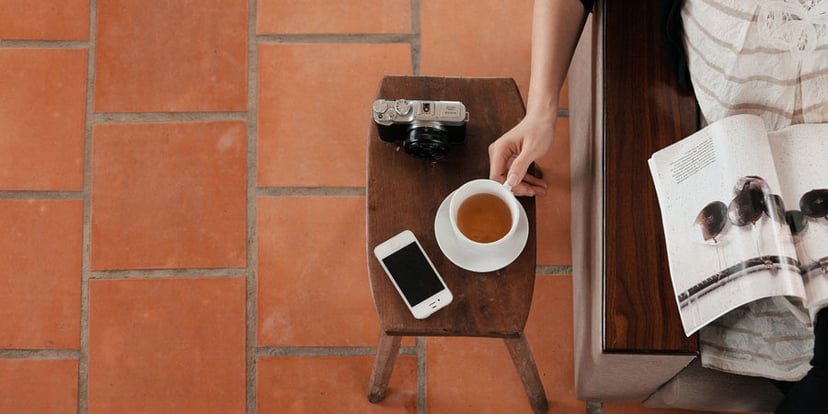 As a B2B marketer, you know how frustrating it can be to compete for views online—especially when you're looking to get them quickly. You can implement every best practice for search engine optimization, and you can diligently share on social media, but sometimes it seems like you can't really get any decent results without opening up your wallet.
From an inbound marketing perspective, paid advertising often gets a bad rap—and for good reason! Products like banner ads and pop-ups are interruptive, annoying, and distracting to customers, and while they might generate a few visits, their ROI is negligible.
That's why for a long time, inbound marketers have stayed away from advertising entirely, instead focusing on owned and earned media, like blogs, eBooks, press releases, and syndicated articles. These tactics tend to target customers more effectively and give prospects information that actually helps their consideration process along.
But the question still stands: are there ways of advertising that aren't annoying and instead help prospects in their search for good products and solutions?
Last week at INBOUND 2015, HubSpot laid claim to the notion that, yes, paid advertising can be used in ways that assist inbound lead generation, but only in cases where advertising helps prospects better understand the products and services they should consider. In a Wednesday-afternoon keynote, HubSpot CEO Brian Halligan defended his move to encourage inbound advertising, and he did so by backing up how starting in 2015, HubSpot will soon support two forms of online advertising: search and social.
Why HubSpot Supports Ads, According to CEO Brian Halligan
Ads Help Get Your Content the Views it Deserves
Let's say you've poured your heart and soul into creating a case study that perfectly pinpoints your company's competitive advantage and speaks directly to the pain points of your targets. You promote the content piece on your website and share it on social media, but you just can't seem to get it the views it deserves. Sound familiar? You're not alone.
In fact, over half (53%, to be precise) of HubSpot customers admitted to using paid advertisements to boost the performance of their content this year alone! We've talked about the fact that you shouldn't close yourself off to the idea of using pay-per-click (PPC) advertising or promotions on social media for attracting more B2B leads before, but it's always been somewhat of a hassle to manage and analyze the process on a third-party site, especially if you're using a marketing automation software such as HubSpot to house the rest of your inbound marketing efforts and analytics.
But for HubSpot users, that's no longer the case.
Aligning HubSpot with Ad Solution Enables More Advertising Context
As I said before, HubSpot just announced their new advertising add-on (costs $100/month), and it's a game-changer for marketers who have either been skeptical to try paid media or who have tried paid media to little or no avail.
The new add-on allows HubSpot's customers to create an ad campaign based on their content pieces that are already performing well and resonating with prospects and visitors—without ever leaving their HubSpot platform. Not only will HubSpot align all of your marketing and paid media campaigns, but you'll be able to analyze the results of your paid media efforts directly in the HubSpot platform, too (and with better, more in depth results!). That way, you're providing your ad viewers with more context, and you're also able to more readily compare your inbound results with your paid results. In Halligan's words, "It's better for the customer. It's also better for the marketer."
In 2015, HubSpot's Ads add-on product will only support Google Adwords and LinkedIn sponsored advertising, which means users will have one search advertising option and one social advertising option. While you certainly can manage and track the efforts of your paid media promotions directly through the site you're promoting on, the analytics you'll get are usually limited to the number of views and number of clicks that accompanied your paid promotion. Since the HubSpot Ads add-on is tied to CRM, it allows customers to better monitor the metrics that really matter: the MQLs, customers, and even the actual dollar amount in sales that were attributed to your ad spend.
With more platforms beyond LinkedIn and Google certain to be added to HubSpot Ads in later months and years, you can bet that this product will only increase in value over time.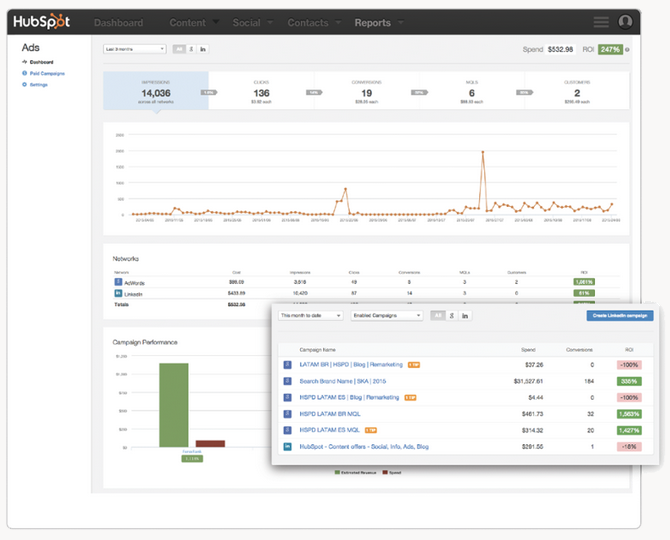 Put the Power of Inbound Behind Your Ads
Whether you've tried using paid media in the past and were left feeling underwhelmed, or you've experienced success with paid media but could do without the hassle of constantly switching back and forth between platforms, the Ads add-on is sure to be advantageous to HubSpot customers who recognize the opportunity and want to harness the power of inbound marketing with paid advertisements to fully maximize their lead generation efforts.