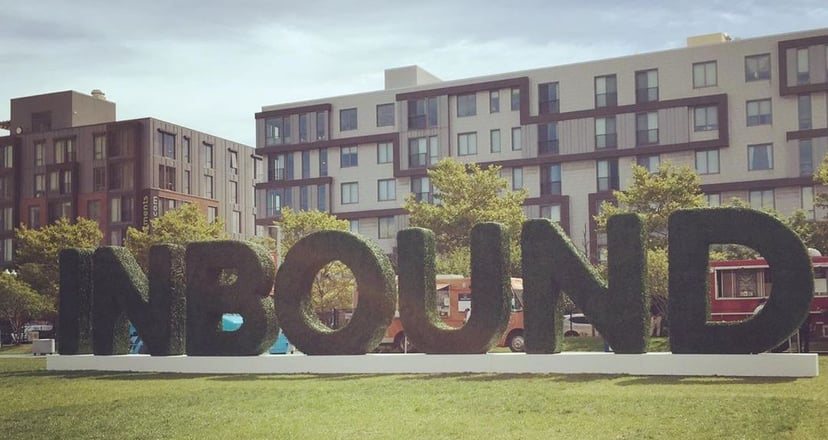 An annual event occurs in Boston that every serious inbound marketer should be so lucky to attend. And this year was better than ever. INBOUND 2019 featured the leading minds in inbound marketing and sales sharing new tactics to take businesses to the next level.
The Weidert Group team always represents, and we previously shared 5 initial takeaways from this year's event. Now, we're going to dig deeper, focusing on takeaways specific to email marketing.
Email marketing may be considered "old school" by some marketers because it's been around for so long. Yet, it remains one of the primary digital channels for smart marketers because it's still relevant for today's B2B buyers. I attended two particularly eye-opening sessions summarized here.
Session 1: "Do This, Not That: 20 Best Practices for Email Marketing That Drive Customer Engagement"
This session was presented by Jay Schwedelson, President and CEO of Worldata. Here's a quick summary of takeaways:
Don't limit your emails to a set number each month; stats show the more you send, the more engagement in aggregate you'll receive
State urgency in the subject line; emphasize if an offer is expiring; create FOMO (fear of missing out)
Subject lines with half sentences and brackets are very effective
Many marketers in complex industries struggle with finding the perfect email frequency. You want to stay relevant, but you don't want to overwhelm anyone. Well, here's a stat that may help: Open rates increase 21% when you send emails at least five times per month. Overall effectiveness is based on the totality of the engagement with your entire list, and a major way to drive more engagement is to send more emails.
Hurry! Create urgency…now!
OK, so should you just go nuts with email? Well, no. The key part of email marketing is to create FOMO. Yes, the "fear of missing out" is real for today's consumers of all types. B2B emails that feature offers that expire have a 55% higher overall response rate. B2B open rates increase 38% when an expiring offer is mentioned in the subject line.
Speaking of the subject line, some words significantly increase open rates: free, limited, exclusive, tomorrow, today, expires, last chance, days left, don't miss, hurry, for you, shhh/psst, invitation, secret, reserved, wow/whoa, miss you.
Three more subject line tips: half sentence subject lines have a 31% higher open rate for B2B; using Title Casing in the Subject Line (capitalizing initial letters like we just did) improves open rates by 14% versus standard capitalization; using brackets or parentheses in the subject line boosts open rates by 31%.
Vital metrics and vital execution
Think about these numbers regarding the auto open feature in email. Auto opens account for 24% of all opened emails. Auto clicks account for 18% of all clicked emails. So, the "open" numbers you see may not be quite accurate as far as interested readers go.
Here's how to test your open numbers. Send the email at 2 or 3 a.m. and review the open rate in first hour after sending. Most auto opens and clicks will happen quickly, most likely when your recipients are sleeping. If you notice a number of instant opens, you can go into your CRM and safely delete these contacts from your database.
More numbers to chew on:
If your emails are doing a good job 80% will go to recipients' inboxes
Emails that start with numbers have a 21% higher open rate
Single offer emails generate 57% higher overall conversion rate versus emails with multiple offers. The more you can target an email (e.g., mention a specific industry or persona), the better your emails will do.
Session 2: "The Inside Scoop: HubSpot's Email Program"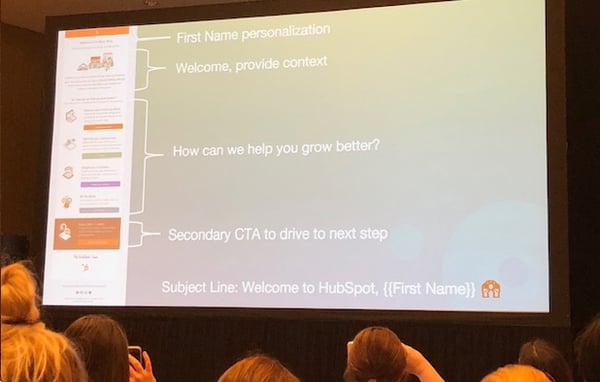 This session was presented by Jordan Pritikin, Lead Nurturing Marketing Manager at HubSpot. Quick takeaways:
"Choose your own adventure" emails allow recipients to select what they're interested in; these involve multiple call-to-action buttons
Use outside-of-the-box first conversion nurturing and trigger nurturing tactics
The "Big 4" in optimizing email marketing: subject lines, CTAs, imagery and design, frequency and timing
Make sure marketing and sales are in sync with what emails are being sent and when
Think back to your youth (you're old, but you can do it). Remember those "choose your own adventure" books? They provided the reader with some choice, making them feel more in control of the outcome. Well, it turns out adults like to feel more in control, too.
"Choose your adventure" is a strategy that really works in emails. For example, ask "What's your biggest challenge?" in your first email to the user or on your conversion forms. Based on the answer selected, the recipient is sent down a specific email nurturing campaign path. And again, depending on the challenge, free content can be sent that addresses the need.
Yes, it's a bit more work to write that write content and create the different paths. But these numbers should convince you it's worth it: 65% open rate, 60% click-through rate. Those are the highest open and CTRs that HubSpot has ever seen!
Consider using "first conversion" nurturing and "trigger nurturing" tactics. You can also try taking the "abandoned cart" approach to emails. Send messaging such as "I see you viewed our pricing page" with several options, including "How can I help?" and "What question can I answer today?" This strategy has resulted in a 55% open rate and 15% click-through rate for HubSpot. Not too shabby.
The "Big 4" ways to optimize your emails
Subject Lines — Make them relevant to your emails' content, write them to be action oriented, and even ask an intriguing question.
Calls to Action — Keep these simple, direct, and exciting, like you're offering something special.
Imagery and Design — These two elements should be selected to facilitate understanding, and they should work together, so keeping both simple (clean, legible design) usually wins.
Frequency and Timing — When using automation, send every 3 days, while a personalized (one-to-one) send can be done weekly. And remember to send based on the recipients' time zone (e.g., if half of your list is in Europe, you won't want to send emails at 1 p.m. CST).
Lastly, your marketing and sales teams need to be on the same page, knowing which emails are being sent and when. This ensures all are on board and there's no overlap, which can be extremely irritating to the recipient.
To continue examining the effectiveness of your email efforts, check out our handy tipsheet, 10 Techniques To Improve Email Marketing Performance. Click the button below to get access!