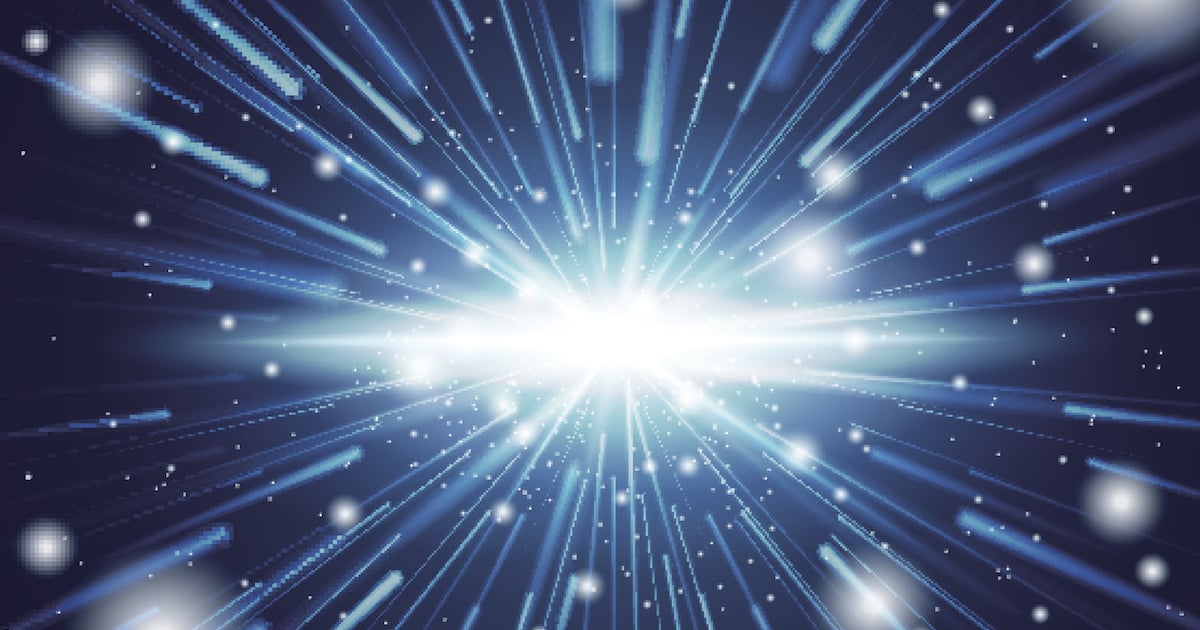 Like any respectable geek, I'm a huge Star Trek fan. I grew up on "The Next Generation," and the release of the new series, "Picard," is generating a lot of excitement in my household (OK, maybe just with me).
What I find appealing is a future where humanity has moved beyond Earth and is exploring the galaxy. I think the federation is a vision of what humanity can become if we work together.
What does that have to do with essential elements of a good website? Thanks to inbound marketing and automation tools like HubSpot, even small businesses can have enterprise-level impact (see what I did there?) to engage users (I did it again!)
Fortunately, it doesn't require galactic-size budgets to produce a visually compelling, fully functional, and user-friendly website. Without further delay, let's boldly go to a world where every website wisely uses these essential features.
7 Essential Website Features
1. A Home Page That Communicates Quickly
Got five seconds? If a visitor can't determine what your organization does within that time frame, something needs to change. Make sure your site passes the five second test by using clear imagery, simple navigation, and concise, targeted headlines. Consider eye-catching video, not static images, to showcase your product/service.
You may be able to customize your visitor experience using smart content, which displays different content to first-time website visitors than those who've previously been to the site. If someone filled out a form to access material, personalized content appears based on their interests.
Strategic placement of featured calls-to-action (CTAs) on your home page can boost lead conversions. Keep it above the fold and track its progress. Bonus points if your CTAs are "smart" to fit various buyer's journeys that could be taken.
A worthy Home Page example:
2. Blog
The heart of an effective inbound strategy is a company's blog content. Consistent publishing of relevant, helpful content demonstrates your expertise and helps prospective customers find you in a universe of online competition. Make it easy for them to sign up to receive blog updates via email, and make your content easily shareable via social media by including functional, strategically placed social share buttons such as this:
Essential elements of a blog include targeted keywords and both external and internal links to help boost SEO. Include a lead-in that references your CTA, which should be relevant to the blog topic.
As you populate your blog with more content, it's critical to make that content searchable, including making content easier to find by categorizing it by topic, most popular, featured, or most recent. Also, feature blog content on other web pages that are relevant using CTAs and topic-based RSS feeds.
3. Resources
This could be the most valuable page of all because visitors may return to it again and again. Of course, you need to create the resources — eBooks, infographics, case studies, demonstration videos, tip sheets, checklists, etc. — which takes time, but it's essential for an effective inbound strategy. These resources need to be useful, so prospects and customers will happily exchange their contact information to get them.
Include a brief and clear description of each resource and a visual to draw attention. Use filtering options to declutter the page and make it easier to navigate. In addition to downloadable content, also consider including videos and links to relevant pillar pages.
A worthy Resource Page example:

4. Pillar Pages
Speaking of pillar pages, a pillar page helps improve a website's search ranking for a core topic, while also improving the site's architecture. While these take some effort to create, they really pay off.
A pillar page broadly covers key aspects of a topic relevant to your company (e.g., a product or service). Pillar pages are built around topic clusters, which are subcategories that cover keywords related to that topic in-depth.
RELATED: 4 Steps to Building Content & Keyword Strategies Around Topic Clusters
The more content information you have on a pillar and its subtopics, the more internal links you'll be able to create on your site, which helps improve the user experience and adds a significant boost to your SEO.
Pillar pages can take a couple different formats, primarily resource-style and "10x" content (so titled because its content is so comprehensive it's "10 times" better than competing content). For real live examples of each of these, check out our pages:
5. Landing Pages
First, let's discuss how a landing page is different from a pillar page. When visitors explore a pillar page, all content is accessible and available to explore immediately.
However, when a visitor clicks on a resource description or CTA, they're typically directed to a landing page that tells them about a "gated" offer and what they can expect to learn once they complete a form or engage with a chatbot to access the piece.
So, the landing page tells them what's contained within the content piece, outlining all the benefits. It's best to keep the landing page short and simple, yet intriguing enough to inspire the reader to fill out a contact form.
This contact form should ask for just the right amount of personal information in exchange for the content. If the download, for example, is an exhaustive eBook, it's okay to request more information because the perceived value is higher.
However, requesting lengthy and detailed information in exchange for a simple, one-page infographic may turn away potential contacts who deem the content not worth the effort.
It's important for a landing page to have a singular focus: communicating the value of the offer in order to get the user to convert. Eliminate any distractions including navigation, social icons, or other links that could potentially lure them away. It's still important to make sure the page includes keywords and is optimized for SEO, however.
Read this if you're looking for more information on landing page best practices.
A worthy Landing Page example: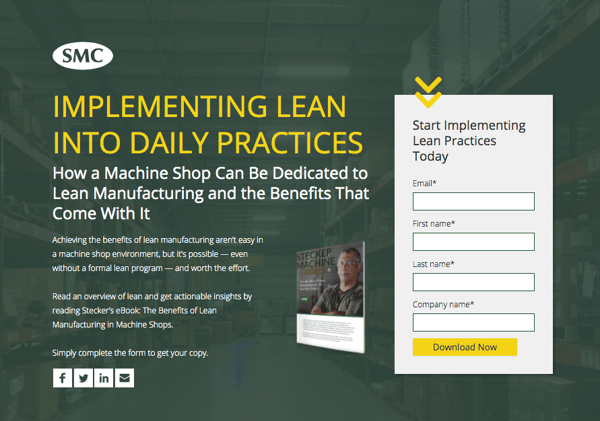 6. Thank You Pages
Immediately after a visitor (and prospective customer) completes a contact form to receive a resource, they're directed to a "thank you" page. In addition to a short and sweet show of appreciation, make sure you include clear instructions on how to access the content they just requested. This should include a simple, straightforward button that tells them exactly what to do: "Download Now" or "Access Your Free eBook," for example.
You may also choose to include an additional CTA such as another relevant content piece, a form to subscribe to your blog or a link to your contact page. Make it easy for them to keep exploring other areas of your website to increase the likelihood that they'll stay engaged beyond the original offer.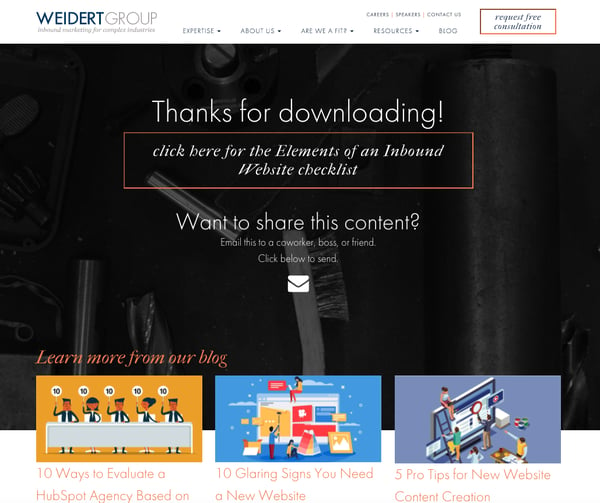 7. Contact Page
A contact page is essential for people to reach out if the website doesn't answer their questions. Or, better yet, it helps people move forward on the buyer's journey, closer to becoming a customer.
Your contact page should draw in new leads and begin developing relationships with, hopefully, lifelong customers. After all, anyone who clicks on your contact page is already interested in learning more. Spend time optimizing your contact page to increase conversion rates and to make sure you never miss a potential lead.
A worthy Contact Page example (of course I'm going to use my company's here, right?):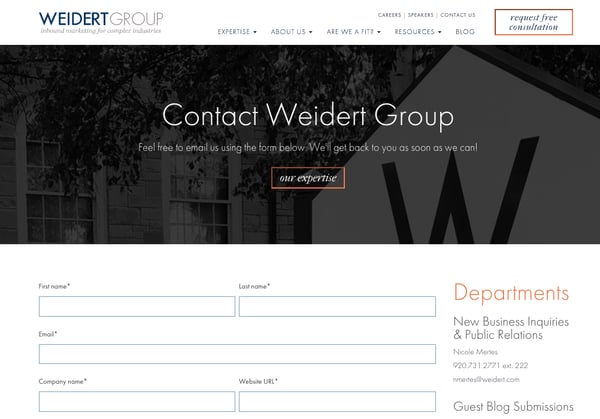 One final piece of advice, follow the direction of Captain Picard: "Make it so." If you're committed to an inbound approach to marketing, you need to be all-in, which includes a website that's well-designed and loaded with the most important pages.
Also, consider working with a team of experts who have experience in your industry and know how to develop and implement an effective B2B inbound strategy. OK, one more Star Trek quote, this one from Mr. Spock: "Live long and prosper." With the essential website features, you're boldly on your way.
Check out our free checklist: 10 Key Elements of an Inbound Website. It further explores evaluating your website and raising your online presence to the next level.