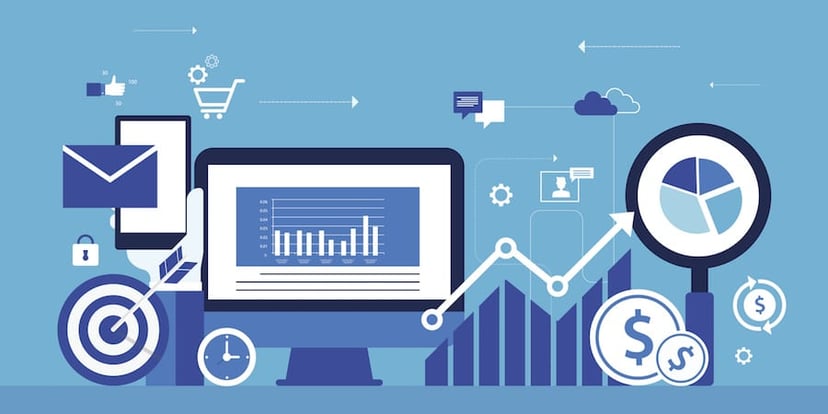 The purpose of the inbound marketing methodology is turn first-time website visitors into eventual customers and promoters of your brand. Several inbound marketing tactics build upon one another in achieving this goal, but whether it's for budgetary reasons or not seeing the value in each component of inbound marketing, many companies don't commit to a full inbound program.
Although some components might initially be a tough sell to the c-suite, we'll discuss why the following eight tactics are crucial and how they work together to help companies reach their marketing goals.
1. Blogging
Blogging is the foundational element of an inbound marketing plan, and involves creating helpful, relevant blog articles that address the pain points of your target personas. These educational pieces play a major role in attracting leads and helping boost organic traffic to your website.
It's important to understand, however, that results won't come overnight. At a rate of one blog article/week (the minimum we recommend), it typically takes 12-18 months before companies see exponential traffic growth. Google rewards consistency, so through a dedicated publishing schedule of at least one article per week, you can expect to see exponential traffic growth after around 55-70 articles, followed by steady growth as you continue to publish with consistency.
2. Social Media Marketing
What good are high-quality blog articles if they're never seen? While quality content will certainly be rewarded over time by Google in organic search, it's important for companies and their employees to promote blog articles on social media immediately. We'd recommend sharing these articles on company profiles like LinkedIn and Facebook and also encouraging staff to share these articles with their own social networks.
Sharing older company articles, relevant third-party content, and posts promoting company culture will also go a long toward building your company's brand on social media and proving ROI from these activities.
3. Advanced Content Creation
Creating advanced content pieces not only generates new contacts but can also drive existing contacts further down the sales funnel. Advanced content comes in many forms, but some of the most common types include eBooks, tip sheets, whitepapers, and how-to guides. These content pieces typically take a deeper dive into topics than blog articles, and are ideal for promotion at the end of blog articles as a call-to-action (CTA) like in this example: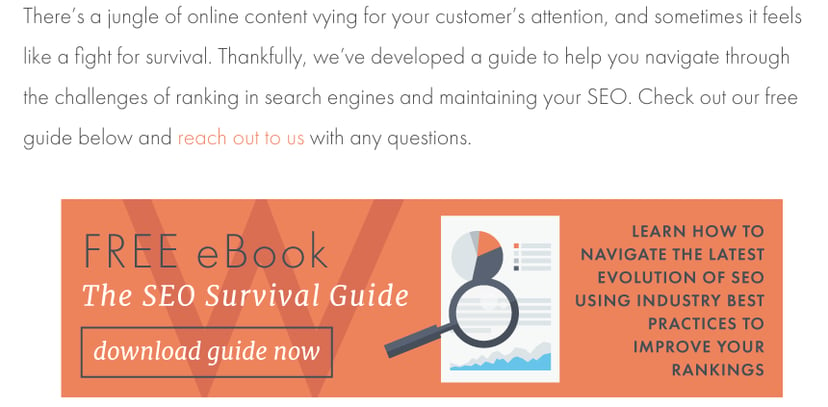 We strongly recommend that our clients produce one advanced content piece each month, as it is an outstanding tool for capturing conversions and showing expertise on topics your prospects are intereted in.
4. Email Marketing
A well-crafted email marketing strategy is crucial for providing prospects with the right content at the right time. Email marketing is really the glue to an inbound program, as it allows you to promote new blog articles to blog subscribers, new advanced content pieces to those who have opted into email communications, and develop an automated workflow strategy — sending targeted content to specific contact lists to help them progress through the sales funnel.
5. Marketing Automation (Lead Nurturing Workflows)
A recent Hatbuck poll revealed that 80% of businesses reported that marketing automation increased the number and quality of leads to their business. By employing marketing automation such as lead nurturing workflows that promote blog articles and advanced content pieces via email — sales teams become much more satisfied as they are able to connect warmer leads from the outset who have already been nurtured with relevant content. It essentially replaces the cold call with contextual marketing, serving as a win-win for prospects and your sales team.
6. Search Engine Optimization (SEO)
We've talked about the importance of blogging and advanced content, but without a search engine optimization strategy, this content might never be found organically in the first place. Quality SEO starts with keyword research and a well-defined keyword strategy that hones in on words and phrases your target personas are likely to be searching — those that address their pain points. For example, if you're an original equipment manufacturer that understands prospects are struggling with the cost of your equipment vs. alternatives, writing an article on "5 Reasons Why The Cost of X is so High" will provide honest answers and explain the value of your product to prospects while also targeting keywords that are likely to attract volume in your industry.
While there are many other factors that influence SEO, including website user experience (e.g., mobile-first design and website security), it all starts with finding the best keywords based on your potential buyers and creating highly-targeted content around them.
7. Growth Driven Design (GDD) Approach for Your Website
Websites of old required tons of time dedicated to planning and launching the website, only to let the website sit there until it became obsolete again within a few years. Growth Driven Design flips this old practice on its head by taking an iterative, user-centric, data-driven approach to website improvement. A GDD approach requires analysis of user behavior on your website, which informs areas of improvement and updates to make that will enhance user experience and drive users toward the content they're interested in most.
8. Video Content
We could place this under a broader category called "content strategy," but along with blogging and advanced content, video deserves a category all on its own. There's been a recent explosion in video content and it's estimated that video traffic will make up roughly 80% of consumer Internet traffic by 2021! Plain and simple, there's no better time than right now to use video as part of your inbound marketing strategy.
In the industrial manufacturing space, there's a wide array of video content that can spark the interest of your prospects, including customer testimonials, product demo videos, case studies and video blogs. The key is educating the audience on the value of these products or services.
Searching for inspiration? This article highlights four industrial companies who are using video to their advantage.
Why Inbound?
At this point, we hope you've seen the value of each of these components and how these activities are dependent upon one another for achieving inbound marketing success. Want to learn more about how to leverage the power of inbound marketing? Be sure to read our Step-By-Step Guide to Inbound Marketing!