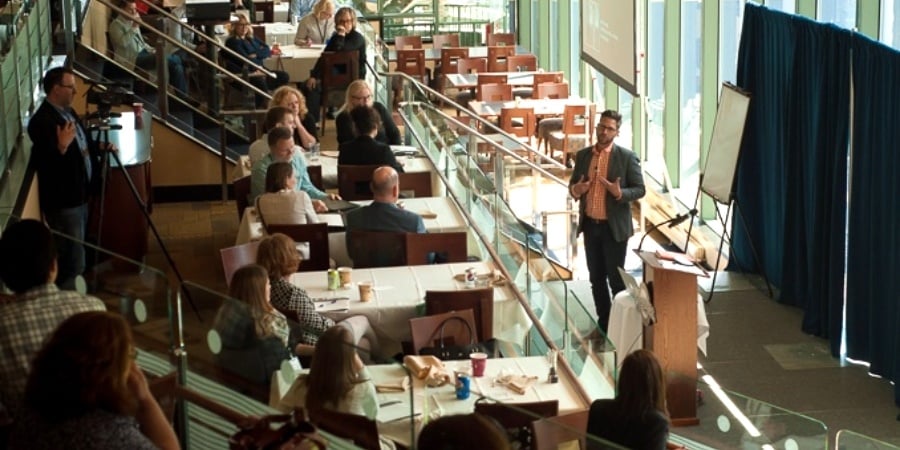 Events are a challenge—that much is clear. With endless logistics and non-stop attention to detail, organizing an event, whether for work or fun, is a time-intensive job.
And yet, events are also one of the most effective forms of promotion a marketer has in his/her arsenal. In a single successful event, a company might generate 20-40% of the qualified leads needed in a year, not to mention added brand awareness and PR value for the company.
From election fundraisers to college fairs to industry tradeshows, events are a way to concentrate your marketing efforts to produce massive results in a short period of time. The downside, of course, is that you have to concentrate and intensify your efforts.
Such is the story of Experience Inbound 2015: A Wisconsin Sales & Marketing Conference. Over a period of 6 months, Weidert Group and Stream Creative, two of the top inbound marketing agencies in Wisconsin, planned and meticulously organized the two-day conference that wrapped up last Thursday (June 4, 2015). We mustered a group of top-notch speakers, rented venues, built an event brand, re-built the brand (that's a different story), created website content, produced promotional media, earned sponsorships—and by the end, we produced a quality event that attracted top marketing and salespeople from throughout the state.
By all accounts, the event was a success built on hours and hours of time devoted to our event marketing plan. So, how did we do it? What was our approach? What would we do differently, and what would we double-down on in future years? In today's article, I'd like to review our tactics and analyze how we crafted a successful event. By reading this, I hope you gain insight into how to manage your event marketing plans more effectively.
"So, where to start?"
That was the same question we were asking ourselves when the idea for Experience Inbound came into being in early December 2014. Where should we start? Agenda? Event name? Speaker list? Venue? At the beginning of the process, everybody involved wanted the event to be successful, but we knew we wanted to be efficient with our time usage—putting just enough in to the event for it to be great, but not enough to wreck our other marketing projects.
From my perspective, there were three important event marketing decisions we made to get Experience Inbound off to a flying start.
1. Start with Powerful Event Content: Agenda and Speakers
The best decision we could have made was to start planning Experience Inbound's content and agenda before anything else. We decided on what kind of speakers we wanted, how they would be positioned, and how the content presented would help attendees understand the event's central message. Experience Inbound was about teaching attendees how to craft an inbound marketing plan within their company; we wanted the entire agenda to support that message.
Because we started with this approach, we found we could drive event promotions with content from the event plan itself. Before we asked for sponsorships, contacted media outlets, or promoted the event on social media, we had the content set to attract interest from multiple channels. Just like in paid advertising or online content marketing, a clear, central message helped to make Experience Inbound a compelling event for prospective attendees and promotional supporters.
2. Taking an Inbound Approach to Event Marketing
Though events may be inherently traditional, part of the reason Experience Inbound found success was that we used our inbound lead generation approach to plan and solicit event registrations. At a bird's eye view, we planned for an event registration's buyer journey. We expected most registrations would come in the last few days before the event, and we knew registrations would be easiest if the ticketing process was online and easy-to-use.
In addition, we also assumed that most of our attendees would convert from existing contact channels, like social media and trade publication communities, rather than organic search or paid advertising. Because of these buyer journey characteristics, both agencies involved planned for lots of outreach to traditional and online networks, and we used our Eventbrite registration page to be the primary conversion property online—thus optimizing for usability and ease-of-setup.
Then, drawing on my earlier point, we utilized our event's content plans to drive our attendee generation funnel. Because we knew our speaker line-up and agenda early on, we were able to produce a variety of owned media content on our blog, news website, and on LinkedIn to draw attention to the heart of the event.
While many business conferences tend to focus on networking, social hours, and media opportunities, our approach was to let the inherent learning value take the lead in drawing interest to our event. Between the two host agencies, we produced over 10 pieces of promotional content, some in the form of Q&As, others as arguments or editorials defending the value of events like Experience Inbound. We then repurposed this content for various emailed invitations, social media postings, and other communications with attendees.
By developing useful content for event prospects, we gave a preview of what this event would be: a highly informative event with lots of value to registrants. We also matched the kind of registrants we were looking to have attend Experience Inbound—highly curious, forward-thinking marketers and salespeople, looking for real solutions to the challenges of today's marketplace.
3. Building an Event on Strategic Partnerships
The wonderful thing about Experience Inbound was that from the get-go, the event was a partnership between Weidert Group and Stream Creative, combining the efforts, expertise, and creativity of two very strong teams. In promoting the event, we took that a step further by aligning ourselves with other strong partners.
As one of our speakers at Experience Inbound said, "just because you create online content, it doesn't mean visitors will see it." The same goes for content produced to promote an event. To solve this problem, we drew on several important relationships to create powerful channels of attraction. Importantly, we found paying sponsors, promotional sponsors, and media sponsors. In particular, our partnership with Insight Publications, Northeast Wisconsin's most prominent business and industry publisher, was critical to drawing attention to Experience Inbound. The business magazine provided free advertising and promotional space, but their support also gave the event improved credibility.
Combined with an aggressive social media outreach campaign, promotional sponsors helped to create greater awareness and broader channels of promotion, which in turn led to more visits to our registration page and more attendees at each of Experience Inbound's two locations. As a fundamentally traditional/outbound form of marketing, events require a foundation of strong partnerships with a vested interest in making the occassion successful and exciting.
"What a great event!"
When it comes down to it, event marketing is a dual venture in recruiting attendees and meticulous event planning. For Experience Inbound, the hardest work was getting busy marketing professionals to attend. Yet, no less important was crafting an exciting day-of experience—from getting the background music right to supporting speakers in getting to and from the conference. The worst thing you can do to your event marketing plans is to produce a poor product for the actual day.
By taking a carefully planned approach, we gave ourselves plenty of time to get the details right. We worked and reworked the pacing of the day several times; we adjusted topic titles, and we were careful to set up every speaker for success by providing audience insights and description. When we needed to, we even added staff support to make sure the event went smoothly.
Our exclusive objective for the day of was to absolutely delight every attendee. From pacing and event flow to individual interactions, we made an intentional effort toward knowing attendees by name and being prepared to answer their questions, concerns, and feedback.
Carrying "Experience Inbound" Farther
While there's certainly potential to plan future events—or maybe even an "Experience Inbound 2016"—the value of hosting events for Weidert Group is that it creates an opportunity to connect with prospects and customers in an increasingly virtual business of marketing consultation. In the coming months, we hope to carry the inbound marketing experience further with local HubSpot User Group meet-ups, online webinars, and other opportunities to explore cutting-edge inbound marketing techniques.
What we loved about Experience Inbound was that we were able to bring top-notch speakers from around the country to talk about inbound marketing in Wisconsin; that was the value of our plans from the get-go. In the coming year, we hope to provide even more opportunities for engaging in the inbound marketing movement in smaller, but no less exciting, opportunities.