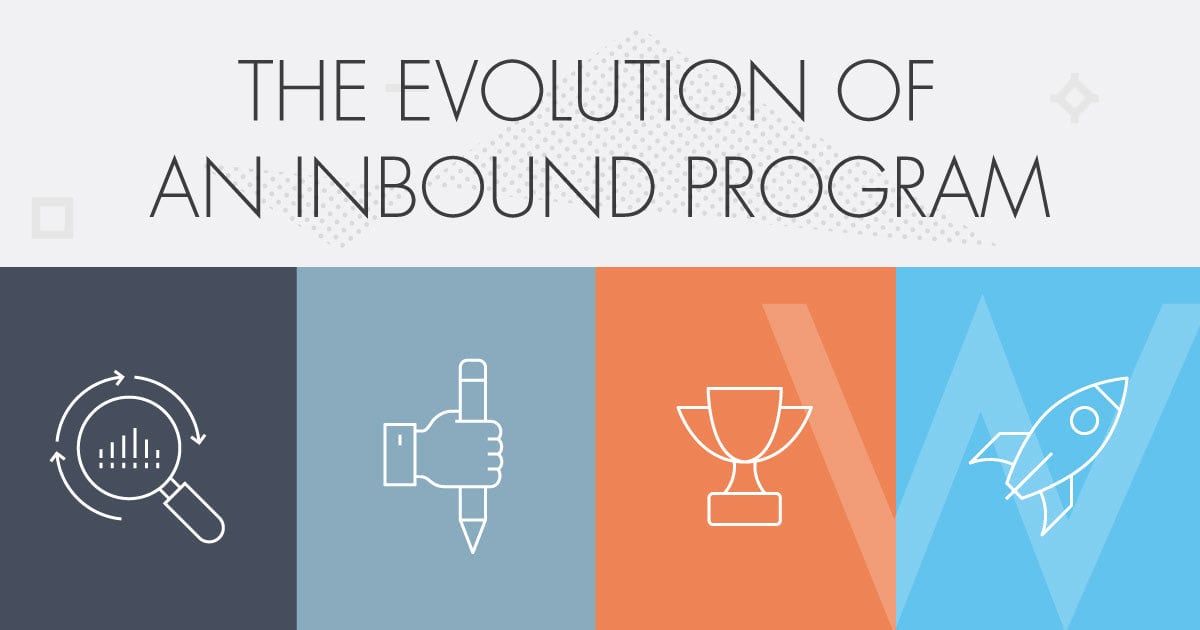 Perhaps your company has dipped its toes in inbound marketing. A new website? It's a start. A blog? Great. Conversion forms? Even better. But what does a true inbound marketing program look like and how can you improve inbound marketing over time to get better outcomes that contribute directly to business growth?
As with any important business initiative, inbound success demands a strategic and dedicated approach. Setting goals and expectations early on will help your inbound program succeed, and knowing what to expect as time goes by can help you stay focused.
The Evolution of an Inbound Program
Those who've gone all-in with their inbound marketing program know that they can't take a set-it-and-forget-it approach. An inbound marketing program must evolve to keep up with changing buyer behaviors, technology innovations, and industry trends...not to mention changing Google algorithms. While inbound marketing requires a dedicated, long-term strategy, that strategy also needs to remain fluid.
In general, you can expect to transition through four phases of an inbound marketing program. Check out the graphic below for a summary and then keep reading for more information:

Phase 1 — Flywheel Assessment
When we first meet with a potential client to discuss an inbound program, they usually want to talk about all the snazzy features they want on a new website and jump in quickly. We often need to help them take a step back and assess their current state of the business in terms of the inbound marketing flywheel and how they're performing in the Attract, Engage, and Delight stages of the buyer's journey.
The flywheel provides a framework for structuring your initial program based on what will have the greatest impact on your growth goals. Then, you can identify some quick wins (see phase 3 below) and develop a "wishlist" of sorts that you can tackle moving forward in your ongoing quarterly roadmaps (see phase 4).
Phase 2 — Set a Foundation
Before you can launch the more pragmatic aspects of your inbound marketing program, you need to determine the foundational elements of an inbound strategy, some of which include:
Setting goals, objectives, and KPIs
Developing a positioning statement
Determining customer pain points and developing buyer personas
Outlining the buyer's journey
Keyword research
Setting the proper foundation for your inbound program takes time, but it's one of the most important things you can do to ensure success. It's this foundation that will inform your decisions moving forward and keep you from getting side-tracked.
Phase 3 — Quick Wins & Kickstart Campaign: Build Content and Convert Leads
Once you've built your foundation, it's time to enter the creation phase. For many, this is the most exciting phase because they get to see tangible results like website designs and architecture, blog articles, eBooks, and conversion forms. As a result, they also start to see an uptick in traffic and the number of leads that they can hand over to their sales team at the appropriate time. While strong and steady wins the race, there are several quick win strategies that can be implemented to help you kick-start your lead generation efforts.
It's important that this phase ties directly to your flywheel assessment — prioritize your initial inbound "kickstart" campaigns based on the quick wins identified in that assessment. Sometimes your biggest opportunity is in the Delight stage of the flywheel, so your initial inbound campaigns will focus on existing customers instead of attracting new ones.
Phase 4 — Ongoing Program
Once your program is up and running, use quarterly roadmap cycles and annual flywheel assessments to leverage findings and continuously optimize performance of your assets.
Leverage Findings
After launching your inbound program, it's time to dig deep into your analytics to assess how things are going and improve based on what you find. If you use HubSpot to host your website and manage your inbound program, it comes equipped with a plethora of analytics tools to help you see website performance, organic traffic, bounce rates, and much more. You'll also want to leverage other SEO tools to augment your efforts and adjust based on what you find.
Continuously Improve
There will come a time when you've built up a nice library of blogs and advanced content and your inbound program runs like a well-oiled machine. Like any "machine," however, proper maintenance and updates are the key to getting the most out of it. Conduct an audit of your content to determine your best performers and consider repurposing that content.
Use SEO and conversion rate optimization tools to review keywords, length, tone of voice, format, and more to get the most out of every part of your website and content. Take a growth-driven design approach to upgrading your website, borrowing from agile and lean thinking that builds upon what you've started rather than starting from scratch once your website starts to feel a little stale.
Use quarterly roadmaps so you can address rapidly evolving trends and remain agile while staying on the leading edge of your industry. Prioritize key focus areas in your roadmaps based on areas to improve flywheel force and friction. Also revisit your flywheel assessment annually to update your wishlist and opportunities in line with business growth goals.
Inbound Marketing Requires Commitment
An inbound marketing program is not for the faint of heart; it requires strategy, work, and a commitment for the long haul. It may take a shift in how you've approached marketing in the past, moving from a "selling" focus to a "helping" emphasis. That's the heart of the flywheel methodology and it's at the core of inbound marketing.
Wondering what are your best opportunities to improve with inbound marketing? Download our extensive guide, the Flywheel Overview & Assessment Workbook to assess your current state. Or, simply get in touch with us to talk it through.