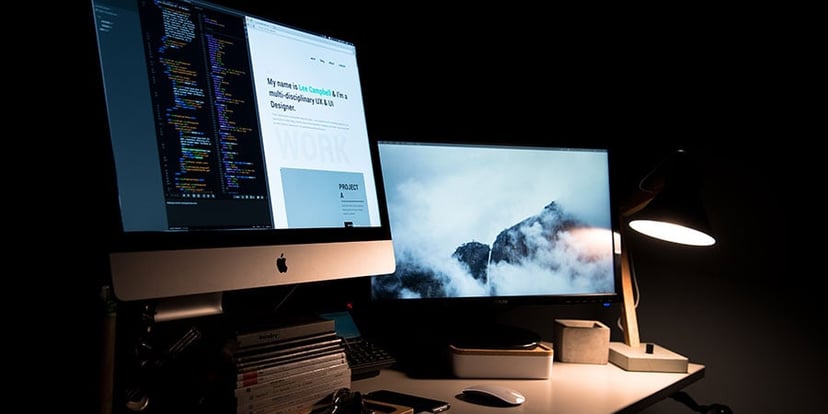 As a B2B marketer, I'm always looking at websites—industrial websites in particular—to spark new ideas and understand different structural approaches for a bit of inspiration. Working for a full-service inbound marketing agency, I'm naturally prone to view these sites through an inbound lens, meaning that I'm looking to see how those sites are set up for success with an inbound approach.
The industrial websites highlighted here are just two that caught my attention for a variety of reasons, but mostly because they're well structured sites that utilize inbound techniques to provide something relevant to their respective audiences. While I certainly don't know all the specific actions and results produced by these sites, below is a summary of what I think they do well and a note or two about what could be improved.
While this site may not be what you may immediately think of as being an industrial website, it's main audience is certainly an industrial one. Blackline offers wirelessly connected lone work safety monitoring for a range of industries where safety of personnel is a priority.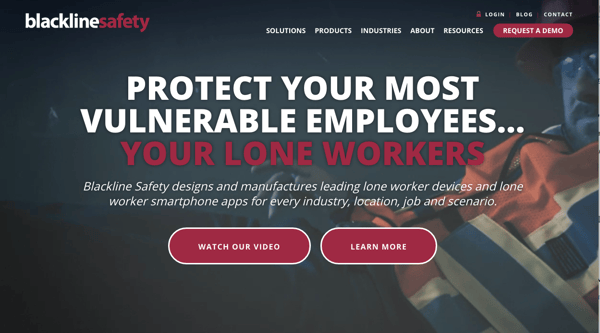 From an inbound perspective, this site does many things well, including:
The homepage features a very simple and clear statement about what they do and the benefit they provide along with two highly visible call-to-action links to direct customers to two specific next steps: Watch Our Video and Learn More
Providing a structure that helps visitors easily navigate to content that speaks to their particular industry, to a specific solution they're looking implement, or to a product. And within each of these sections, they've made it easy to get to get to the specific, customer-relevant information that they're looking for through effective use of icons.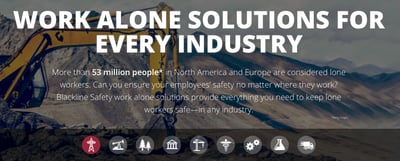 Offering a solid range of top of funnel (blog subscription, comparison guide), middle of funnel (case studies) and bottom of funnel (request a demo) call to action buttons throughout the site. In addition, it provides frequent opportunities for visitors to convert throughout the site with well-put-together forms that don't ask for too much information from visitors
A well organized blog that features four primary categories featured prominently at the top of the page. Clicking on the top-of-page topic links quickly rearranges the page and the page is highly visual, which draws visitors in more so than a list of headlines could ever do

If I were to change a couple things on this site they would be:
Step up the frequency for publishing blog articles. In reviewing the dates on the published articles, it looks like there's an opportunity to post more often
The video loop on the homepage. This is mainly just a personal preference that probably doesn't impact inbound efforts at all. While it certainly catches your attention the jumpiness within the video gives me a bit of a headache as I try to read and process the text
Welded steel storage tanks? Definitely industrial. This website is well set up for inbound marketing. While its primary navigation structure isn't as simplified and condensed as that of Blackline Safety, it does break things down into appropriate categories that speak well to its target visitors and the types of tanks they may need for their specific usage scenario or to locate the type of tank service needed.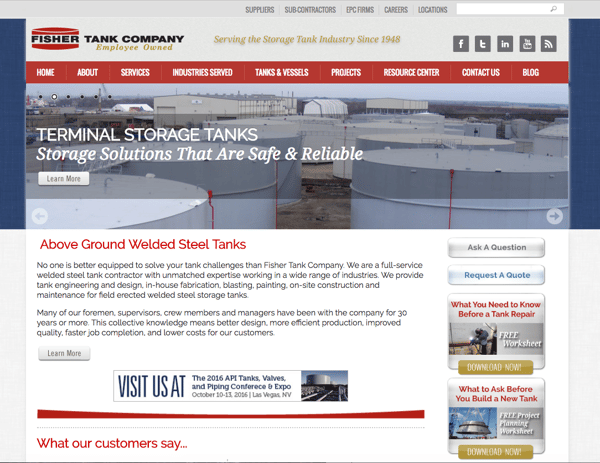 Things the site does well from an inbound perspective include:
A clear column of call to action buttons in the right-hand column of the home page that include quick and simple ways to contact Fisher Tank as well as solid Top of Funnel content offers
Blog articles that each have a clear next step to generate leads via a relevant content offer CTAs at the bottom. Most articles include helpful images that illustrate key points as well
Web page copy and blog articles that are focused in terms of content and long-tail keyword usage
Social Media integration in the blog that makes it easy for visitors and Fisher Tank staff to share articles on multiple channels. The site also features the company's social links at the top of each page to make it easy for visitors to follow and review shared content
If I were to change a couple things on this site they would be:
Regain the momentum in blog article creation to help content to be more easily and readily found in search
Further optimize the site for lead capture and conversion
Addition of more video and interactive content to hold visitors on the page longer and improve interaction
A good inbound site will attract more traffic, convert that traffic into lead, help close those leads into customers and help you delight new and existing customers. As such, no website is perfect nor is it every truly a finished product. Adjustments and tweaks are consistently needed to keep things up-to-date and functioning well.
Know of other industrial websites that you find particularly appealing from an inbound perspective? Share them with me in the comments section below.