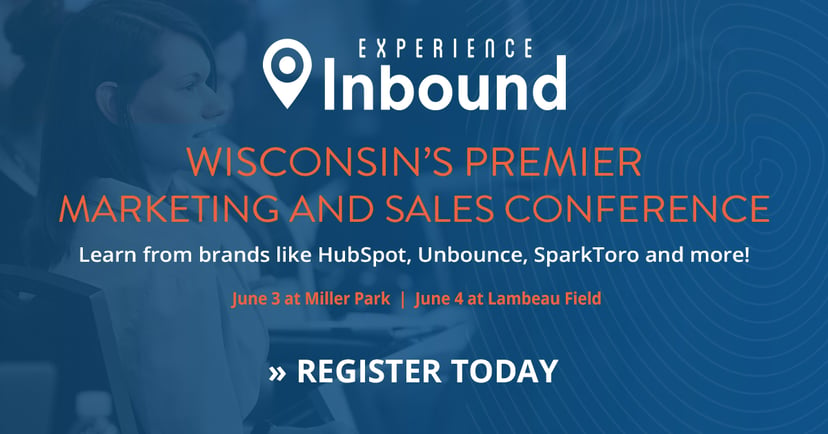 As a busy sales or marketing professional, you probably feel that there are never enough hours in the day. Schedules are full, client demands are many, and you're rarely able to squeeze in a real lunch hour. So, when it comes to professional development (to loosely quote a classic 1970s song), "You have to take time to make time, and make time to be there."
And there's no better opportunity to take time than Experience Inbound 2019, Wisconsin's premier Sales & Marketing conference. But don't just take our word for it, here's what some past attendees had to say:
"This is an event we will continue to look forward to year-after-year! The thought-leadership and content provided in a single day is invaluable."
"The variation in topics and experience of speakers was great! You can't attend other local seminars and find this caliber of speakers."
"Experience Inbound was an invaluable opportunity for us "department of one" marketing teams to share successes and challenges while learning from industry thought-leaders."
Experience Serious Thought Leadership
For this year's conference, we've amped things up with these top-notch national keynote speakers who have a lot to say and a few secrets to help you grow and elevate your business and build your brand:
Tamsen Webster — Founder & Chief Message Strategist of Find The Red Thread, Wester is often described as a professional "Idea Whisperer," who helps people find, build, and tell the stories of their ideas. She has 20 years of experience in brand and message strategy and spent four years as a TEDx Executive Producer.
Michael Brenner — CEO of Marketing Insider Group, Brenner is a Forbes top CMO influencer, a named Top Business Keynote Speaker by the Huffington Post and a Top Motivational Speaker by Entrepreneur Magazine. He is also co-author of two books, The Content Formula and Digital Marketing Growth Hacks, and is currently working on a third about the power of empathy in business, marketing and life.
Collect Actionable Ideas
A full lineup of Experience Inbound speakers will be sharing many ideas and actionable insights you and your team can directly put to use right after the conference, including:
Jennifer Pepper — Marketing Manager, Content Creation at Unbounce
Your New Secret Sauce for Growth: A Recipe for High-converting Landing Pages
Caroline Matis — Corporate Marketing Manager at CM Group
4 Drip Campaigns That Will Improve Your Email Results
Connor Cirillo — Conversational Marketing Manager at Hubspot
How to Actually Get Started with Conversational Marketing
Bradley Friedman — Director of Client Services at Lucky Orange
5 (Very) Actionable Ways to Use Data and Analytics to Boost Website Conversions
Greg Linnemanstons — President at Weidert Group
How to Use Video to Enhance Every Stage of the Buyer/Customer Journey
Nicole Mertes — VP, Client Services & Business Development at Weidert Group
The Down 'n Dirty 30: High-Impact/Low-Effort Tactics All Inbound Marketers Need to Know
Linda Kyzar — Marketing & SEO Director at Stream Creative
The SEO Mindset: Ten Steps to Get Google to Love You Back
Jeff Coon, Partner at Stream Creative & Janice Dombrowski, Content Director at Stream Creative
B2B Marketing Campaign Playbook: Tips and Tools to Maximize Lead Generation
For more details, check out the speakers' bios and the entire event schedule.
Register Today!
Experience Inbound is a full-day conference held at two great locations:
June 3 at Miller Park in Milwaukee, WI
June 4 at Lambeau Field, Green Bay, WI
Early bird registration ends April 7 and is only $199 — a bargain so good for the caliber of the speakers that it's reasonable to send several people from your team. The price goes up to $249 on April 8. This event sells out nearly every year, so don't wait!