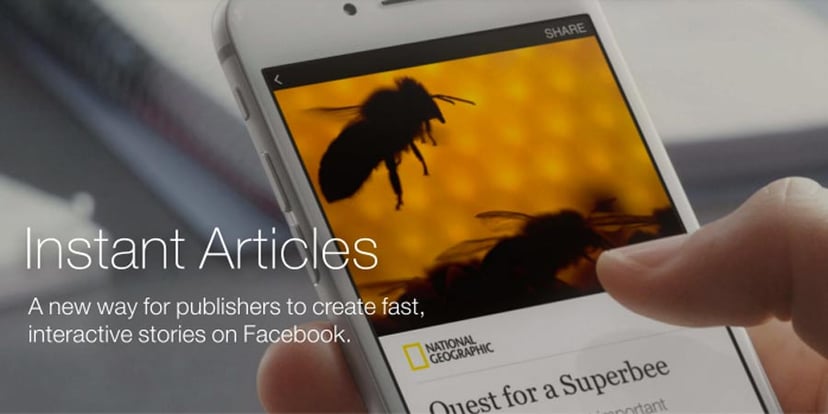 To B2B marketers, Facebook is just another social media platform. It's useful for branding and for the purpose of owning your social presence, but overall, few B2B marketers expect to get many business leads from Facebook. In general, Facebook's more about staying connected with your high school buddies than finding new business acquaintances.
However, earlier in January, Facebook announced the start of a content platform that could change the relationship between Facebook and businesspeople. The world's largest social platform is touting its new Instant Articles experiment as the next big thing for publishers to get the most out of their content on social media. So then, since B2B marketing has rapidly become equivalent with content marketing, we see this announcement from Facebook as major news.
As of April 12, 2016, anyone with a website and a Facebook page will be able to take advantage of Instant Articles; but should you?
Who Can Publish Facebook's Instant Articles?
Instant Articles is currently a limited feature, requiring the completion of an application for credentials to become an Instant Articles publisher. Currently major publishers, like National Geographic, tend to have a very wide audience for their material. There is no word on when, if or how they will expand publishing capabilities to all users, but there are thousands of Instant Articles published on Facebook every day, so Facebook is clearly approving applications.
At present, most Instant Articles' publishers are traditional media, not B2B publications, but that's not stopping B2B companies from submitting an application to start publishing though.
Instant Articles vs. Owned Media: What Content Should You Publish?
So, if you're lucky enough to get access to publish Instant Articles, what should you publish? Well, you can publish anything and everything to Instant Articles; you're in control. Facebook wants it to feel as much like your owned media as possible. The fast & fluid experience works across the board, no matter how long or how short the content. Some publishers are wary of utilizing Instant Articles to its full potential in fear of detracting from website traffic, but data shows that Instant Articles are being shared more than traditional links. It's certainly a trade-off, but the exposure from increased social sharing could make your content far more successful overall.

Is Instant Articles Different than LinkedIn Pulse?

At face value, Instant Articles doesn't really seem much different from LinkedIn Pulse, which is a prized tool among most B2B content marketers. While that's correct in the most basic way, once you dig into Instant Articles' capabilities you'll find just how revolutionary Facebook has gone with the new platform.
First, in a world where the average attention span has dropped from twelve seconds to just eight seconds, it is more important now than ever before that your content loads quickly. Loading an article using a web browser can take over eight seconds, meaning there's a good chance users will navigate away from your content before it even loads. However, Instant Articles uses tools unique to the Facebook app that allow articles to load up to 10 times faster than normal. That kind of speed is key to keeping the attention on your content.
Secondly, Instant Articles provides a more interactive experience, immersing your readers in the content. Features including, but not limited to, like & commenting on individual parts of articles, exploring interactive maps, autoplay video & the ability to zoom into photos give readers plenty of reasons to forget about their eight second attention span.
Lastly, you are in control of advertising. If you want to sell your own ad space and keep 100% of the revenue, you can do so. If you want to let Facebook worry about monetizing the content, you'll keep 30% of the revenue.

Instant Articles Connects to RSS, making publishing across owned and social easier

The ease of use for publishers seems too good to be true. Instant Articles can connect directly to your content management system via RSS feed, minimizing the additional work you thought you'd have due to publishing to a new platform. Adding your RSS feed ensures that when you publish a new content on your blog, Instant Articles grabs it and publishes automatically. This feature also works for updates to existing content. Find a typo? Correct it on your main website and Instant Articles makes the update as well.
Instant Articles Value for B2B Marketers

B2B marketers have countless options for distributing content, making it's nearly impossible to give adequate attention to each. So, whenever you have a chance to increase viewership without much additional work, take it. Additionally, Instant Articles gives you the tools necessary to create content specifically for mobile users at a time when mobile usage is only going up.
It's free, it's fast, it's interactive & it looks great. What more can we ask for?