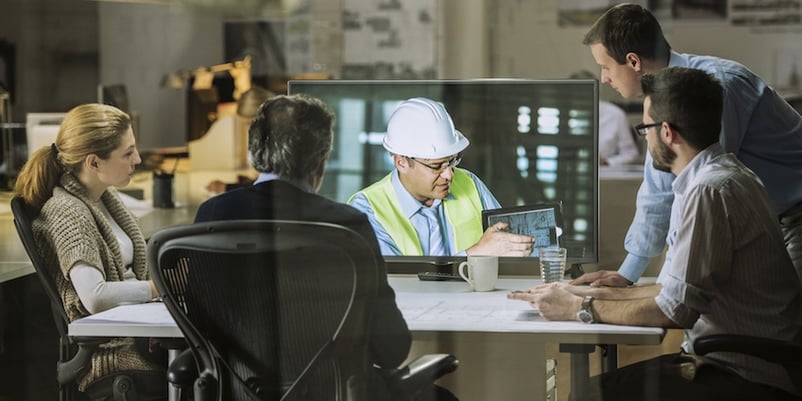 When it comes to managing social media for B2B companies, Facebook has always been a network that marketers have struggled with. Of the Big 3, it's undoubtedly the most personal for users and provides a totally different environment than LinkedIn or Twitter. That being said, as the most-used social network on the web, there are still ways Facebook can provide value for today's businesses, and one of those ways is their new live streaming feature, Facebook Live.
This past January, Facebook rolled out Facebook Live to all of their users, giving pages the opportunity to broadcast in real time for up to 90 minutes using the camera on their phone. While broadcasting, companies can see how many people are watching their video, monitor their reactions and comments, and respond directly to them. Fans of your page and visitors that recently interacted with one of your posts will receive notifications every time you go live (unless they have them disabled), making it incredibly easy to grow your audience. All you have to do is share videos that keep your viewers interested!
Of course, creating B2B content that's interesting enough to compete with all the viral videos, baby pictures, and latest trending news, is the hard part, but that's what I'm here for! To help give you some ideas of how you can take advantage of live streaming, here are 4 superb examples of how B2B businesses can generate more interest for their brand using Facebook Live.
Food Manufacturers
While it's easy to create content for food products that target consumers, creating interesting content for food manufacturers is a little trickier. If you've been on Facebook in the last few months, chances are you've seen all the short recipe videos, like the ones from Tasty. In fact, in just over one year of being a Page, Tasty has accumulated over 66 MILLION Likes! To piggyback on the success of their recipe videos, food manufacturers can create their own live recipe videos showing off how their products can be used to enhance a manufacturer's current applications.
Construction
One of the coolest things about the construction industry is being able to watch something be built out of nothing. And while there's a lot of focus on the final result, the building process is one that's always interesting to follow. Whether you're laying the foundation, the framework, or in the final phases of installing dry wall, carpeting, etc., there's a lot you can show people that will pique their interest. If you're working on something really cool, throw on a hardhat and give viewers a firsthand look at what you're working on while providing some project updates. Not only is it interesting to see, but the construction progress update videos could encourage businesses to use your services over a competitor. When you're done, give a final walkthrough video to show off your expertise.
Custom Manufacturers
Does your company custom manufacture unique, one-of-a-kind products? Show off your creativity and product quality by doing a live video walkthrough, showing off your latest product and features. Whether you manufacture custom commercial trucks or specialized kitchen equipment, it's a great way to show prospective customers what you're capable of and get people interested in using your brand.
Financial Companies
Do your customers and prospects ask a lot of questions? That's typically the case when dealing with any complicated financial decisions. In an industry with so many nuances and where your advice can change with the day-to-day movements of the markets, Facebook Live is a great outlet to address any recent financial news, explain a particular subject, provide advice, or just answer questions from viewers. It also makes a great platform to interview an expert on a particular subject. Think of it like a live webinar, but on Facebook.
Tips for Maximizing Your Facebook Live Views
In addition to having something interesting to watch, there are several things you can do to improve the quality of your videos and increase viewers. Before you hit that "Go Live" button, make sure you do these 6 things:
1. Announce When You'll Be Broadcasting Beforehand
If you want to get the most viewers for your broadcast, let them know at least a few hours ahead of time when you'll be broadcasting so they can tune-in. It's a much better alternative to broadcasting on a whim, hoping your fans see the notification and hop online.
2. Don't Broadcast with Bad Internet Connectivity
No matter how great the content of your video is, people aren't going to stick around and watch if your stream keeps lagging or cutting in and out. Wait to broadcast until you're connected to WiFi or have a strong, 4G connection for the best results.
3. Ask Viewers to Follow You and Receive Notifications
With the growing amount of Facebook Live videos lately, a lot of users are disabling the notifications because they get so many. If they find your videos interesting or helpful, however, then make sure you ask them to keep notifications on for your videos. It's the best way to alert people when you go live.
4. Include a Short Description with Your Video
Want people to stop and tune-in when they scroll past your broadcast in their feed? Make sure you include a short description to let them know what you're talking about.
5. Go in with a Plan
Because you'll be broadcasting live, it's important that you practice what you're going to say first so that you can minimize mistakes during the broadcast. You'll lose viewers quickly if it's obvious that you're lost and don't know what you're doing or what to talk about.
6. Promote Your Video Afterwards
Once you're done broadcasting, the video you just took will remain on your page for anyone to go back and watch. Take this opportunity to promote it on other social channels or even embed it in one of your blogs. You can even edit your video once it's done publishing to include a thumbnail, URL, and add a CTA.
Though Facebook has long been regarded as a non-B2B-friendly social media site, the addition of Facebook Live certainly makes it a much more attractive network for both B2Cs and B2Bs. Make sure you follow the tips from above when creating your Facebook Live videos, and you'll be surprised at how many quality leads come through.