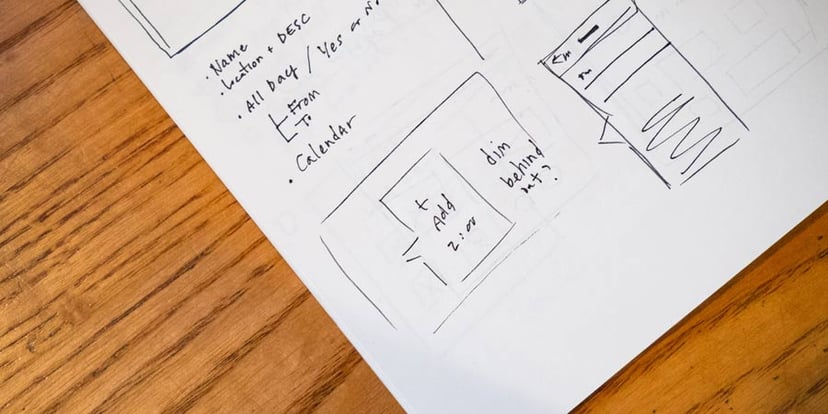 Inbound marketing programs use gated content to generate leads—that's a near-universal fact. If you don't have downloadable content sitting behind landing pages, then there's nothing driving lead conversion.
In a general inbound marketing approach, websites should be designed in a way that natural calls-to-action (CTAs), like at the end of a blog article or in the midst of a web page, lead visitors to landing pages where they trade contact information for the downloadable contact.
Usually, CTAs are paired contextually, so that if you're reading an article on process improvement, the call-to-action will be on a related or more in-depth topic. 90% of a website designed for inbound marketing works this way—naturally guiding visitors to conversion opportunities, and optimizing every page to increase conversion rates.
Then, there's the Resource page.
Resource pages are different. Harkening back to the days when websites had "Helpful Links" and "Related Sites" pages, resource pages have become incredibly common on websites built to generate inbound leads.
Why Resource Pages?
Take a look at our client company, Crane Engineering. In a simple yet effective way, their "Resource Library" gives visitors access to every content piece they've produced.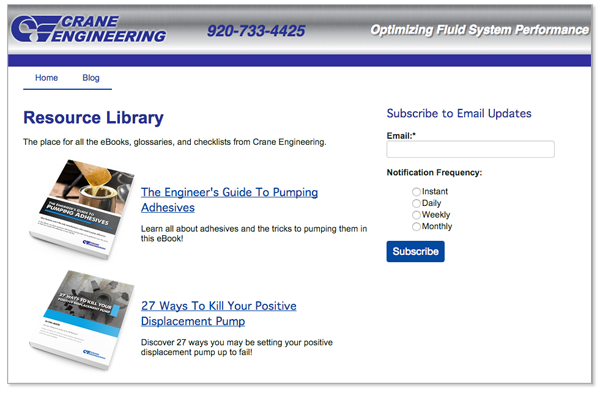 After all, the thought for most companies is: If we're going to produce all these downloadable content pieces, then why not feature them? It's a very logical conclusion. If you're going to have lots of landing pages, why not give visitors a place to see them all?
Resource Pages Are About Reconversions & Nurturing
The fact is, resource pages might not help convert more leads, but they're the perfect place for returning leads to increase and accelerate their learning. In fact, they can be a huge boost for your inbound marketing funnel.
As we track leads, the more form submissions a lead has made, the more we know about them, and the more sales-qualified they become. Resource pages provide leads with the opportunity to repeat their downloads and find new landing pages to access.
3 Resource Page Features to Consider in Your Next Redesign:
1. Sortability Features
While resource pages can be a simple as a basic list, really strong resource pages have sorting features that help leads access the content pieces that are most relevant to them.
2. Personalized Resource Recommendations
Some of the more forward-thinking websites are built for personalization. If your lead has downloaded a resource in the past, then the resource section should suggest new, relevant pieces, personally. With HubSpot's content optimization system (COS), personalized resources are made easier.
3. On-Page Reading
While resource pages should be focused on increasing conversions, don't forget that on-page reading can be really important for lead engagement. Try putting content on your resource page, alongside downloadable conversion opportunities, to increase time-on-page and learning. If you're counting on your resource page to help nurture leads, and your not relying on it to generate that many new leads, then don't be so quick to encourage departure.