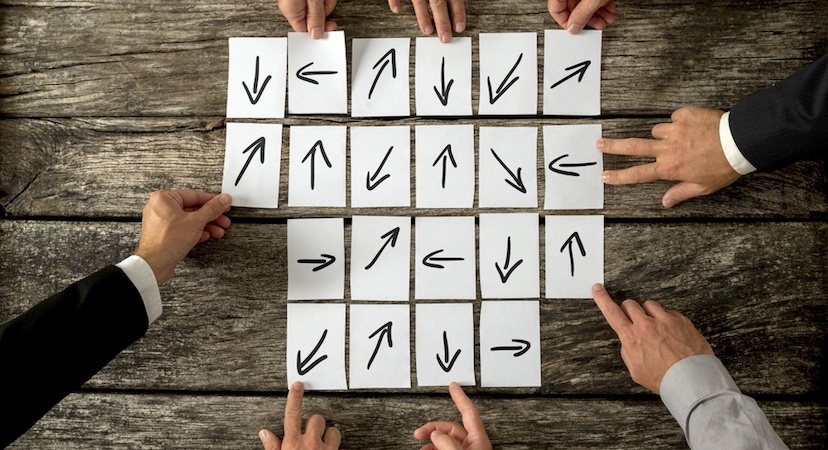 "Look before you leap." This is a lesson in cautiousness we're taught as kids that we take with us the rest of our lives. We've all gotten burned by something because we didn't do our research or due diligence beforehand, and in the marketing world, that can spell disaster for your campaign or project.
Whether you're building out a new email campaign or launching a new website, it's crucial that you take the time to research your audience and analyze their wants and needs before building any assets. Especially in the case of launching a new website, if you're going to spend months designing your site and building your pages, the least you can do is spend some time planning – unless you want all that time, effort, and resources to go to waste. It's hard to tell how people will respond to your site before it's launched, but if you do your homework beforehand, you can greatly reduce the risk of it failing.
To help point you in the right direction and highlight all the pre-design planning and research that goes into launching a growth-driven design (GDD) website, here are several steps you should follow before you even think about building a page.
1. Develop SMART Goals
Once you have the green light to start working on a new website, the first thing you want to do is develop SMART goals that will help guide your completion; SMART stands for Specific, Measurable, Achievable, Relevant, and Time Limited. For example, one SMART goal might be to increase MQLs from 10 to 15 by the end of December 2018. This is a SMART goal because the objective is clearly stated (specific), the progress can be tracked and monitored (measurable), it's realistic (achievable), it aligns perfectly with what needs to be done (relevant), and it has an end date attached to it (time limited). Setting goals like "increase MQLs by the end of the year" checks some of the criteria for a SMART goal, but ultimately isn't specific enough – or very realistic. By having SMART goals for your project you are able to make decisions based on what really matters to you and the other stakeholders.
2. Identify Your Buyer Personas & Ideal Customers
In order to understand what website features will be best for your customers, you first have to understand who your customers are exactly. This means identifying your ideal buyers, and developing buyer personas that serve as a semi-fictional representation of your ideal buyer. For B2Bs, your ideal buyer defines what kind of businesses you want to work with, based on traits like their company size, budget, potential for repeat orders, and fit for your product or service. By identifying these ideal buyers and prioritizing them in your website plans, you'll have a much better chance of reaching them and actually working with the clients you really want to work with.
Once your ideal buyers are identified, the next thing you'll want to do is develop the buyer personas of the specific people at those companies that will be integral in the purchasing process. Create a profile of their shared traits, interests, beliefs, goals, and pain points, and use that information to better develop your site for that audience. There are many different templates you can use to kickstart the process (like the one above), but the profiles you develop should all have answers to these questions:
Demographics: Age, title, role, education, background
Identifiers: Personality traits that define him or her
Interests: What this person likes to do outside work
Goals: What business benchmarks need to be reached
Challenges: What's keeping him or her from reaching those goals
Pain points: Related frustrations this person faces each day
Common objections: The target persona's primary values and what he or she perceives as a roadblock to purchasing
Buying process: How does he or she buy this product – referral? Word of mouth? RFP/RFQ?
Current state of mind: What he or she believes about this product type and/or our product specifically
3. Build Your Value Proposition Map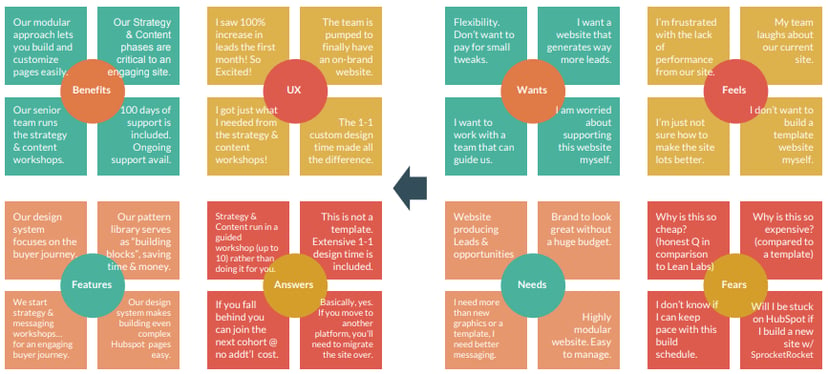 After you've identified your buyer personas, one of the first things you want to do before you even think about touching a web page is to identify your value proposition. In order to survive in today's customer-centric market place, you have to make sure your website message isn't about you, but rather what you can do for your customer. This means sitting down and going over your buyers' needs, wants, feelings, and fears, so you can more effectively position your features, benefits, solutions, and user experience for the maximum effect. Looking at the Value Proposition Map above (based on Sprocket Rocket), start by filling out the squares on the right side, and use that input to tailor your message, offers, and solutions on the left.
4. Outline Your Buyer's Journey Map
After you've developed your buyer personas and identified your value proposition, the next step in the process is to outline the buyer's journey for those personas. This means figuring out the questions your buyers are asking, choosing the right content to put in front of them, and optimizing that content to be specifically for those personas, while having it ready for them exactly when and where they need it. If you know the problems your buyers are having at the top of the sales funnel, for example, you can develop top-of-the-funnel content specifically for that buyer persona that addresses one of his or her burning questions, and moves them closer to the next step. From there, you can lead the prospect down the funnel using more targeted content and lead nurturing workflows.
5. UX Research and Branding
Now that you're prepared to create new website content for your buyers, the next step in the process is to start laying the groundwork for your website's UX, navigation and branding. This will require the help of a website expert, someone who's well-versed in website design and has created the architecture of a website before, and a design expert. Whether this one person or two, internal or through an external agency, now is where you'll start making your wishlist a reality, and really start bringing your launchpad to life. Whoever you choose needs to have a strong understanding of the way people typically use websites and view certain types of content today, so they can identify (and fix) any potential designs, features, or layouts that cause visitors to leave or lose focus. Working with a GDD-certified agency, you can be sure that their team is up-to-date and knowledgeable of the latest trends and techniques.
While there's sort of a "try things as you go along" approach to GDD, it's not purely a "throw s**t at the wall and hope it sticks" approach. A lot of thoughtful planning and research should go into your new website design in the strategy phase, because it's crucial to website's success once its launched. If you look before you leap, you know just what to expect when you land, and can brace yourself (and site) for the impact.
Want to learn more about growth driven design? Download our free GDD eBook today!