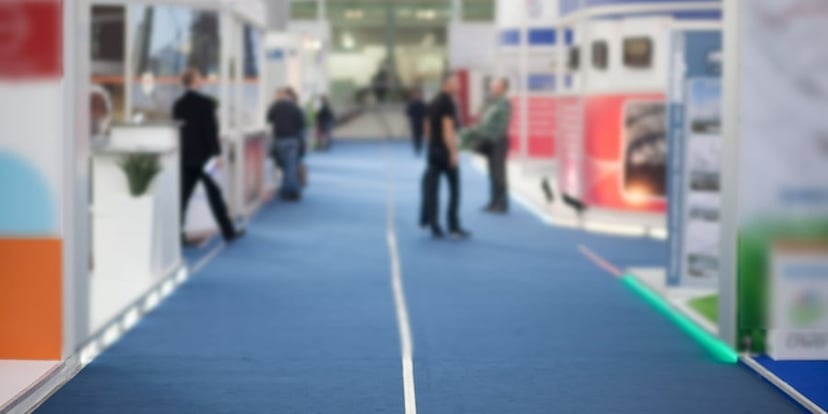 When it comes to the buyer's journey, trade shows play a big role in helping those decision makers and information gathers in the B2B market consider a product or service, then move along to making informed and confident purchasing decision. The American Marketing Association cited a report by the Center for Exhibition Industry Research, "Marketers Find Exhibitions an Essential Marketing and Sales Tactic," that found business-to-business exhibitions rank second as a marketing and sales tactic and are identified as the primary sales channel by 77% of surveyed exhibitors.
Though these events provide vital face-to-face quality time with prospects, giving them an opportunity to touch or sometimes see the product in action, trade shows are a significant marketing expense. Exhibit space costs are comparable to prime retail space and come with a number of other expenses including backdrops, show labor, travel to the expo city and booth utilities. Naturally, companies greatly desire to make the investment pay off as much as they can.
One way is to use these events to maximize your trade press exposure. Here's a checklist of tactics to activate before, during and after a trade show that will increase trade publication coverage and build editor relationships.
BEFORE – Let Editors and Attendees Know You'll Be There
The First Question. Why is my company exhibiting? And the answer better not be, "Because we've been doing this show for years." Determine which of your latest product or service offerings will be on display at the booth and which trends and pain points your company is addressing.
The Invite News Release. Your pre-show release should promote your latest product, even if it was released before the show. That's because not every publication will have picked that release up – just don't share a release prior to the show if the product is one you'll be premiering at the show. You don't want to steal your own thunder.
Be sure to mention your booth location and gear the release toward the show attendees. As to where the release should go, you'll find information on publications that are doing pre-show coverage in their editorial calendars. Produce and send out the release three months before the show.
Pursue the Editors. A number of publications send their editors to trade shows to find out the latest in trends and products, and your goal is to have them to stop by your booth. Many expos publish a list of editors who will be at the show or who are invited.
Though helpful, these lists usually come out a month or several weeks before the show. By then, many companies have been sending out invites for weeks. If you wait for this list to reach out to your target editors, their booth visit schedules may be full.
Send out these invitations before these lists are published. Based on your knowledge of the market, you can determine who might be in attendance. Then, when you do get the editor list from the show, you can pick up on the editors you missed from your original wave of invites.
Send your invitation via email and include your show release. Depending on the trade show, the editors might be getting a barrage of invites, so do not hesitate to follow up a few days later with a phone call, so you can schedule a time for the editor to drop by your booth.
The Press Kit. This bundle of information will contain the press release announcement for the product or service your company will be introducing at the show. Now that paper press kits are a thing of the past, you can load up a thumb drive with your company's logo/name on it with the press release, plus background on your company, case histories and white papers. Take advantage of the benefits of a digital press kit and include videos.
AT THE SHOW – Meet the Press
Hit the Pressroom. Make sure you provide the pressroom with enough media kits needed to reach the relevant number of editors expected at the show.
Marshall the Troops. The trade show not only gives you a chance to talk to the editor, it provides an opportunity to have your subject matter experts (SMEs) on hand as well. Be sure to provide them some cursory media training that covers the publication, your main points and, if you've met the editor before, a description of who the crew will be meeting.
What You Hope to Get out of the Meeting. If this is the first time you'll be encountering an editor, you're looking to build a lasting relationship and the show floor is one of the few opportunities to make this happen. If you get to know the editor as a person, it's more likely he or she will pick up the phone when you call.
In addition to the possibility of getting your release into print after the show, take time to determine the trends being developed by the magazine and how your company might add input. The editor may have a specific issue about which you can provide a guest editorial or insight from your company's SMEs. This will be the big takeaway from the show.
AFTER THE SHOW – Keeping it Going
The Week After the Show. Follow up with these valuable contacts by sending a thank you email. Be sure to mention some of the things you talked about, as the editor may have seen 10 to 20 companies each day of the show.
And into the Future. Be sure you've slotted any future articles discussed at the show into your calendar. In addition, based on your discussions, check out the publication's editorial calendar for relevant opportunities to pitch a topic idea.
Great products and strategies can drive a company's inbound marketing program toward success, but what really makes it click are the relationships built with customers. This effort certainly is the case when it comes to trade press relations.