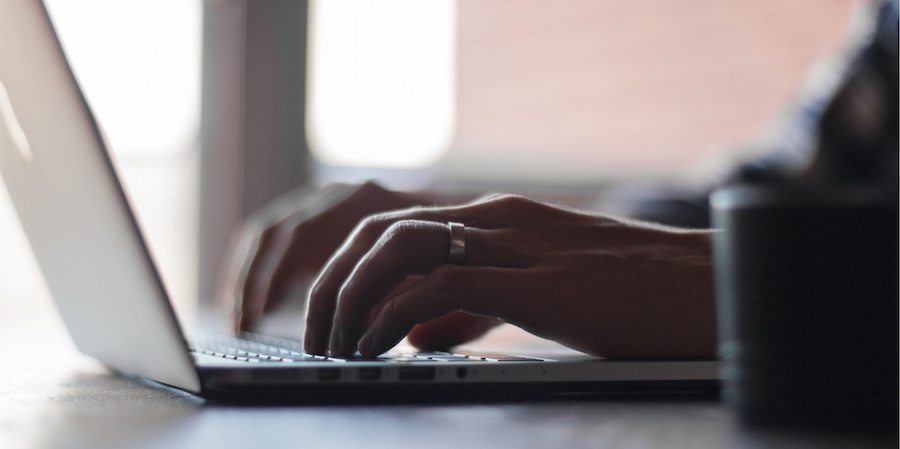 Google Alerts is one of the many free and useful online tools Google offers to anyone on the web. It's great for companies that need an easy way to monitor their online presence and, because it's free, it doesn't require investing in an expensive monitoring service.
But a surprising number of B2B marketers and salespeople either missed the memo or simply don't know how to leverage this simple yet effective and easy-to-use tool to their benefit.
Sound like you and your company?
Google Alerts set up is easy and requires minimal effort on your part. We'll share how you can get started at the end of this article. But before you dive in, you should know the following eight helpful tips to fully leverage this underused tool.
1. Newly Indexed Content
As every good marketer knows, online content creation through inbound marketing is the best way to get found in organic search. Set up alerts to keep tabs on when your newly published content is indexed by Google's search bots. You can do this by tracking your company name, the page URL, or the title of the blog article.
By tracking the title of the blog post, you can easily monitor if other sites republish your content. When you receive an alert, check to make sure you receive proper credit and that they've linked to your original article. Without a link, you'll miss out on SEO value.
2. Tracking Backlinks
Google Alerts will also notify you when another site links to your page. Link building is especially important for businesses that blog. After all, you want to know which sites are linking to your content and are helping to generate website traffic.
3. Company Mentions
Google Alerts is one of the easiest ways to monitor online mentions of your company in real time. The minute your content is indexed by Google's search bots, you're notified by email. In addition to mentions in online articles and blogs, you can also be notified of mentions in social media conversations.
We still recommend using a dedicated social media monitoring platform for the best tracking results. At a minimum, you should track both your company name, Twitter handle and other social platform identifiers.
4. Product Mentions
Similar to tracking company mentions, it's smart to also track your specific product names or product categories. Since they're free, go ahead and create as many alerts as you want. However, think about how often you want to receive these alerts to avoid overburdening your inbox.
5. Executive & Key Personnel Mentions
At some point, your company's executive team and other key personnel will be mentioned online. It only makes sense to track alerts on their names as well. This helps you manage your company's reputation and that of your key leaders. It also helps you manage online engagement opportunities and shows others in your industry that your company is paying attention.
6. Competitor Mentions
Depending on your company's competitive landscape, it can be difficult and time-consuming to keep up with what your competition is doing. Creating monthly or weekly alerts based on their company name will provide you with a nice snapshot of their activity.
7. Industry Topics
It can be a chore keeping tabs on what industry trade publications, websites and news outlets are publishing online. Creating alerts around key industry phrases ensures you'll never miss timely news updates or an opportunity to participate in a forum discussion. Leaving a thoughtful comment on someone else's blog can increase visibility and demonstrate thought leadership in your industry.
8. Monitor Keywords
Google Alerts can help you strengthen your keyword strategy by showing how other people are using your main keywords. This can help you find unique content angles that others haven't covered yet. It can also help you find and take advantage of other relevant keywords.
How To Set Up Google Alerts
Not sure how to get started with Google Alerts? It's easy! These simple steps will help you create your own customized Google Alerts. To start, you'll need a Google email address.
Go to www.google.com/alerts
Enter the search term you want to be notified about (e.g., company name, executive name, product, industry topic, competitor, etc.)
Select "Show Options"
Choose how often you'd like to be notified and fill in other requested information
Enter the Google inbox or RSS feed you'd like to send the alerts to
Hit the "Create Alert" button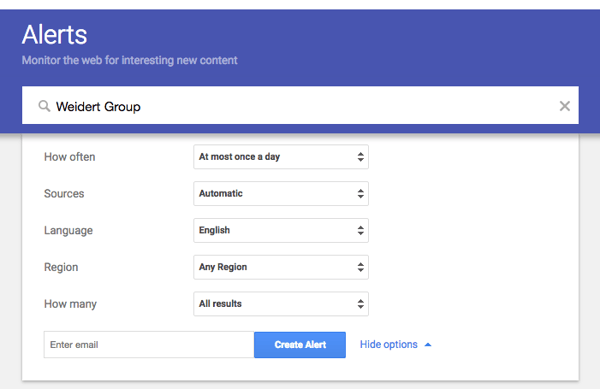 Google Alert Hacks and Insider Tricks
Define your search queries even further to eliminate notifications that don't relate to you or your company with these tips:
Consider adding quotations around your desired search query to get only the best results. This way Google knows you only want to track that query when the words are strung together in order.
If the name of someone on your executive staff is shared with another prominent person (e.g., your CEO's name is Charles Schulz), you'll want to exclude references to Charlie Brown or Snoopy. To do so, enter a minus sign before the word or phrase you want excluded (e.g., Charles Schulz -Snoopy). This will help Google know which alerts to track and which to avoid. The same holds true if your product name is shared with a company in another industry.
Include common misspellings of your search terms. Google does a pretty good job of detecting and automatically correcting misspelled words, but it's a good idea to cover all your bases.
Google Alerts is one more tool you can use in your company's marketing toolbox, so use these helpful tips to fully leverage this amazing resource. If you're already using Google Alerts and have some additional advice or tips to share, please leave a comment!