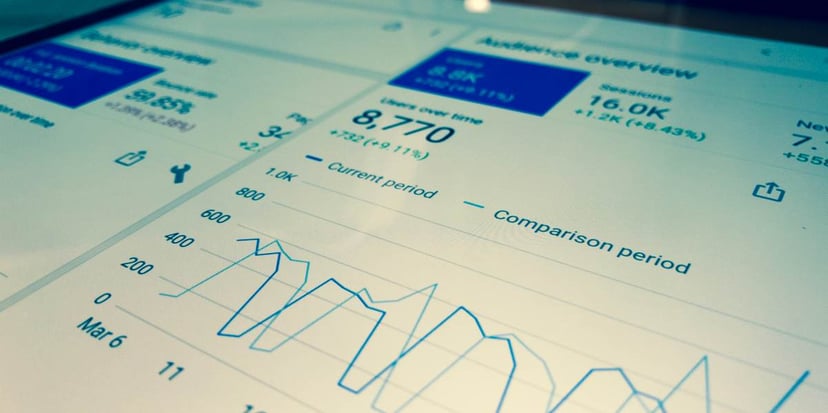 "Can I have access to your Google Analytics?"
This is one of the first questions I ask a client when we begin working on a new inbound program. Understanding where their website stands is important so we can determine how we are going to help them improve.
Here are nine key insights you can evaluate in Google Analytics before getting started with HubSpot. They are relevant to companies that host their website on HubSpot, and to those that use a third party hosting service.
1. Website Traffic

This is the most important number. How much traffic is your website currently getting? 100 sessions per month? 1,000?
We want to make sure we understand how many individuals are impacted by any changes that are made to the site.
However, gaining more traffic is not always the right goal on a website. Sometimes you have a lot of traffic, but it is not the right kind of traffic. You might be looking to attract other businesses for your services, but may end up attracting far more students because your website has a lot of academically applicable information.
Whatever your actual goals are for your website, knowing your current traffic will be an important starting point.
2. Bounce Rate
The bounce rate is defined as how many of your website visitors view only one page before leaving. They may see a blog post and read only that article before navigating back to Google or closing their browser window.
Usually, bounce rate is something we try to reduce with an inbound program. We want visitors to find your content and then visit a landing page or other piece of content to continue down the marketing funnel.
Google analytics can tell you the bounce rate of your site in general, as well as the pages that have the highest bounce rate. Knowing this information, we can analyze those pages to see if there is something wrong with them, such as missing information or confusing instructions, and then address those problems with the new design.
3. Audience Data

Is your target demographic baby boomers but you still mostly attract millennials? Google Analytics can tell you this. The demographic tab has the ability to segment your website visitors by age, sex, geography, interests, language and more.
This information is particularly useful after your target personas have been developed, as you can see if your website audience is the one you want to attract.
4. Behavior Flow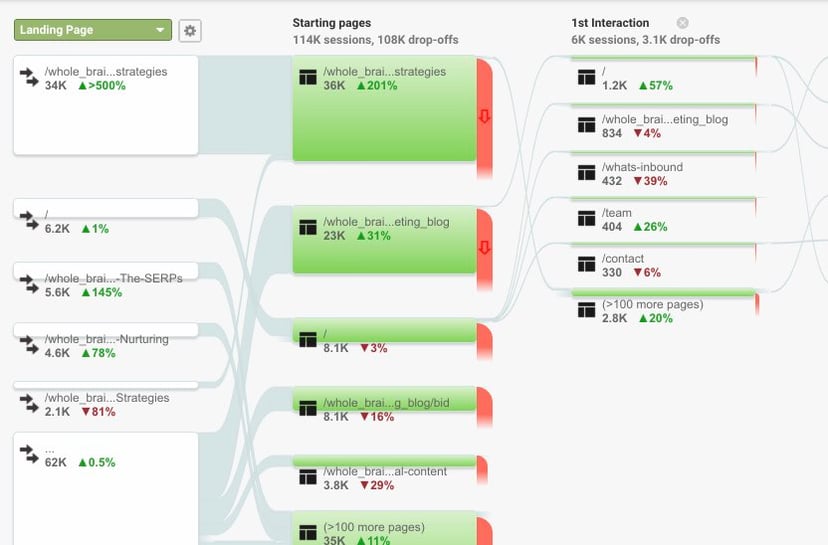 The user flows are an area of Google Analytics that I can get particularly lost in. It shows how users navigate through your site, what pages they land on, what pages they leave from, and where they browsed in between.
The behavior flow data will give you a general insight into how visitors are currently using your site.
5. Sources
Is your site getting most of its traffic from organic search, or is it directly from individuals who type your URL into the browser bar? Sources will be able to tell you this information.
6. Mobile vs. Desktop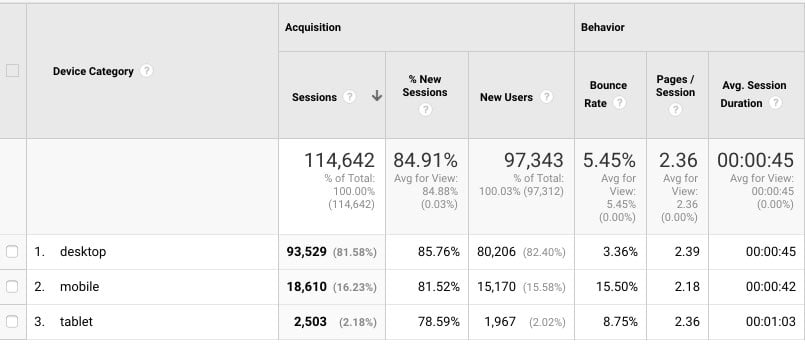 Everyone knows by now that mobile is taking over the world. But is that true for your website traffic? Google Analytics can give you that answer.
If you are a B2B company, mobile is probably a smaller share of your website traffic than you might think. As an example, less than 20% of the traffic on Weidert.com is from mobile.
Knowing your desktop to mobile ratio will help you understand what direction you should go with your design. A mobile first approach will make more sense if most of your traffic is visiting your site on a small screen.
7. New vs. Returning
Any good sales person knows that it usually takes up to 12 touches to make a sale. The same goes with conversions. Most visitors will not convert on their first visit to your website. Google Analytics can give you a baseline of how many visitors actually come back to view more content.
8. Page Speed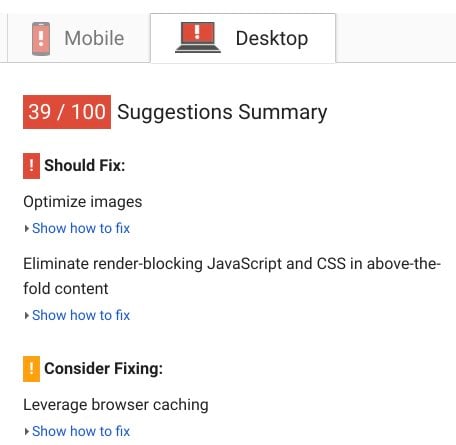 How fast are your web pages? They probably could be faster. Every second of delay costs you visitors, leads and customers. Just because a page loads quickly on your high-speed internet does not mean it will load as fast on your customers rural connection.
Google Analytics can tell you what pages are the worst offenders for page speed and can give you tips on improving them. The most common culprits are render blocking javascript and large image files that could be reduced in size.
There are also new initiatives, such as AMP, that make browsing on mobile devices even faster.
9. Exit Pages
Exit pages are the ones that your visitors see last before leaving your site.
Analytics will tell you which pages are the most common exit pages.
A good inbound site will almost never leave your website visitor with nowhere to go. During an inbound plan you should analyze the highest exit pages and make sure you are giving a user every reason to stay on your website.
By the way, don't let this blog post be your exit page. Check out some of Weidert Groups's other great resources.