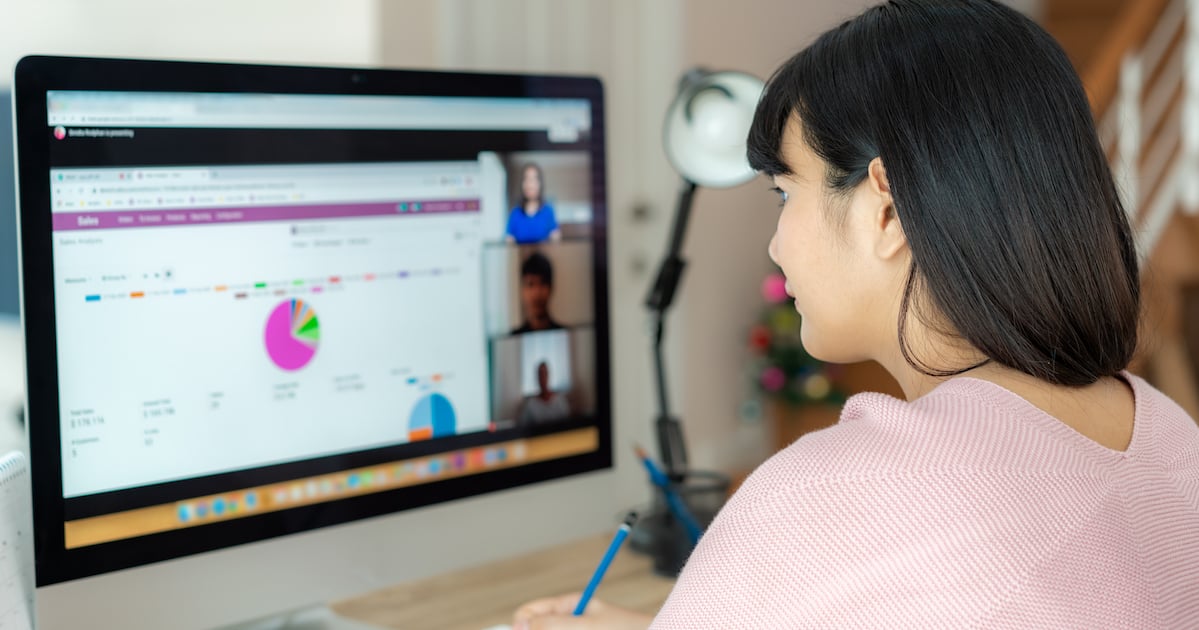 The seriousness and uncertainty of the global pandemic have distorted reality. People are struggling to adapt to the "new normal." Various video conferencing tools have helped bridge the social distancing gap at personal gatherings and events, and in the workplace webinars reign supreme.
Even though webinars are commonplace in business settings, the influx of new users and participants has created some challenges. To overcome them and leverage the benefits of the virtual environment, implement these webinar best practices.
Make mindful choices to attract attendees.
Here are the basics — know your target personas and where they fall in the funnel (from ToFu to BoFu). Structure the webinar to appeal to that target audience. Sounds easy, right?
Generally speaking it is, but there is a common pitfall: making the webinar a sales pitch instead of a value-add. To avoid the trap, consult with your sales and service teams to identify pertinent topics that are substantial enough to fill the allotted time and helpful to attendees.
Pay attention to:
Positioning. A strong webinar title immediately conveys the importance of the webinar, and generates interest. Which of these would you make time to attend:

The 5 Most Effective Supply Chain Management Strategies
5 Ways to Manage Your Supply Chain Better

Timing. Everyone's calendars are full so a "perfect" time is a pipe dream. Aim for a Tuesday, Wednesday, or Thursday, when schedules are likely a little lighter, and don't take an hour if less time gets the job done. Also, be sensitive to time zones. A lot of out-of-region guests? Try the middle of the day. More guests in your time zone? Don't book the noon hour and expect they'll choose your webinar over a lunch break.
Promotion. Use email, social, CTAs, chatbots, and popup forms on your website to get the word out and to reinforce the message:

CTAs should direct registrants to a landing page that contains more information about the event, including speaker bios
Chatbots may serve a dual purpose — either as an "instant" registration point, or like the CTA, as a pointer to the landing page
Be a gracious (and prepared) host.
Prepare for the worst, but expect the best. It's an adage that resonates with every webinar host because it's a cautionary tale. Take the time to:
Choose the right software for your presentation. Don't default to what's available or the "software we always use." We recommend selecting software that integrates with your CRM and marketing automation to ensure seamless follow up. Not sure? Check out these top contenders:

Zoom: Sessions are cross-platform, and available through web browsers or client apps. End-to-end encryption, easy screen shares and recording, and intuitive collaboration tools make Zoom the preferred choice for rookies and techies alike.
Microsoft Teams: For Microsoft Office users, Teams is a hit. It can handle up to 300 members (plus guest access), video and audio calls, and screen and file sharing up to 20GB per team.
GoToMeeting: A versatile video conferencing solution that allows for real-time note taking/transcripts, slide capture, PDF creation and full integration with the most popular online calendars and platforms.
Google Meet (aka Google Hangouts Meet): The business version of Google's popular video conferencing choices gives G-Suite subscribers and their guests Chrome-based access to live streaming video meetings, Google Drive recording and storage, as well as iOS and Android apps.
Slack: Among the most popular collaboration tools, Slack has limited but effective video calling, presentation streaming, and screen sharing. The availability of these options is dependent on how the software is accessed — either through desktop platforms or the app.

Designate a facilitator. Don't rely on the speaker to present on a topic and control the room. A facilitator can greet attendees, monitor chats, launch polls, and keep the event on time.
Practice, practice, practice. A dry run reveals a lot — from hiccups in presentation flow to technology glitches. Test out every aspect of the presentation including microphones, lighting, and audio/video controls. Even if things go swimmingly in the dry run, have a backup plan to cover unforeseen events that can crop up on presentation day.
Engage your audience.
Although webinars are generally structured like a virtual breakout session, it's no reason to treat your audience as passive participants:
Use visual aids, like a well-designed slide deck, to summarize key points. This stimulates visual learners, holds the audience's attention in general, and gives you an "instant" PDF recap to send out post-presentation.
Routinely interact with audience members by leveraging automation tools. Your software is capable of generating audience polls, chats, feedback captures, and question prompts to ramp up engagement. Think of the webinar as a tutoring session, not a lecture.
Avoid awkward silences, especially before the webinar kicks off. Use background music, poll questions, "welcome" slides, or thought-provoking tidbits of information to fill the void as people filter into the webinar.
Follow up.
Err on the side of over-communication. After the webinar concludes:
Provide attendees with a PDF or recording of the presentation. Include links to information the speaker referenced or recommends for more nuanced learning.
Encourage questions and further discussion. Establish and promote an online forum for idea-sharing on the webinar topic.
Ask for honest feedback about the webinar. This is valuable information for continuous improvement, and also provides an opportunity to informally poll the audience about future topics they'd like to learn more about.
Use marketing automation software to schedule a touchpoint one or two weeks after the webinar. Provide deeper information to nudge recipients toward the next step.
Communication is vital to inbound marketing efforts. Education and lead generation depend on it. Webinars provide the opportunity for you to connect with prospects and customers in relevant ways provided you implement best practices. Learn more about how to make the most of your webinars and other content in our guide, The Power of Repurposed Content.