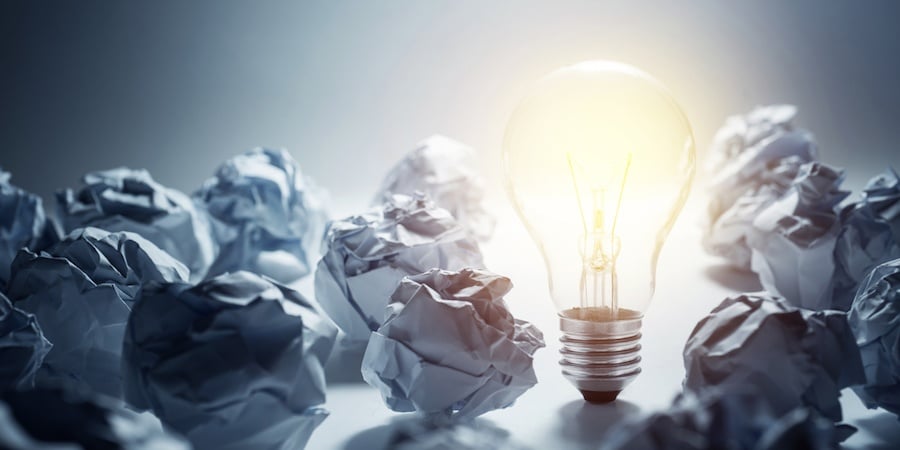 We've all heard the term "thought leader," but what exactly does it mean, and how do you become one in your industry? To be a thought leader simply means that you've demonstrated expertise and relevance in a particular topic or even for an entire segment of an industry, and are looked to as a reliable source of information, opinions and insights.
Great...so how does that happen? Luck? Magic? No, it takes a lot of work and a laser-like focus on the needs of your customers and prospects. Below are some high-impact ways industrial manufacturers and others can grab that "top spot" and be recognized as thought leaders.
Blog, blog, blog
Your B2B prospects are searching online for answers, insights, comparisons, guidance, case studies, pricing and more as they look for and at potential solutions, and when they enter their search query and hit "search," you want those prospects to find your blog and website (not your competitors').
To ensure that Google "sees" your site and holds it in high regard, you have to have lots of searchable content available on and through your site. Start with relevant blog posts – at least one a week – then add downloadable eBooks, white papers, videos, tip sheets – many forms of content that go a little (or lot) deeper into a topic than a blog post. These are the best ways to showcase your knowledge and expertise, and to establish industry credibility.
Cast the appropriate size net
If you start blogging and creating other valuable pieces but you write all that content in a way that applies to "everyone" in a general industry, you're diluting your impact and value.
Here's an example: if you make injection molded parts, you could potentially sell to any manufacturer that uses molded parts, but if you have valuable experience making those parts for medical device manufacturers and military device manufacturers, write directly to those two groups. Focusing on your best prospects and writing to their needs, challenges and pain points allows you to provide real value, and demonstrate your knowledge about the topics of greatest interest to them.
Show that you've got your finger on the pulse of the industry
People want access to all the right information before they make decisions – especially when that decision involves high-ticket purchases – and when you demonstrate that you're reviewing industry publications, doing your research and learning from other respected sources, your prospects and the industry as a whole will have confidence that what you're saying isn't just your opinion.
Show that you're a student of trends, insights, data and other forms of useful information. This adds to your credibility and tells prospects that you're a good one-stop resource for everything they need to know.
Be active on social media
Promoting your content on LinkedIn, Twitter and other appropriate platforms is critical to expanding your reach. It's also an opportunity to "talk" with people who are looking for solutions. Actively engaging – answering questions, providing guidance (even if it's not related to your product) and sharing valuable information is potent fuel in your quest to be recognized as a leader.
Don't be just like everyone else
If what you create sounds just like what others are saying, you won't stand out from the crowd. There are a number of ways to get noticed with your writing:
Write well, and with energy and enthusiasm. Too much of today's B2B writing is dry and lifeless...you get tired just reading the intro. Show you're passionate about solving problems and eager to take on a challenge with a positive, enthusiastic approach
Show your brand's personality. People buy from companies, but they work with people. Make your people (and, as a consequence, your company) more approachable and "real" by writing with some personality. Don't cross the line and be too cutesy or clever, but don't write like it's a college term paper, either
Prove it. While your opinions are an important sign of your position on a subject, be sure you back up what you write, when possible, with data that supports it. Without that, people tend to question the validity (and usefulness) of what you're saying
Industrial Manufacturer Thought Leaders
Here are some examples of companies that "get it," demonstrating through their blogs and content that they have the knowledge and ideas prospects are looking to as they make purchase decisions.
Kaysun Corporation is one of this country's first plastic injection molding companies and primarily serve the medical, industrial/consumer, military and automotive industries. They blog regularly on a wide range of topics focused on engineers and others involved in product design and testing, such as metal-to-plastic conversion, overmolding, product development timelines, scientific molding, the prototyping process, moldflow analysis and more. In addition, Kaysun offers downloadable content pieces – nearly 30 – covering similar topics in greater depth. There's no question that if it relates to injection molding, Kaysun is today's thought leader.
Wipfli serves job shops and discrete manufacturers (among many others), helping optimize their businesses processes and results with technology consulting. On Wipfli's website, visitors can find articles, blog posts, whitepapers, eBooks and webinars on a wide range of topics. Wipfli recognizes that each type of manufacturer – like job shops compared to discrete manufacturers – is different in terms of technology needs, market challenges, capabilities (and ability to adopt new capabilities), labor needs and supply chain issues, and the content reflects that. These nuances show that Wipfli's manufacturing team fully understand what prospects face each day.
Grande Custom Ingredients Group, a manufacturer of whey protein ingredients for the food and beverage industry, regularly adds new posts to their blog, and offers more than 80 resources covering topics from improving nutritional profiles and boosting protein content to improving creamy texture and upcoming food trends. Their knowledge of "the life of a food scientist" – one of their primary targets – gives them credibility in the minds of those who read content and see their situations reflected.
American Crane & Equipment, leading manufacturer of cranes, hoists and other material handling equipment, understands the importance of covering a range of topics relevant to their customers' and prospects' needs. Like others on this list, American Crane & Equipment goes beyond providing only product-related information and helps its target audience deal with tangential challenges they must deal with (and that affect productivity and profitability), like how to prevent warehouse accidents. Going beyond "what our product can do for you" shows readers that the company is interested not just in selling its products, but in genuinely helping its customers.
The value of being considered a thought leader is tremendous – as one, others (including prospects) have you top of mind when talking about needs and solutions. You're talked about, suggested, pointed to, leveraged, lauded...and respected. If you want to reach this pinnacle of regard, put together a smart content strategy and put it into action. If you don't have a blog or have one that's not bringing in leads, download The Business Builder's Guide to Crafting a Powerful Blog, below!