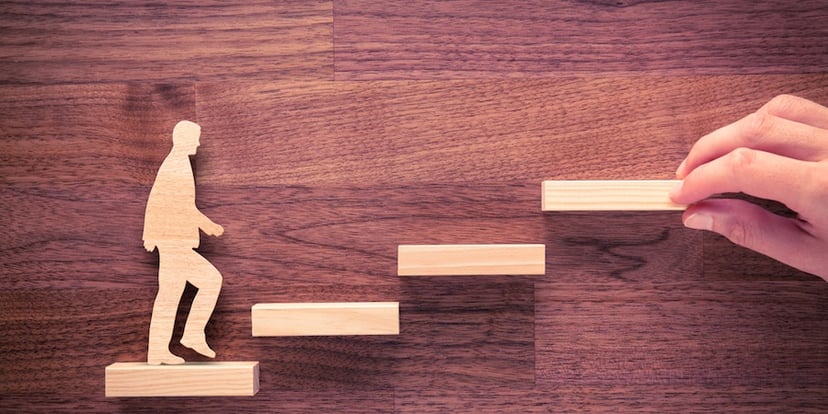 The concept of inbound marketing first entered the scene more than a decade ago. HubSpot first coined the phrase and is considered the founder of the methodology. Despite a slow start in its infancy, inbound has become known as an undeniable force that serious marketers need to leverage if they want to attract good prospects and turn them into customers.
Buyer behaviors have evolved a lot in the past decade, however, and so must your approach to inbound marketing. Consider the surge in online sales and how it is predicted to eventually dwarf those of brick-and-mortar establishments, having risen more than 15% in the last year alone. Despite the popularity of B2C online retail giants like Amazon, Apple and Walmart — the three biggest E-commerce retailers — B2B online sales dwarf B2C by an astonishing 234%! Clearly, B2B behaviors are changing, too.
Just as other online experiences are becoming more personalized and sophisticated — from shopping to research to social engagement — so too must your inbound approach. Here are ways to update your inbound methodology to stay connected with evolving online behaviors.
1. Go Beyond the Blog
Companies that blog generate 67% more leads per month than those that don't, proving that blogging is still relevant. But those blogs need to look and act differently than before. They need to be hosted on mobile-friendly websites, be supported by lead-nurturing campaigns and optimized for SEO opportunities.
While it seems contradictory to our can't-wait world, longer, more in-depth blogs are proving to perform better than the short lists of the past. People are looking for content that truly brings value and educates. While it may take more time to compose, it's what's required if you want to attract the right audience. Be strategic about the positioning of your blog content, too, by having it lead the reader somewhere—whether to a helpful eBook, tip sheet or case study.
And more people are opting to receive their information visually through videos, infographics and webinars. More than half of marketing professionals worldwide name video as the type of content with the best ROI. Buyers don't just want to know why something works, but how it works, and video and visual demonstrations can often meet those demands in ways that the written word can't. Video is a must-have; it can build rapport, tell your company's story and show the people behind the product. This connectivity is increasingly important as consumers and B2B enterprises become more interested in the reputation of companies they align themselves with and not just the bottom line.
2. Align Sales and Marketing
In some companies, the relationship between marketing and sales is contentious at worst and amicable at best. If your inbound strategy is limping along, the disconnect between the two may be the root cause. Many marketing professionals get excited about implementing an inbound strategy and want to move full steam ahead. Doing so without getting sales and key leadership on board first is a major misstep and will have disappointing results.
Educating others about the value of an inbound strategy and how it will generate sales qualified leads has to be done early and often. Inbound can't be viewed solely as another marketing project; rather, it needs to be adopted as a company-wide initiative involving everyone — from sales to customer service to the C-suite. To do this requires a clearly defined service level agreement (SLA) to bring teams together to work toward the same goal. Convincing others about the value of an inbound approach may require the help of an inbound agency to share the vision and demonstrate how it's worth the investment. As one such agency, we've encountered this many times, and it's extremely rewarding to be a part of aligning sales and marketing on the same team. It truly can transform an organization's culture.
3. Make Inbound Your Core Strategy, Not Your Only Strategy
Some organizations make the mistake of abandoning some marketing efforts that were working in favor of an all-inbound approach. Yes, for inbound to work you do need to go "all in," but that doesn't mean other marketing tactics need to fall by the wayside. Some manufacturers, for example, still find great value in having a presence at trade shows. The key is to quantify that value by also having a way for participants to engage and interact. Capturing potential sales lead information through these avenues must be a priority in order to determine their value and whether it's worth the investment. Make your trade booth stand out with interactive online tools that can capture participant data.
Targeting a set of accounts through Account Based Marketing (ABM) is another way to augment an inbound strategy. ABM uses highly personalized campaigns to reach prospects — we're not talking about a cold, irrelevant email blast or sales call. Developing an ABM plan will maximize your inbound efforts and result in faster sales processes and more cost-effective use of your marketing resources.
4. Commit the Time and Resources
I love quick wins and instant results. Don't you? Many marketing messages thrive on this innate desire for instant gratification. But patience is a virtue when it comes to inbound. Inbound marketing is a long-term strategy and will take hard work, commitment, teamwork and, yes, an investment.
Don't sabotage your inbound marketing efforts by taking shortcuts or only going half way. Engage with an inbound agency that knows your industry and has a positive track record that can prove its value and effectiveness and lead to results.
Like everything in recent years as it relates to technology and consumer trends, inbound marketing has evolved, and it still is an essential part of any company's forward-thinking marketing strategy. As with any business initiative, you can't have a set-it-and-forget-it attitude. Your inbound strategy needs to ebb and flow and grow with your business, changing markets and changing consumer behaviors.