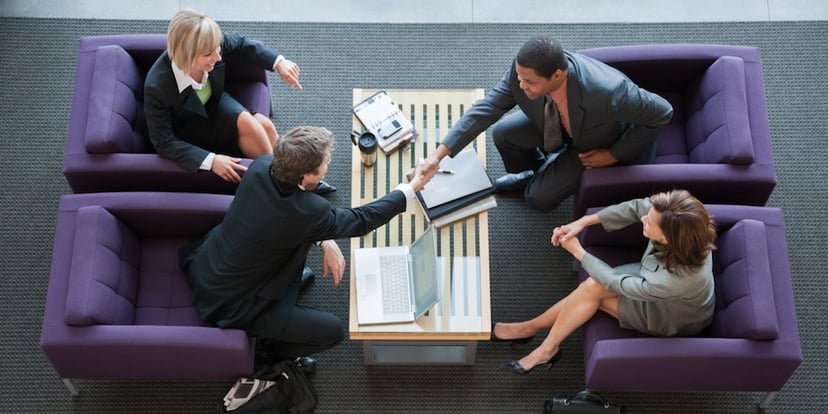 Every year, without fail, the Yellow Pages is delivered directly to my doorstep. And just as dutifully, I immediately recycle it. No need to keep a printed list of people, places and things since Google entered my life.
Sound familiar? I'll bet it's been a long time since you've "let your fingers do the walking" in a phone directory (and if you don't understand that reference, chances are you've never done it). It's inefficient. Old school. Burdensome.
Does that also describe your current marketing efforts? Are you using traditional methods like print and fully expecting that people (who may or may not need your manufacturing products and services) will rejoice over your direct mail? That expensive, snazzy postcard (which may provide only a 2% response rate) will likely meet the same fate as the Yellow Pages — and that's time, money and effort wasted in pursuit of exactly zero qualified leads.
In today's digital landscape, traditional marketing methods are misaligned with the modern consumer. If someone wants to find you, they'll look online instead of in their mailbox. Your lead generation efforts must follow suit.
A website isn't enough
"But, we have a website." It's a natural response to transitioning marketing efforts online. A website is great — an essential tool — but if you're not leveraging it to compel would-be customers to engage, you might as well be sending scatter-shot direct mail and crossing your fingers.
Remember, if a prospect is visiting your site, it isn't by accident; they likely searched for more information about a problem for which they're seeking a solution. The fact they clicked your website link in the results list puts you in the running for their business because they organically acknowledged their interest. Now is exactly NOT the time to endlessly tout your products, services and the dozens of reasons why you're better than your competitors. That's just an annoying sales pitch which people will tune out.
Build trust
Instead, give them what they want. Acknowledge their pain points. Provide answers. Educate them in ways that move them closer to resolving their challenges. Stock your website with meaningful, free content, like blogs, that prospects value — so much so that they are willing to exchange their contact information for more comprehensive resources such as eBooks and whitepapers. Pacing content offers to reflect their place in the buyer's journey is a relationship builder. And people buy from people they trust.
Land the lead
Potential qualified leads show up organically? They're attracted by relevant content? There's no need to cold call or hard sell them? Nope. In conjunction with valuable content offers, landing pages do the heavy lifting in inbound lead generation provided they're created to convert. Conversion forms must be constructed to gather more than names, email addresses and telephone numbers. Company size, job titles, etc., can provide insight into the quality of the lead and if it's worth pursuing, and weed out bogus submissions. However, there's a fine line between information-gathering and being perceived as too nosey. A/B testing may help you find the sweet spot and improve lead gen results.
Don't ignore your existing contact list
Inbound lead generation isn't solely focused on blazing new trails. Well-developed content is a persuasive lure for lapsed contacts to re-engage, and a great way to fill in the gaps on incomplete contact profiles. Sending an email that contains a downloadable content offer to your existing lists could garner impressive results — like the 80 MQLs Sentry Equipment Corp generated using this simple outreach.
The approach manufacturers take to lead generation should reflect its importance to their business goals. Random traditional tactics will produce random, low-end results. Inbound lead gen attracts and converts substantial, qualified leads. Want to learn more about Inbound Marketing for Industrial Manufacturers? Check out our comprehensive guide!