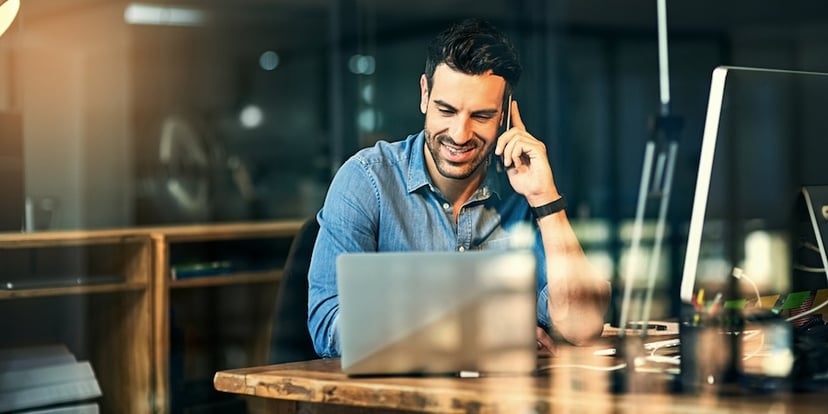 An experienced sales team is an essential factor for success in any industrial manufacturing company. Without a team of dedicated, smart individuals interacting with prospects, opportunities can be missed and deals might be lost. However, if your sales team is still adhering to a more traditional "outbound" or legacy approach, they might be turning potential buyers off without even realizing it.
Why, you ask? Because the way people buy — the way they expect to be presented information and interact with it — has changed.
Today's buyers hold the bargaining chips. They have a sea of information at their fingertips, and most of them have already completed extensive research to narrow down their short list of potential vendors before making direct contact with a company or sales rep. In fact, a recent study found that 94% of B2B buyers do some form of online research before making a purchase decision. The same study also revealed that 31% of those surveyed stated they wanted to conduct their research and purchase unassisted, with the option for support if needed.
These preferences just don't align with the common steps in the legacy sales process, which include:
Creating lists of all contacts with demographic information that fits a certain target, regardless if they're active in a buying journey
Repeated, generic cold calls or outreach to all aforementioned list members, using an elevator pitch to qualify on budget
Focusing on the features and benefits of a product, and giving blanketed examples of how they relate to the prospect
Relying on quick sales and promotions to meet end goals
No matter how narrowly segmented a list, how persuasive a rep, or how good a deal, nothing can replace the importance of context and the value it provides buyers in today's sales landscape.
How can context be added to your sales process? Enter, the Inbound Sales Methodology.
Unlike the interruptive, uninformed nature of legacy sales, the Inbound Sales process is completely centered on supporting the prospect through his or her buyer's journey.
As prospects move through each stage:
Awareness
Consideration
Decision
Salespeople are able to:
Identify contacts who are active in a buying journey and have a goal or challenge they can help with. These contacts become leads.
Connect with these leads to help them determine if they are ready to look for a way to meet their goal or solve their challenge. If the lead expresses interest, they then become qualified leads
Explore a qualified lead's goal or challenge to decide if their product is a good fit for both parties. If so, a qualified lead become an opportunity
Advise each opportunity on how their product is uniquely able to meet his or her needs. If the opportunity agrees that the product is the ideal solution they're looking for, then they become a customer
Here's what this alignment looks like:
A more in-depth dive into the Inbound Sales Methodology, along with a detailed example, can be found in this insightful HubSpot article.
The helpful, valuable partnership that a salesperson utilizing Inbound Sales provides the buyer is a far cry from the frequently off-putting and unwelcome advances of a legacy salesperson. The knowledge of what a lead's demographics look like (company size, region, job title, annual revenue) coupled with contextual information gathered through inbound marketing efforts (areas of interest, content downloads, pain points, key questions) pack an extremely powerful and personalized one-two punch when qualifying a prospect and successfully closing a sale.
To learn more about how inbound marketing and sales can work together to align with today's buyer and profitably grow your business, read our eBook on creating a Marketing and Sales Service Level Agreement.