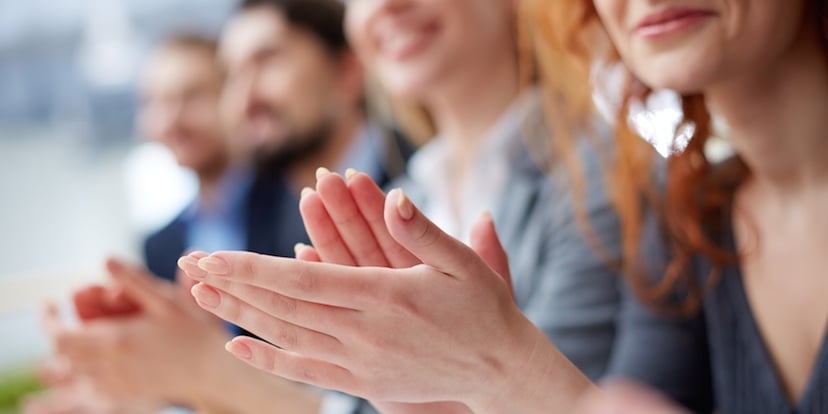 On a theoretical level, inbound marketing generally makes sense to most modern B2B marketers: You attract visitors online, convert them into contacts, and nurture them toward the sales process. But, in the real world, implementing an effective inbound marketing plan can be a challenging process—and that tends to be why companies fail to adopt the approach.
Today, I want to provide an in-depth look at four of our own lead generation stories that became successful wins. Not all of these success stories followed a conventional inbound journey (visitors who find us online, convert on our website, and enter our sales process), but as you'll see, our company (like most) converts multiple types of leads, and its up to our entire inbound process—from demand generation and PR to lead nurturing and social media marketing—to turn an initial contact into a sales-qualified lead that we start selling to.
Here are four real stories/scenarios from the past 18 months where our inbound marketing efforts turned into customers.
#1. The Organic SQL
An innovative insurance company searches for content help, finds relevant industry-specific content, and rapidly moves from being an online visitor to becoming a potential customer.
When you do inbound marketing, the theoretical assumption is that an initial contact isn't sales-ready; they're just beginning their buyer's journey. And it's up to you, the marketer, to get them sales-qualified through active nurturing and high-quality content. However, in actuality, we find that some leads who fill out a form and download content are far more ready and willing to talk than you might normally assume.
One company, an innovative health insurance provider, found Weidert Group online 12 months ago, when searching for help creating marketing content. They arrived on a well-ranked article, focused on user-generated content in the insurance sector, and judging from the visitors' time-on-page, it seems like they found it useful. The entire article probably seemed relevant to the potential lead because nearly every example provided in the text centered on the health insurance industry.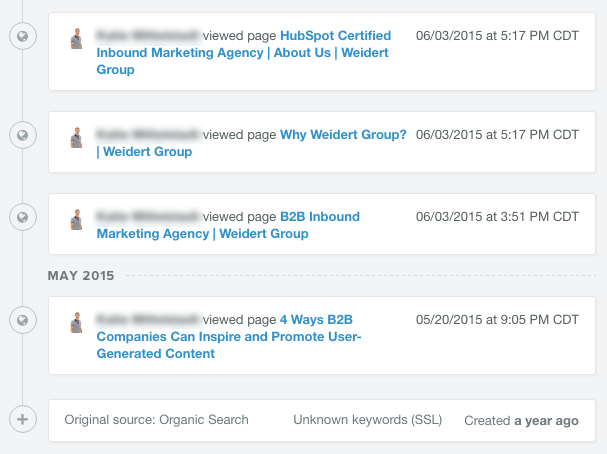 Clearly, from the lead's behavior, our website wasn't the only one she visited. The visitor likely had multiple tabs open with articles of similar titles and topics. But ours made an impact. As you can see in the visitor record above, the eventual lead found the blog article, proceeded to core website pages, and eventually, she filled out a contact form on our website.
Yes, you read that right! After just a few page views, she reached out to us directly. There's no better tell-tale sign of a sales-qualified lead than a direct outreach. Within 30 days, our sales team had visited the company, made a proposal, and the company closed as a great new customer for us not long after.
Clearly, the lead's lifecycle moved quickly because she was well-informed, and she wasn't just researching on our website; she'd visited many other service providers. By the time she visited our website, she was well into the consideration process.
She converted as an SQL because she'd learned and evaluated options through a variety of organic sources. But our quality of content made the difference. That's one element of conversion—producing convincing, need-to-have content that demonstrates your expertise.
#2. The Contest Convert
A mid-senior manager at a technology company found us via a guest blog article and further qualified herself by participating in our contest.
Generally, we don't value contests as an important marketing tactic for B2B situations. They're too gimicky for most serious decision-makers, and often, the contacts they bring in are the lowest quality—low budget, no decision-making power, or even unemployed. Yet, when you have something real to offer—such as free tickets to the top event in your industry—contests can be very useful.
Last year, Weidert Group obtained free tickets to the largest inbound marketing and sales conference in the world, INBOUND, which is put on each year by HubSpot. Knowing their value, we decided to put on a giveaway contest for our prospects and social followers. We promoted the contest heavily, sent emails to our subscriber list, and before long, we'd received dozens of applicants.
The winner was a mid-senior manager at a technology hardware company who'd been subscribed to our blog for 18 months already. She had originally found us via a guest blog article we wrote, but since had only read our content tacitly. Before the contest, all indicators were that she was relatively uninterested.
The contest was a huge conversion. After being a subscriber for 18 months, she identified her role and company, and as part of the contest, she told us about her pain points and her current needs. Attending INBOUND was a perfect fit because she was actively evaluating new marketing service providers. Soon after the conference, we started a short-term trial relationship, and before long, she was a fully-fledged customer.
#3. The Local Directory SQL
An old-school manufacturer searched a regional, trusted directory, explored the website thoroughly, and soon requested a consultation.
For us, there's no higher-quality lead than the contact who enters via our "Request a Free Consultation" form online. These leads know what they want, and they usually understand exactly what we provide. One month, we received a request for consultation from somebody with very little history exploring Weidert Group anonymously.
According to our tracking, the man, who represented a traditional contact manufacturer, entered our website through a referral link, visited our homepage, and almost immediately requested a consultation. How could he know that we were a fit?
The answer is in the referral link. As a relatively traditional (or "old-school") manufacturing firm, this company was looking for a trusted marketing partner. So, the contact turned to his most trusted source: a directory of local marketing partners supplied by the regional chamber of commerce.
Since we're meticulous about maintaining our inbound links and placement on directories, we showed up first, and he never doubted that we'd be a strong choice.
Obviously, this inbound journey isn't the path all leads take, but it's an important path nonetheless. Never doubt the simplicity of some decision-making processes.
#4. The Promotional Event Attendee
A packaging company change-maker attends a promotional event, becomes a blog subscriber, and asks to talk within one month.
Our marketing approach certainly emphasizes inbound marketing, but we've never doubted the value of traditional tactics, especially events and networking. Each year, we produce a promotional marketing conference for our region, and each year, we get at least a few leads that make themselves known to us because of what they learn.
At one year's event, an ambitious marketer focused on change in her packaging company, attended our event, and soon after she subscribed to our blog. We also sent her nurturing emails and other promotional content, and before long, she was a clear sales-qualified lead. She had urgency, interest, and she showed the mindset to sell what she was learning from us internally.
Before we could reach out to her, she contacted us, asking to talk about improving the company's SEO efforts and content marketing. While her boss, the CEO, was skeptical, she made the internal sell she needed make it happen, and within 6 months, their inbound marketing efforts were up-and-running, and they were getting inbound leads themselves!