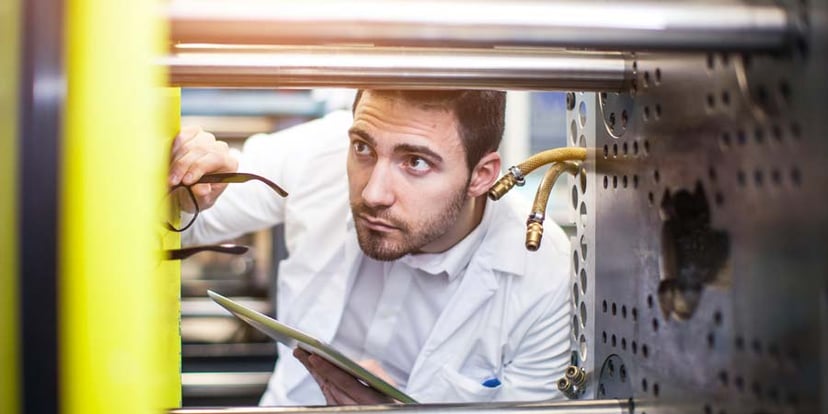 If you're an avid reader of the Wall Street Journal like me, then you might have seen the news last Monday that according to U.S. Department of Commerce, U.S. orders of capital goods (excluding aircraft and defense) declined 3.8% during the first 10 months of 2015, compared with the same period in 2014.
That's the kind of national trend that makes large capital equipment manufacturers (and many other B2B companies) nervous. As the WSJ article states, when companies stop investing in their equipment, machines, technology infrastructure, and other core business components, it "restrains economic output, one key reason the economy has struggled to grow faster than 2% in recent years."
So, for manufacturers who build capital equipment and other related services, what can you do to beat such a slump in spending? How can you win a larger share of the market, if the market itself is seemingly shrinking?
What you need is an approach to marketing and sales that shifts B2B buyers' consideration process, even as they become increasingly hesitant to spend. Make the value of your capital good a cash-saver, not just a cash investment. In this article, I'll give you an overview of how inbound marketing, as an approach, actually has a very strong track record of helping to adjust a lead's understanding of your company, which helps to expand the total size of your lead pool.
Inbound Marketing Has a Track Record of Beating Economic Trends
For several years circa 2006 to 2011, inbound marketing was seen as a kind of alternative approach to traditional business development strategies, such as advertising and tradeshow marketing. Today, it's a standard practice in marketing, as online search engines, professional social media, and digital media publications influence even the most niche industries' sales processes.
Yet those early years, where business blogging came into fruition and downloadable content started to dominate online lead generation, were important to proving inbound marketing's value, because they also overlapped with a dire economic situation: the 2008 market crash and the resulting recession.
That's when inbound marketing proved that it could actually help companies weather poor economic conditions by opening up more sustainable sources of business leads in pockets of the market a manufacturer simply could not access before.
For instance, when equipment manufacturers were completely reliant on tradeshows and exhibitions to source leads, during economic downturn, the value of a show for finding leads could quickly dry up. Everybody was looking for who was buying, and if the showroom was full of hesitant buyers, even the mood could slow the speed of potential sales. In other words, the world (and by that, I mean, your market) can start to feel very small at a tradeshow during a recession.
Inbound Marketing Beats Spending Slumps by Accessing More Leads
While most industrial manufacturers that produce capital equipment have a strong command of who their prospective customers are, inbound marketing works to increase the number of leads generated by (1) broadening the geographic reach of your potential market, and (2) helping you access parts of your vertical that may not be aware of all your company's capabilities.
In addition, inbound marketing can also be used to nurture your existing customers, helping to draw out upsell opportunities for your sales team through better explanation and positioning of your products and services.
Inbound Leads Are More Informed about Their Purchase
As explained above, inbound marketing not only increases the number of leads available to your sales team, it does so by improving how leads understand your products and your company. Generally speaking, inbound marketing achieves more informed leads for your sales team by simply explaining more to prospects online—which means being more transparent.
Inbound marketing works by publishing content regularly through a variety of channels, then promoting that content so that business prospects start to find it. At a tactical level, this means that inbound marketing usually requires:
Publishing a business blog
Actively seeking earned media
Improving your website to be more helpful to leads
Optimizing everything you do so that leads find your resources online through search and social media
With content like this, if it helps buyers actually perform a better purchasing process, then naturally they'll view your products in a better light. While you want your content to be effective, in manufacturing, part of the problem is that very few companies provide helpful information online at all. Instead, they rely on explaining it all in person. Inbound marketing changes this to fit a more modern buyer's journey—where they search online first, look for articles that aid in thoroughly vetting a purchase, then finally reach out to sales for a conversation.
Inbound Marketing Nurtures a Different Understanding of Capital Spends
Generally, because inbound leads take the time to research and understand what they're buying, companies have the opportunity to craft content that shifts a prospect's understanding of how to value big purchases like a capital investment.
Specifically, we help companies implement more transparent messaging that helps prospects see the cash-saving value of your products and services. For example, one of the most successful types of inbound content is a worksheet or template that assists leads in calculating the business impact of your products and services.
You can also nurture leads over time via email marketing with content that empathizes with leads' common pain points, such as convoluted processes, inefficiencies, and expensive production costs. By aligning these pain points alongside a capital improvement piece, your leads should begin to see both the financial value and emotional value of beating their work frustrations.
Beating a Downward Trend with a Long-term Focus on Leads
Ultimately, the way to beat downward economic trends, such as the one announced in the WSJ, is to focus on generating leads for the long term. After all, isn't that the goal of surviving a downward trend in your industry, anyway—you want to be around for growth?
Inbound marketing is all about the residual effects of building a larger online presence that attracts leads through high-quality, helpful content for years to come. Every blog written or content piece created is an online asset that will help to inform future buyers of the value of what you sell.
Weidert Group is actually a testament to that. In 2008, we started to create content online via our blog. We sell highly considered marketing services, and during the recession, many companies saw that kind of cash investment as too much to handle. However, by broadening our list of prospects by attracting more leads online with helpful content, we beat the downward trend of marketing spend during the Great Recession, and have seen year-on-year growth from 2010 through the present.