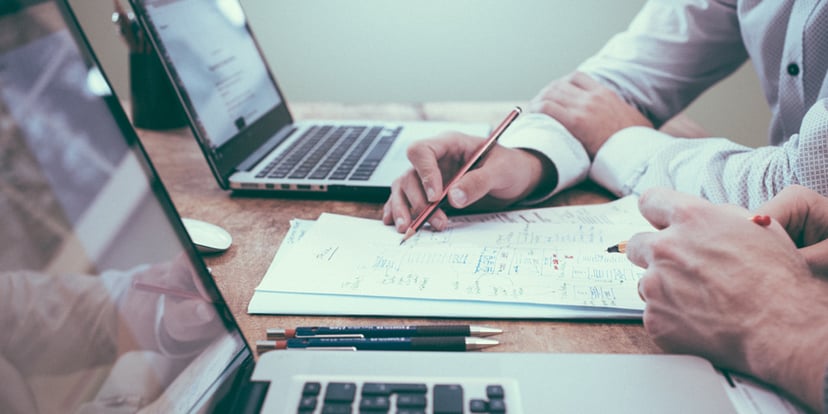 Whether you've been researching inbound marketing for a couple of weeks or multiple months, you've more than likely run across statements about the importance of implementing blogging for generating organic website traffic and, ultimately, those ever so valuable leads.
In case you missed any of stats, here's a quick summary of a few of them from HubSpot's 2015 blogging frequency benchmarks:
Companies that blog earn 97% more inbound links than companies that do not.

Companies that post more than 16 blogs per month achieve about

5 times more traffic

than companies that publish four or fewer blogs per month.

Small companies (1-10 employees) that publish more than 11 posts per month, achieve three times as much traffic as same-size companies that publish only one post per month.

For larger companies (26-200 employees) that publish more than 11 posts per month get twice as much traffic than one that only publish one post per month.

Companies with 11 posts each month earn twice as much traffic as companies that publish 2-5 posts each month.
While these stats are at telling you the importance of blogging, you're thinking – and your boss is sure to ask: "How long will it take for us to see tangible results?"
Think Long-Term vs. Short Term
As awesome as it would be to see immediate results from blogging, it simply takes time to get from the "before" to the "after." It takes time for Google and other search engines to crawl and index your site and the algorithms typically favor established domains and pages that have a positive reputation—this is particularly true if your blog and/or its URL is brand new.
Many suggest that about six months is a typical time frame for your blog content to start gaining search engine traction and from our experience with a variety of clients at Weidert, you should plan for a 12-18 month full-on commitment. After that you'll have a better picture of how well it's drawing traffic and converting leads.

Keep these general times ranges in mind and remind others to not obsessively obsess about traffic to individual blog posts when you're starting out. Instead, maintain your focus on the following fundamentals of blogging so that you to get the most out of your investment.
1. Write with Your Desired Audience in Mind
Each blog you draft needs to be written with you target personas in mind. To pull in the buyers you desire, you must focus on their needs and the questions that they have during each stage of their buying journey. Not only will this help you keep the content relevant it will enable you to naturally use long-tail keywords and develop headlines that closely align with what those buyers are searching for.
For example, if a common issues you hear from customers is that shrink-wrapping is too inefficient for use in secondary packaging applications, you can draft an article about "How Shrink-wrap Improves the Efficiency of Secondary Packaging." This post matches the key question customers have, which is typically how they enter their search query. Plus, it's an "evergreen" topic – meaning it's one that will have staying power in terms of drawing in traffic.
2. Don't Navel-gaze
If you're hard selling your product or service or are constantly talking about yourself in your blog posts, you're going to be in trouble. All anyone will see is the lint in your navel and they'll move on. Instead, focus your content on helping. Write articles that address and answer key customer issues and questions and/or help customers think about items they may not have previously considered.
3. Stick to a Publishing Frequency
Frequency matters. As such, it's important that you plan a realistic publishing frequency that you can maintain, whether that's daily, weekly or monthly. Maintaining a consistent publishing schedule enables your audience and the search engines to know when they can expect to hear from you. If you aren't consistent, then maintaining a consistent following is extremely difficult and search engines will place less emphasis on crawling your site.
Doing these things, and doing them well, will ultimately pay off down the road through higher organic search traffic down the line to your repository of informative blog posts. Consider HubSpot's own efforts, for example. Seventy percent of the traffic to their Marketing Blog is from posts that weren't published in the current month while 92% of their monthly blog leads also came from "old" posts.
Times You Might See Immediate Results
While blogging is a long-term activity that requires a bit of patience before seeing results, there are times when you could see an immediate spike in traffic. The situations typically occur when a well-crafted article strikes a chord with your audience (i.e., addresses their questions) is shared by you on social media or is shared by another source, such as a trade publication. The chart below shows one such example, where a blog article was shared by an industry magazine on its Facebook page and traffic to the post skyrocketed – virtually overnight.

If and when you see this happen, take note of the topic to see if additional, related articles may be appropriate down the road. Also, keep the spike in mind the following month when your traffic numbers may look considerably lower as a result.
Ultimately, the results you see in your blogging efforts have a direct correlation to the planning and effort you put into them. Remember, anything worth doing is worth doing well. You have to have stamina to stick to your plan and you have to have patience.