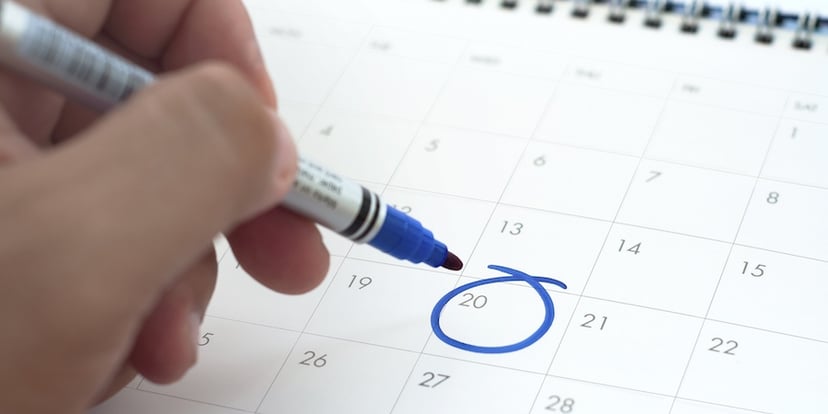 If there's one thing all sales professionals can agree on, it's that they can never have enough appointments booked. In fact, it should come as no surprise to any salesperson that one of the biggest challenges their department faces is getting appointments, according to Richardson's 2015 Selling Challenges Study.
You know, as a sales professional, that your opportunity for business success is only as good as the list of leads you have to work from. You've got a big appointment book just begging to be filled up; you're hungry for more appointments and crave the invaluable face-time that would surely win you a sale, but what do you do when you just can't seem to book those appointments?
Until now, you may have been relying on arbitrary tactics to get as many appointments as you can—say, cold calling or exhausting your friends' and family members' extended networks for as many appointment opportunities as possible when you don't get enough prospects from your traditional marketing department. Inbound marketing, in comparison, works to provide your department a better, more reliable list of pre-qualified leads to increase your opportunities to close more sales.
Sales + Inbound Marketing: Reliable Appointment Generation
The world of B2B buying and selling is continuously evolving, and more than ever, buyers don't want to be victims of a cold call or subject to a sales presentation as a favor to a friend or family member. The fact is that these days, buyers just don't need as much up-front information from sales. They're doing their due diligence before you ever get involved: searching for solutions to their problems online, scouring your website for as much information as possible—as long as they've got a good internet connection, they've got the world at their fingertips; they're continuously qualifying your products and services in a number of ways.
Deploying an inbound marketing approach to lead generation and, ultimately, in-depth lead qualification allows a simple, seamless way of attracting the best possible prospects who are well-qualified and ready for a serious conversation with you. Your inbound marketing efforts should give your prospects all of the cursory information they need about your industry, competitive advantage, and even some of the nitty-gritty, specific details about your distinct offerings.
Inbound Marketing Provides a Lead Pipeline to Sales
Since the leads you glean from inbound marketing have already done the bulk of their research, they're ready to kick the tires, so to speak, once they're passed on to you. Never again will you be faced with trying to sell to someone who isn't truly interested in how your product or service can directly benefit them; instead, once your inbound marketing plan is fully implemented, you'll only speak to highly-qualified, reliable prospects who are in the critical decision-making stage of their buyer's journey.
How does the Inbound Marketing Process End in Appointment Setting?
Content: Inbound marketing relies heavily on constructing content that provides value to and draws in your prospects. Your content pieces can take many forms (i.e. tip sheets, videos, cost calculators, and so on), but they should always address a specific point of pain that your prospects are probably facing.
Capturing Leads: When a potential customer turns to online search for a solution to their problem, your content (whether it's on your blog, your website, or a social media post) should be there to pique their interest as a helpful resource to address their problem. In exchange for that piece of content, they'll need to leave their information with you. And just like that, the lead qualification process begins.
Personalized Qualifying: With a marketing automation platform such as HubSpot, for example, your marketing department can be as general or specific as you'd prefer when it comes to deciding what information your contacts will need to exchange with you for your content. HubSpot even allows for the use of smart forms, which recognize a contact's IP address and ask a different set of questions when they come back for more content. Ideally, your forms will get more specific as contacts dive deeper into your content offers.
Lead Management for Sales: As leads continue to exchange their information for your content, your marketing department should be carefully qualifying them based on the parameters that are most important for you as a salesperson. When marketing sends their list of qualified leads to you, you'll know you're getting a reliable list of contacts who are as familiar with your business as you are with them. No more cold-calling, and no more resorting to trying to force a sales conversation with just anyone.
And while you might not fill your calendar with back-to-back appointments, you can rest easy knowing that the appointments you do have will be eager to hear from you—and you just can't quantify how many subpar conversations that's worth!