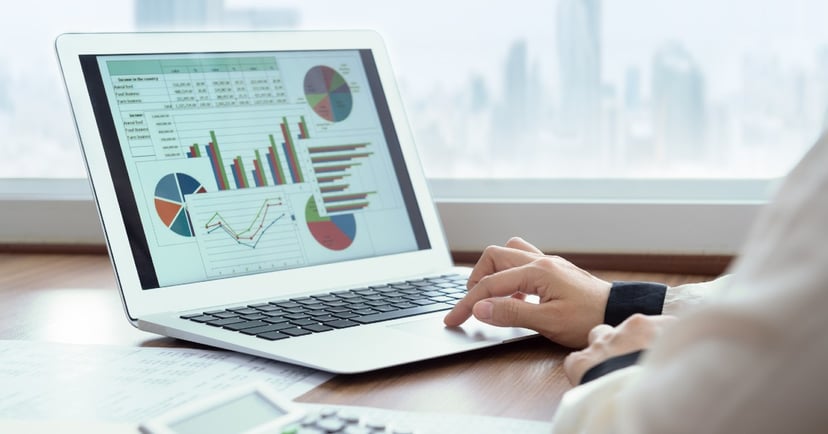 When assessing your company's readiness for an inbound program, an inevitable question arises: "How much does inbound marketing cost?" Generally, the short answer is, "It depends."
There are several variables that influence the cost of an inbound program. Determining the level of support and resources — both human and monetary — you have or need leads to even more questions:
How much foundational work has been completed?
How well is your existing website working for you?
Are you starting from scratch, or do you already have a lot of content that can be repurposed?
How proficient are you with blogging, social media, and marketing automation software?
How much time can you commit to inbound?
How quickly do you want to realize payback on investment? The faster you want to grow, the more supplemental tools you'll need — paid ads, aggressive content creation, etc.
Your answers will largely dictate your initial investment in an inbound marketing program. As such it's imperative that you understand the elements you have or need in place to see success, and how to strategically attract, engage, and delight prospects and customers.
Inbound Marketing: What You Have, What You Need
Time and strategy are required to establish and maximize your investment in an inbound marketing program. Critically evaluate how you will manage and/or create these foundational and ongoing components of an inbound strategy:
Foundational Elements
Messaging Strategy: Do you have a communications strategy in place that clearly defines your target personas. Really dig into what and how these specific audiences think, how they view you, and what challenges they face. Use the information to outline your competitive advantage and key messages for each target.
Inbound Marketing Playbook: Without the playbook (or at least the basics of a playbook) — you're doomed to wander from your inbound marketing strategy and potentially fail. This comprehensive tool includes all of the "answers" about your program, so to speak: target personas, overall goals, competitor research, SEO evaluation, content promotion strategy, content strategy, an editorial calendar, offers, how you'll nurture your prospects, etc. This list is not intended to be all-inclusive. Working closely with an inbound marketing expert is the best way to build your most effective playbook.
An "inbound ready" website: As inbound lead attraction takes root, website traffic increases. Delivering the best user experience is essential, as is a website performance evaluation. It may require a few relatively quick tweaks to your site or a comprehensive revamp — both of which require time and carefully considered decisions.
Ongoing Elements: the Inbound Flywheel and Data-Driven Insights
The inbound marketing flywheel reflects the interconnectedness of every stage of the buyer's journey to and through becoming a customer. Aligning your marketing, sales, and service in the same way helps you apply appropriate force during stages to accelerate activity and remove any friction that could slow progress. Balancing the two delivers the best customer experience, and requires building your core inbound strategy on attracting, engaging, and delighting prospects and customers.
Below are examples of the tactics in each stage of the inbound flywheel. Again, the more of these elements you already have in place, the less it will take to get your inbound program off the ground.
Attract:
Use simple, highly consumable content such as blog posts, emails, and social media posts to easily answer visitors' initial questions.
Promote content through email and on social media platforms. Determine whether paid advertising makes sense for your situation and the speed at which you need to see results.
Evaluate your current SEO activities to understand how they compare with competitors' efforts, and to identify how your on- and off-page SEO best practices can be optimized to boost visibility and search engine rankings.
Engage:
Convert leads with gated advanced content offers, meaning leads have to fill out a form or engage with a chatbot to access the information. Examples include eBooks, tip sheets, infographics, and case studies.
Nurture leads based on where they are in the sales funnel. Do they need more information? Are they ready for a demo? Are they in "buy" mode and need a personal call? Marketing automation software, such as HubSpot, can set up workflows that automatically email leads based on specific behaviors (e.g., if a lead downloads eBook #1, send a follow-up email in three days to read a related blog post)
Social media monitoring and messaging tools like live chat/chatbots help you deliver exceptional customer service, strengthening relationships throughout the buyer's journey.
Delight:
Segment contact lists and reach out with content that aligns with what leads and existing customers have shown interest in and how they've already interacted with your content.
Case studies, reviews, and testimonials are valuable to customers, and provide opportunities for you to continue to connect outside of a sales cycle. Develop a Voice of the Customer program to help you gather feedback and turn these happy customers into marketing force in your flywheel.
Utilize marketing automation software that offers customer service tools to help customers self-serve 24/7 when and where they need it.
Track, Analyze, Adjust:
Within each stage of the flywheel — attract, engage, delight — you'll need to devote some resources to monitor and analyze key performance indicators (KPIs) in order to understand if the dollars you're spending are producing results. Based on the data, you can identify what's working effectively and where you need to change course. Adjustments need to be made regularly according to your website visitors' behavior, content performance, and SEO maintenance/opportunities to make your inbound marketing truly data-driven. Utilizing monthly growth-driven design cycles to continually optimize your site and quarterly marketing roadmaps to remain agile are the best ways to do this.
Yikes! That sounds like a lot to think about, and it is. But between your internal resources, your available dollars, and the speed at which you're willing to move, you can determine what your inbound marketing budget should be each month.
So, How Much Does Inbound Marketing Cost?
Let's face it: if you need a complete website overhaul, haven't published a blog in two years, and need an agency to basically handle most of your inbound marketing, you're going to need a lot more help (and budget) to get and keep things rolling.
On the other hand, if you've already laid a foundation, regularly develop and post content, and have staff who can handle some of the workload, you'd expect to pay less for an inbound marketing program. An agency can serve in a consultative role, manage your program, provide recommendations, and work alongside you to boost your inbound efforts.
A truly effective inbound program will be customized, not only to address your specific pain points and maximize your marketing efforts, but it will also be tailored to your industry. An agency that is successful in B2C marketing for retailers, for example, is not experienced with how to address the unique challenges that face complex B2B industries and manufacturers with long sales cycles. Make sure you seek out a partner that specializes in your vertical to receive the highest potential ROI.
And, isn't that what it's all about? You'd likely get behind paying for an inbound program knowing your potential ROI could be multiple times your initial investment. One of our clients recently attributed a $2 million contract directly to the inbound marketing program we developed for them, and their inbound budget is a fraction of that amount. Those are the kinds of results that excite us!
For a detailed overview of what an inbound program investment will look like, check out our pricing page. There, we outline everything that is involved in the process and illustrate typical program budget ranges.