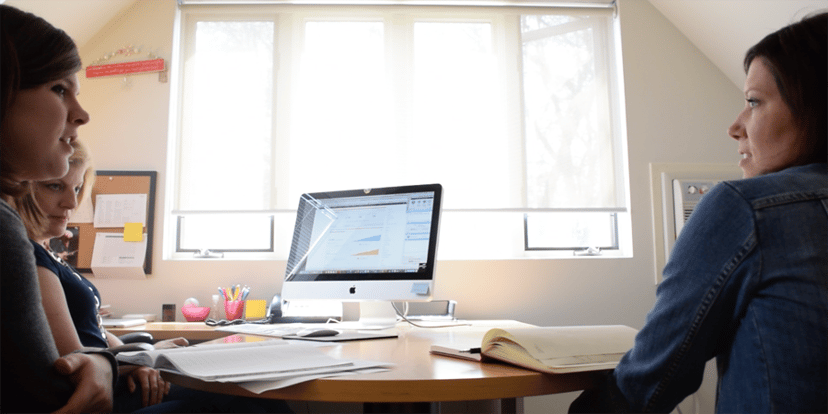 Whether your sales team is the backbone of your organization or you're just building out business development resources, your sales process will change when you introduce inbound lead generation. In traditional settings, sales people aren't used to being fed leads. They have to be aggressive about networking, list-buying, and outbound calling. With inbound marketing, however, marketing and sales make an intentional choice to support one another.
In this video blog, we'll introduce you to how our sales process at Weidert Group works in the context of our well-developed lead generation efforts.
Transcript - Getting Sales Started with Inbound Leads
Six months ago I started here at Weidert Group, and I learned very quickly that traditional sales methods were not going to work here in this inbound marketing world. Today, buyers are so well educated by the time they start to talk to you because they've gone to your website, they've researched their problem, they've looked into potential solutions.
With a more traditional approach there's more cold calling; less information that you know going into the sales process. With inbound you have all that lead information at your fingertips, and there's ways to help those prospective buyers with helpful information as they go down the buyer's journey from an awareness stage, to a consideration stage, to a decision stage.
And that's what's cool about using inbound marketing to produce leads, is that you have that pipeline of leads, whereas I think in a lot of organizations there really is no pipeline. What's a lead? You're not given any leads.
A lead becomes a lead in inbound marketing when they fill out a form on your site and they enter in their information; their email address, contact information, maybe their role, or industry, interests, whatever it may be. So you start to gather information, and over time, that lead is nurtured, typically in different email workflows that deliver helpful and relevant material based on the information you have about them, until they are sales-ready. All that nurturing brings them through the sales journey, closer to the decision stage, and once they get there and they're sales-ready, then you engage in the sales process.
With inbound marketing I think it's important to continue with that "always be helping" mentality, where you continue to provide content that may be relevant and start to explore the right solution for your potential buyer.
I've seen the power of inbound marketing and how it can transform a business and their lead generation efforts, and business development, and it's really fun to embark with companies on that journey within their organization.