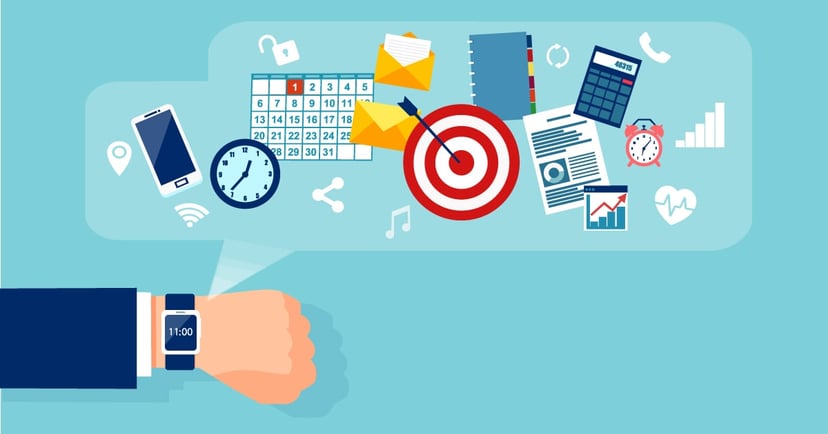 Marketing automation: when done correctly, these are two words that can bring relief (and joy) to marketers everywhere. But how effective is it, and how do you know it's working for you? There are definitely ways you can know whether the tools you're using (or are considering) are effective for your marketing department and worth the time, effort and cost.
Answer these 5 questions to help determine whether your inbound marketing automation efforts are creating efficiencies or hindering your progress.
1. What Is the Total Cost of Ownership?
The total cost of ownership (TCO) includes all the costs associated with the software you've chosen for your marketing automation needs, including things you may not have thought of. For example, you should take into consideration not just software licenses, but employee salaries to run it, and training associated with the technology.
Your marketing team should measure this cost in comparison to the desired outcome, which could be categorized as an increase in conversion rates, team efficiency or staffing needs. Once you evaluate your results compared to the cost of achieving those results, your team can decide if the value outweighs the cost.
2. Does It Integrate With Other Tools?
Does the marketing automation tool integrate with the other software you use on a regular basis to run your business? For example, does it integrate with your existing customer relationship management (CRM) platform (e.g., HubSpot CRM) so your sales team can seamlessly manage leads? When your systems "talk with each other," it will make your life easier and your processes smoother. After all, the age-old saying, "time is money" is definitely true in inbound marketing.
Determine whether the multiple tools you use can work together. Take some time to figure out if they integrate easily and if their functionality helps your workflows. For example, does the marketing automation tool result in duplicate records in Salesforce? If so, that could be a real problem.
If they don't work together, you'll need even more manpower, which means paying more employee salaries, resulting in an increased total cost of ownership (as stated above). In short, your goal is to minimize wasted time, not add more. Make sure your marketing automation tools work for you and not against you.
3. Does It Increase Traffic and Qualified Leads?
The bottom line? You and your team need a marketing automation tool that will increase your overall traffic and bring in more leads. But not just any leads; you need good, profit-worthy, qualified leads that fit your buyer personas.
Take time to analyze and test whether your marketing automation tool is truly equipping your sales team with leads that are qualified and won't be a waste of their time. Are the leads a good mix? A majority in one direction? As desirable as it may be, the goal of an automation tool isn't just to make your life easier. You need to know that the tool you work with will get you to your ultimate end goal: leads, sales and profits.
4. Does It Enable a Faster Reaction to Market Environment Changes?
Your preferred marketing automation tool is effective if it allows you time to notice, respond to and take advantage of the changing market environment in your industry. If you are so consumed by the tool and spend a lot of time figuring things out every time you log on, you'll have a hard time focusing on emerging industry trends and changes. You need a tool that helps you evaluate the overall picture of your market, your competition and how that market is shifting, or you'll risk falling behind. Look for a software with built in tools like competitor tracking and social monitoring to quickly identify trends.
Take a step back and see if your marketing automation tool is easily managed and frees up time so you can effectively assess, plan, manage and deploy your marketing strategy and team. Your marketing automation tool should help you do more, not less. Another way to phrase the question might be, "Can you easily manage your marketing automation tool or does it manage you?"
5. Are Profits Improving?
This should be a no-brainer. Is your marketing automation tool helping improve your profit margins? Your tool of choice may help your marketing department integrate, save time, lower costs and even deploy some pretty cool campaigns but, in the end, if it's not helping you improve your company's bottom line by improving key metrics like Customer Acquisition Cost, it's not the right system for you.
Answering many of the previous questions can help you determine whether your marketing automation software is improving profits. Is it worth the total cost of ownership? Is it giving you more time to do higher level strategy tasks? Is it providing you more qualified leads? And is it simple and easy to use along with your other systems? If it's making you more efficient in these four areas plus the financial results back it up, then you're on the right track.
Automation can help your marketing department simplify your workflows, engage your audience and simply transform the way you do marketing, but some platforms are better than others.
See for yourself if your marketing automation tool fits the bill, and get ahead of your competition by generating more qualified leads and nurturing them more effectively into customers.
Are you using marketing automation in your inbound marketing? What successes have you had? Let us know in the comments below!
Editor's note: As a Platinum HubSpot Partner, Weidert Group can attest to the efficiencies, ease-of-use, and lead-generation power this marketing automation platform can provide based on our own experiences and, more importantly, results for ourselves and our clients. Reach out to one of our inbound experts to discuss how it can do the same for you.